W

hole grains are exactly what their name implies. The grain is left in its whole, originally harvested state. It is not cracked, crushed, rolled or cooked down; otherwise known as processed or refined. A whole grain is more nutritious than a processed grain because the processing removes some of the nutrients. Research shows that people who regularly choose whole grains over processed grains are less prone to obesity, heart disease, stroke, cancer, and diabetes. Whole grains are a good source for fiber, magnesium, Vitamin B and Vitamin E. Making the small change from processed white bread to whole grain bread is an easy way to improve your diet.



Is It Whole?



The Whole Grains Council has developed stamps to make it easier to identify whole grain products, the Basic Stamp and the 100% Stamp.  The Basic Stamp is used on products that contain at least 8 grams, or a 1/2 serving of whole grain. The product can also contain refined flour.

The 100% Stamp is used on products that contain at least 16 grams of whole grain per serving and all grains in the product are whole grains.

Manufacturers are not required to use the whole grain stamps on products so not all products will be easy to identify.  If the product does not have the stamp, read the label.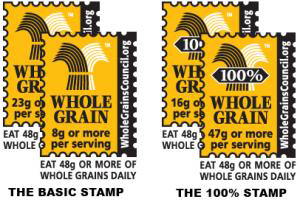 If you see any of these words on the label, you are getting the whole grain:

* whole grain
* whole wheat
* whole
* stoneground whole
* brown rice
* oats, oatmeal (including old-fashioned oatmeal, instant oatmeal)
* wheatberries

If you see any of these words on the label, you may not be getting the whole grain:

* wheat, or wheat flour
* semolina
* durum wheat
* organic flour
* stoneground
* multigrain (may describe several whole grains or several refined grains, or a mix of both)

These words on the label mean the ingredient is not a whole grain:

* enriched flour
* degerminated (on corn meal)
* bran
* wheat germ
* Information provided by the Whole Grains Council



Whole Grains for the Family


It can be easy to add whole grains to your family meals just using a combination of whole wheat flour and white flour in some of your favorite recipes. Using oats in place of white flour is also an easy switch. Another idea is to include barley, quinoa, wild rice, wheat or rye berries, or sorghum to soups.

Using whole wheat breads, tortillas or pita for sandwiches, granola as a yogurt topping, and quinoa as a side dish instead of white rice can help make meals just as satisfying and twice as healthy. Experiment with new recipes and try a new grain once a week for a month for a twist on the same old menu.



At the Market





Varieties of Whole Grains:


* Amaranth
* Barley
* Buckwheat
* Corn, including whole cornmeal and popcorn
* Millet
* Oats, including oatmeal
* Quinoa
* Rice, both brown rice and colored rice
* Rye
* Sorghum (also called milo)
* Teff
* Triticale
* Wheat, including varieties such as spelt, emmer, farro, einkorn, Kamut®, durum and forms such as bulgur, cracked wheat and wheatberries
* Wild rice
* Information provided by the Whole Grains Council



Storage:

Store in an airtight container in a cool, dry place for up to six months.  Whole grains will keep up to one year in the freezer if properly packaged. Whole grain flour's storage life is less than the intact grain.  Store flour in a cool, dry place in an airtight container for up to three months.



Recipes




Best Ever Granola



Granola can be great tasting hippie food, but buyer beware. On one side, some of the packaged brands cram a lot of nutritious, but unfamiliar flavors in the mix. While these ingredients are often healthy, the flavors can be tough to swallow for kids. On the flip side, the more mainstream brands cram a lot sugar and artificial ingredients into their products which put them on par with the nutritional value of a candy bar. Sticking to basic ingredients is the trick.



Simple flavors:

 Oatmeal, pecans, and cranberries baked with natural goodness. This recipe is so simple that homemade granola may soon become a staple in your house for breakfasts and snacks! Best Granola Ever is perfect for family members 3-99 years old.



Ingredients:


* 4 cups of old-fashioned oats
* 1 1/2 cups chopped pecans
* 1/2 cup packed brown sugar
* 1/2 tsp salt
* 1/2 tsp cinnamon
* 1/4 cup cooking oil
* 1/4 cup honey
* 1 tsp vanilla
* 1 cup dried cranberries



Directions:


Preheat oven to 300 degrees. In a large bowl, mix the oats, pecans, brown sugar, salt and cinnamon. In a saucepan warm the oil and honey and stir in the vanilla. Carefully pour the liquid over the oat mixture. Stir gently with a wooden spoon until the mixture is evenly coated. Spread the granola onto a large cookie sheet (15x10x1 inch). Bake 40 minutes, stirring carefully every 10 minutes. Remove from oven and cool completely. Stir in dried cranberries. Storage: Store granola in an air-tight container at room temperature for one week or in the freezer for 3 months.

Makes 9-10 servings



Whole Grain Stuffing with Nuts, Seeds and Dried Fruit





Ingredients:


* 6 Tbsp. butter
* 1 medium onion, diced
* 1/3 cup celery, diced
* 1 apple, peeled and diced
* 1/2 cup almonds, slivered
* 1/4 cup sunflower seeds
* 1/2 cup dried cranberries
* 4 cups vegetable of chicken broth
* 2 eggs
* 1/2 cup fresh parsley, chopped
* 16 cups stale whole grain bread cubes
* Salt and pepper



Directions:


Preheat oven to 375° F.  Spray the bottom and sides of a 3-quart baking dish with non-stick cooking spray.  In a large skillet melt butter over medium heat. Add onions, celery and apples, season with salt and pepper and cook until onions are soft, about 3 minutes. Add the almonds, sunflower seeds, and dried cranberries. Add broth and bring to a simmer.

In a large bowl, whisk the eggs and parsley.  Add the bread cubes, then pour the broth mixture and toss to coat the bread cubes evenly.

Transfer the stuffing into the baking dish. Cover with aluminum foil and bake 30 minutes, then uncover and bake until golden brown, about 30 more minutes.

Cheryl Tallman is the founder of Fresh Baby (www.FreshBaby.com). For more than 10 years, Fresh Baby helped has helped parents foster their children's healthy eating habits and proactively respond to the childhood obesity epidemic that plagues our nation. Cheryl is the author and designer of the company's award-winning cookbooks and nutrition education products that support many stages of family life including: pregnancy, breastfeeding, introducing solid foods, and feeding toddlers, preschoolers and school-aged children.