Savvy Cabernet Sauvignon lovers planning a tour of Sonoma County's Russian River Valley always put Tara Bella Winery on their lists. This little jewel totals only six acres, but it produces some of the region's finest Cabernet Sauvignons. The proof is in the Gold medals. Nearly every vintage has produced at least one.

The winery is owned by husband and wife team Kevin and Wendy Morrow, who met and fell in love more than 29 years ago while working in the wine industry. Together, they created a small private label, TwoMorrows, which has received many Golds and a Sweepstakes medal.

Through the years, the Morrows would visit Tara Bella Winery frequently to enjoy the serene property and its consistently delicious Cabernet Sauvignons. They couldn't believe their good fortune when they had the opportunity to buy the winery.

Kevin brings 28 years of viticulture expertise, taking the wine from bud to bottle, while Wendy brings experience in hospitality. Her parties are legendary.

Each bottle is 100 percent estate grown Cabernet Sauvignon—numbered and hand waxed by son, Dillon, a student with experience in the cellar, demonstrating that Tara Bella wines are a true labor of love. The most recent releases, the 2012 Russian River Valley Estate Cabernet Sauvignon and the 2012 Sonoma County Reserve Cabernet Sauvignon, were released in October 2014 in a total quantity of 600 cases. Both wines come from two separate clones that grow in the same soil and climate conditions. Tasting room guests and those who order the wines, appreciate the difference in their flavor profiles and make a point to join the wine club. The wines sell out quickly each year, and 95 percent are sold through the club.

This May, a group of Tara Bella devotees traveled with the Morrows through Portugal. The trip was so successful that the Morrows are already planning a river cruise on the Danube for 2016 and invite all who appreciate fine Cabernet Sauvignon to join them.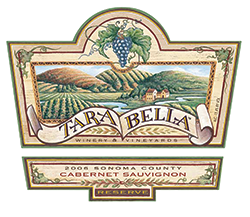 What to Buy




'12 Russian River Valley Estate Cabernet Sauvignon - $67


Dark cherry, vanilla, red fruit, oak, cinnamon, brown spice



'12 Sonoma County Reserve Cabernet Sauvignon - $67


Blackberries, rich oak, vanilla



Special Notes


Tours and tastings by appointment, owner and winemaker on site, wine club discounts.



Contact


3701 Viking Rd.
Santa Rosa, CA  95401



Phone:

707-544-9049
E-mail: tarabella@sbcglobal.net


Website:

tarabellawinery.com



Tasting Room:

Private Tastings by Appointment

Touring & Tasting is a media company that produces a wine and travel magazine and is also partner in the Hitched Wine Club.






---