Product Review: We-Vibe 4 Plus… There's An App for That!
The fourth iteration of the couple's vibrator just keeps getting better with age.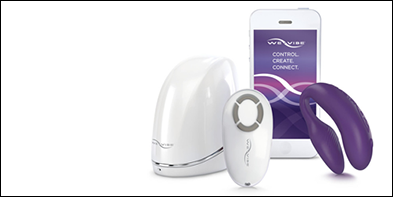 Photos courtesy of Standard Innovation Corporation
---
"
You might be thinking that an app makes things too complicated—and that might be true if it weren't such as great app."
In 2008 the Standard Innovation Corporation launched the We-Vibe, a revolutionary dual stimulating vibrator worn by a woman while making love. In the six years since its launch, the We-Vibe has gone through many iterations in functionality, adding more vibrating modes, a remote control and now an app!

The We-Vibe 4 Plus continues its march as a premier couple's vibrator in the market. The vibrator maintains its iconic, U-shaped construction made from 100% medical-grade silicone that feels soft and silky to the touch and is free from phthalates, latex and BPA. The vibrator is also 100% waterproof.

The remote control button configuration has evolved to become even more straight forward in its use. The up and down buttons adjust the intensity while the left and right buttons rotate through the various vibration modes. With the remote control, couples can cycle through five different vibration modes. However, and this is where the fun really begins, when using the app couples can play with an additional five vibration modes in addition to creating their own personalized modes.

You might be thinking that an app makes things too complicated—and that might be true if it weren't such a great app. The team at We-Vibe clearly understood that you're not pulling out the phone to play with some angry birds, you're using it to play with your partner. After the initial registration and pairing with the vibrator, which literally took just seconds when following the instructions on the screen, the app opens up to a simple display of the first vibration mode and up/down buttons to independently control the motors of the external clitoral vibrator and the internal G-spot vibrator. Tapping the mode display will begin the vibration in a visually scrolling manner as if you were looking at a cardiograph—we don't want to know what an actual one would look like while this thing is turned on. Swiping left and right will change the vibration mode.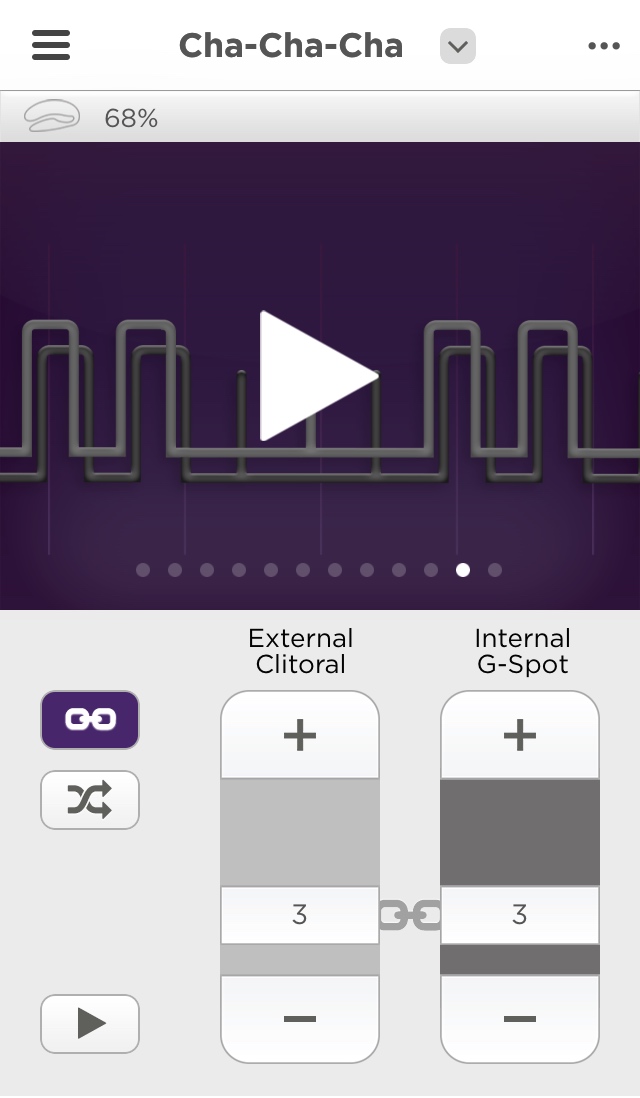 Click on the navigation button and you can create your own vibe. Again, this process is extremely simple. Write a name, select the vibration mode you want, select how long you want the vibration to last, and then adjust the intensity. The only thing missing was that you couldn't independently adjust the two motors when personalizing your vibe intensity (perhaps an app update can include this feature). You can add as many vibration modes into your personal vibe setting with their own independent times and synced motor intensities. For example, you could set the Pulse vibration for 20 seconds with an intensity of 1, followed by the Echo vibration for 30 seconds with an intensity of 2, followed by the Bounce vibration for 3 minutes and 21 seconds with an intensity of 10. The order of these vibrations can be moved around in a drag and drop manner. When you're done and hit play on the app, the vibrations scroll across the screen like sheet music that you've written to help you reach a crescendo. Applause is definitely in order.

One more thing… with the app your spouse can remotely control the vibrator from anywhere! Whether you're in the other room or across the globe, the We-Vibe 4 Plus lets you and your spouse stay connected with the personal vibrations you created together.

While all couple vibrators strive for the same goal of gratification, the We-Vibe 4 Plus enables couples to experiment and explore—and then save the path to the pleasure they've found.



Positives:




*

It has an amazing, free app that's easy to use (iOS and Android)


*

Remote play, keeps couples connected when they're apart


*

Renewable battery charges in 4 hours, lasts up to three hours per charge


*

Medical-grade materials, 100% waterproof



Negatives:




*

Can't independently adjust the G-spot and clitoral motor intensity when saving a custom vibe



Price:

$179



Overall Rating:

5/5


---