The Old Scottish saying, "What's meant to happen will happen" rings very true at Cairdean Estate. When Stacia and Edwin Williams first moved to the Napa Valley and bought their first 50-acre parcel of land in St. Helena in 2010, they intended to plant vineyards, make a little of their own wine, and sell the rest of the grapes. Shortly after closing on the 50-acre parcel, they went into escrow on a seven-acre commercial parcel next door. Stacia and Edwin instantly recognized this amazing opportunity to create a true winery destination unlike any other in the Napa Valley, and bought the land.

In the four years that have followed, the Williams have been fast at work transforming the property into a world-class wine and food destination, featuring a state-of-the-art winery complete with wine caves, a bakery/deli, a 2015 Michelin Guide Bib Gourmand Award-winning gastropub, picnic grounds, a mercantile shop, and a wine sensory experience room.

When they started the winery, Stacia chose the name Cairdean (care-deen), which is a Scottish-Gaelic word for "friends." Of Scottish descent, Stacia wanted to both honor her heritage and state the purpose of their family business: to make friends through wonderful wine and food. She had a decade's worth of experience as a home winemaker and had valued the farm-to-table lifestyle her entire life. She received a degree in enology from California State University, Fresno. When she began crafting wines for the Cairdean Estate label, she wanted to make wines she wanted to drink.

"Stacia puts her own spin on the wines, which are always high quality," Edwin says. In addition to Cairdean Estate, the couple has purchased two more estate vineyards: the 10-acre Acquaintance Vineyard in Napa's Coombsville AVA and the 28-acre Confidant Vineyard in Sonoma's Russian River Valley. Stacia listens to the fruit and only uses the practices she needs to craft her delicious, food-friendly portfolio of wines.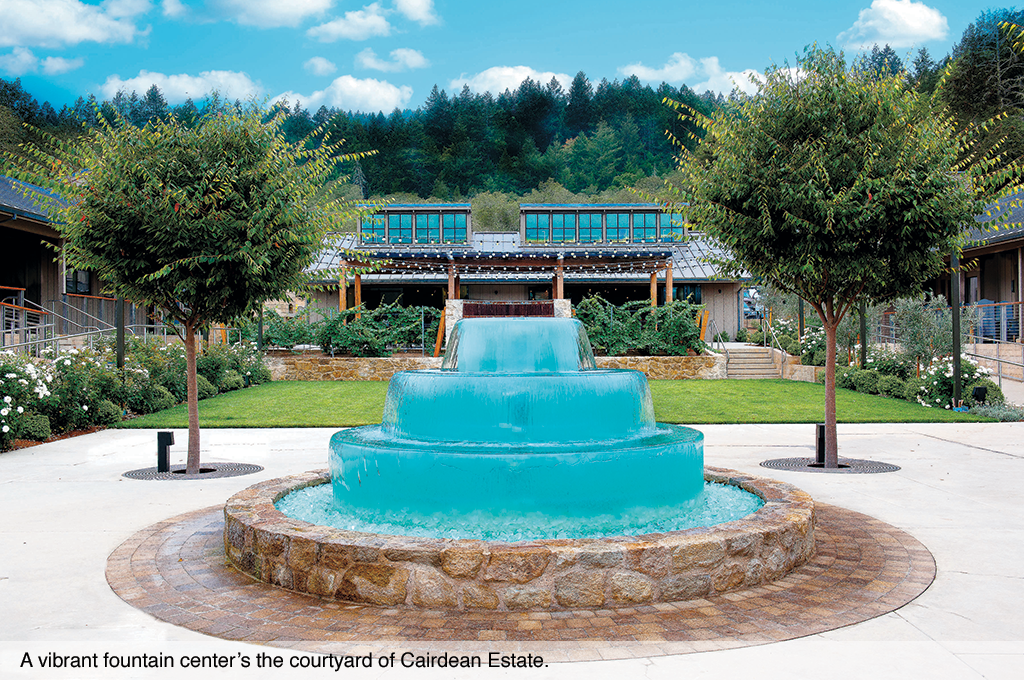 Cairdean Estate is a place where guests can stop by whenever they like. Butterscots Bakery, Deli, and Culinary Market opens at seven o'clock each morning. It's a bright and friendly place to drop in for an espresso and breakfast baked goodie, and return for a fresh salad, soup, or sandwich made with house-made bread at lunch. Guests are invited to taste a flight of wines, enjoy lunch on the patio, and then return in the evening for a very special dinner. The Farmer & The Fox Restaurant has been a Napa Valley favorite since the day it opened. It offers a modern take on the traditional British gastropub with a beautiful décor highlighted with lush leather booths and a central communal table. Here, old and new friends gaze at the inspired menu and marvel over its culinary creativity. Dishes like fried quail and barley stew, duck wings, lamb tartare, and rabbit Wellington—plus popovers baked on the half-hour—win rave reviews and many repeat visits. The Farmer & The Fox received a 2015 Michelin Guide Bib Gourmand Award, which honors outstanding restaurants serving two courses and a glass of wine for under 40 dollars.

Beyond the bakery/deli, tasting bar, and restaurant, guests also love to spend time at Redolent Mercantile, the estate's intriguing shop (open in early 2015) featuring a stylishly curated collection of Scottish items from cashmere throws to artisanal Scotches. As its name implies, Cairdean Estate is a true Napa Valley destination—a unique spot to gather as friends to enjoy excellent wine, outstanding food, and wonderful times together.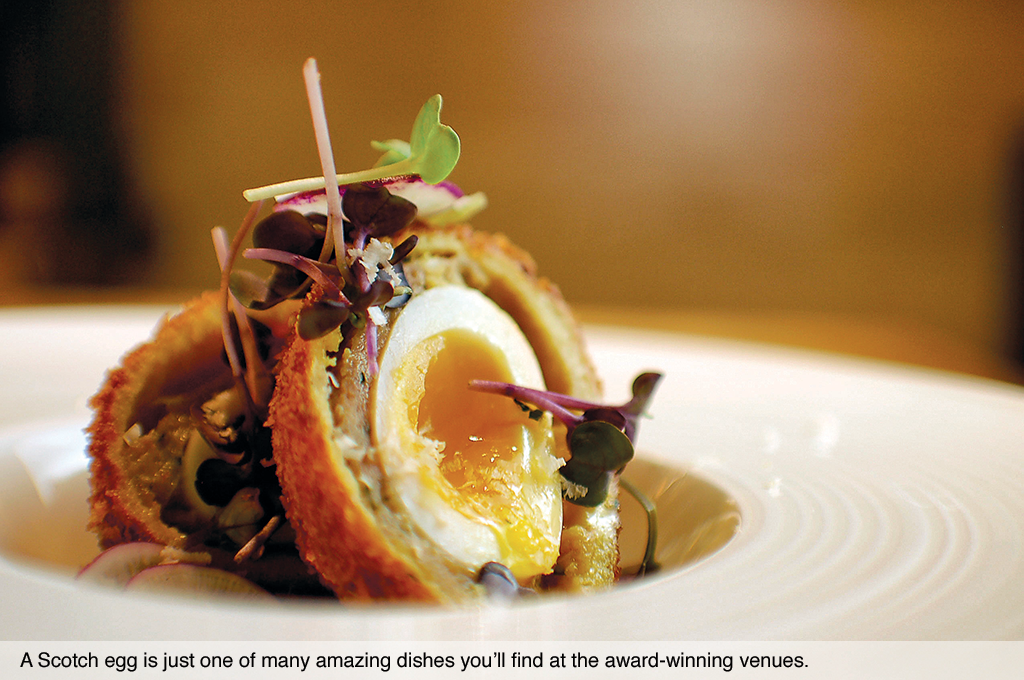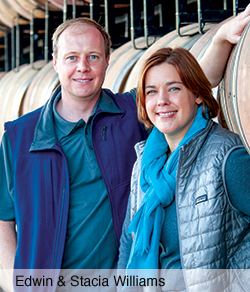 AN INTERVIEW WITH STACIA AND EDWIN WILLIAMS





T&T: You certainly have found your niche at Cairdean Estate, with a winery, on-site bakery, deli, and restaurant. Do you think food is an important part of your guests' visit?





SW:

Food and wine have always gone hand-in-hand and it is difficult for me to imagine one without the other. Being in Napa Valley, there are so many amazing wineries and restaurants, but very few that have the ability to bring both experiences together. We became obsessed when the opportunity presented itself to create a unique Napa Valley Wine Country destination.



T&T: Why did you decide to acquire your own Russian River Valley vineyard?





EW:

We have always admired the wines from both Napa and Sonoma. The Russian River Valley, in our opinion, is a prestigious AVA of the Sonoma sub-appellations. When Confidant Vineyard came to our attention, we jumped at the opportunity. The grape quality from that vineyard is just amazing. The Pinot Noir is very complex with fruit notes that are very representative of the Russian River Valley, and the Syrah is deep, dark, and shows what I feel to be the true varietal character of Syrah.



SW:

I prefer wines that are clearly a true expression of their terroir, vintage, and varietal/clone. Most wine is made in the vineyard, and I view my role as a winemaker to tune into that story for each specific harvest and encourage the grapes to evolve into the wine they were truly meant to be.



T&T: How does it feel to be the newest find in the Napa Valley? Do you worry about becoming too busy to offer the relaxed hospitable vibe guests are raving about?





EW:

I feel that we will be the "newest find" for a while, as more and more new friends discover us. I am always very excited to watch our friends' reactions when they visit. Their expectations of our food, wine, atmosphere, and hospitality are not just met, but always exceeded, and exceeding those expectations brings us a lot of joy. There are so many aspects of Cairdean Estate that there is a way to make sure that this singular place will remain personal and unique to each of our friends.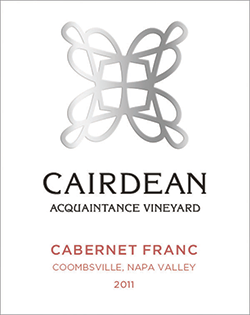 What to Buy




'11 Acquaintance Vineyard Cabernet Franc - $84


Cherries, blackberries, cassis, hints of tobacco, pepper, violet, touch of spice



'12 Napa Valley Haley Margaret White Wine - $38


Stone fruit, peach, apricot, hint of lime, grapefruit, slight floral note



'11 Atlas Peak Syrah - $64


Black cherry, dark berry, oak spice, hint of smoke, earth



Special Notes


Redolent Mercantile opening in 2015.



Contact


3111 St Helena Hwy N
St. Helena, CA  94574



Phone:

707-968-5434


Email:

info@cairdeanestate.com


Website:

cairdeanestate.com



Tasting Room:

Open Daily 11–8; Winemaker's Den Open by Appointment; Butterscots Open 7–5; The Farmer & The Fox Open 5–10

Touring & Tasting is a media company that produces a wine and travel magazine and is also partner in the Hitched Wine Club.