A passion for horses is evident the moment visitors turn onto the lane that leads to the Tamber Bey tasting room and winery at Sundance Ranch. The 22-acre ranch is home to champion performance quarter horses and Arabians that graze in the white-fenced paddocks lining the lane. The focal point of the property is the barn and clubhouse, which was designed by famed Napa Valley Architect Howard Backen. Here, wine country and horse country unite.

The barn clubhouse serves as Tamber Bey's tasting room and is an ideal environment for discovering the wonderful wines. The wine company was founded by former high-tech executive and equestrian Barry Waitte, who named it after his first two Arabian horses, Tamborina and Bayamo. Guests can perch themselves at the sleek tasting bar or wander outside to admire the courtyard surrounded by 16 impeccable horse stalls framed by fabulous views of Mount St. Helena and the Palisades.

Visitors are invited to taste a flight of five current releases that range from fresh Sauvignon Blanc and Chardonnay to a heady Sonoma Coast Pinot Noir followed by samples of intense reds, such as Rabicano, a smoky blend of Cabernet Sauvignon, Merlot, Cabernet Franc, and Petit Verdot. Those seeking a full sensory experience opt for the Signature Savory Cookie & Wine Pairing, a flight of wines paired with a selection of special savory cookies created to enhance the flavor of each Tamber Bey wine.

Guests can also take a walking tour around the intriguing property, including the winemaking and barrel facility and the horse stables. Regardless of which tasting experience they choose, guests will find perfection at every turn and in every glass. In fact, many decide to join the EQQWine Club to ensure access to their newfound favorites.

Tamber Bey Vineyards offers it all: a spectacular setting, exceptional wines, and a friendly ambience that keeps wine and horse enthusiasts coming back.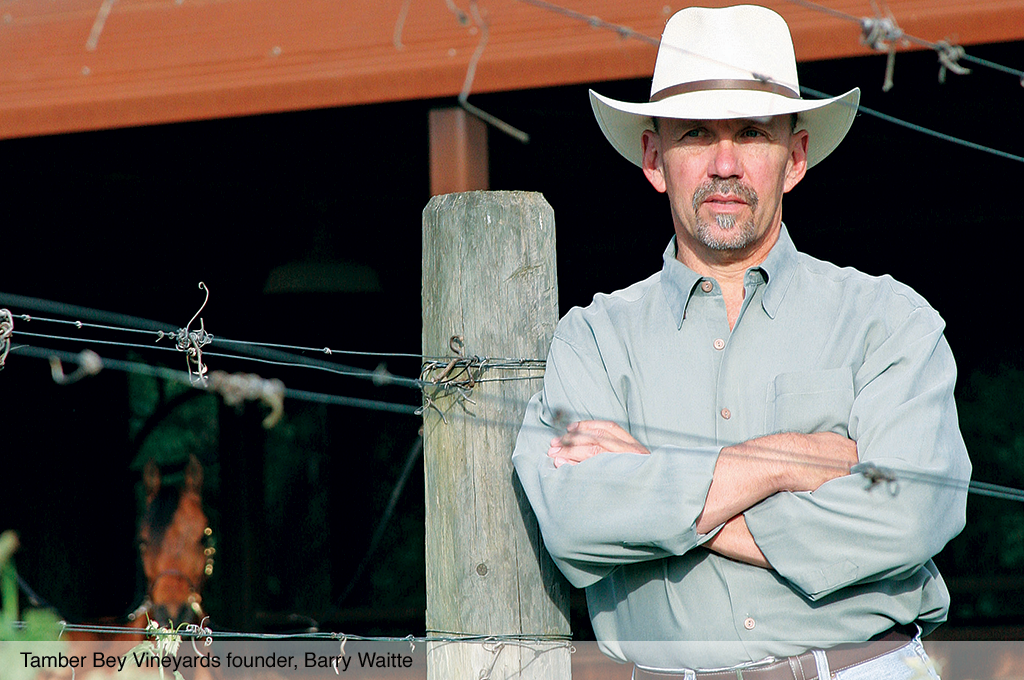 An Interview With Founder Barry Waitte



T&T: You have been called a Renaissance man with many lessons to share about horses, business, and wine. What ties these things together?
BW: The common thread is my passion for each and my desire to continually strive to do well in all. What I find really interesting about each is that there is never a level of being finished, but that there is always a new vintage, a new horse, and a new year that will challenge me intellectually as well as spiritually. I strive each day not just to do well, but raise the bar to a new level each time.

T&T: Your new winery and tasting room at Sundance Ranch is very impressive. What are your goals for it?
BW: My wife Jennifer and I want to create a world class environment for the training and care of our equine partners. When we designed the winery, we focused on creating a facility to make the best ultra- premium wines, giving our winemaking team the facility, tools, and flexibility to make each wine unique, and the freedom and encouragement that embodies the character of what is Napa Valley. For our guests, our goal is to give them a truly unique experience from the moment they arrive and enter our tasting room hospitality suite to the tasting and education of the wines.

T&T: On a personal level, do you find a synergy between your equestrian and enological pursuits? If so, what can you tell us?
BW: What I love about our horses and the wine business is they are both about partnership. There is a tremendous bond between us and our horses, especially with the long distance riding we do. We depend on each other for leadership, care, and spirit. The wine business is about the partnership of the earth, the sun, and the many people we depend on for making wine, as well as with our customers. But a perfect time for me is riding a horse by day and drinking Tamber Bey wine at night!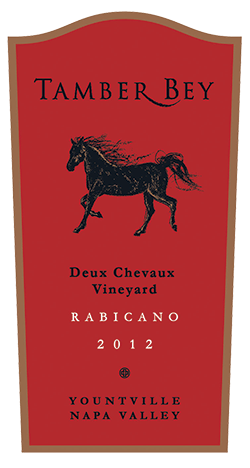 What to Buy




'14 Trio Chardonnay - $34


Banana, pear, apple, kiwi



'12 Rabicano - $65


Red currant, red cherry, light cedar, blackberry



'11 Oakville Cabernet Sauvignon - $125


Complex, stone fruit, mineral, oak



Special Notes


Private tastings and tours by appointment, wine club discounts, wine club events, picnic grounds, winemaker on site, owner on site.



Contact


1251 Tubbs Lane
Calistoga, CA  94515



Phone:

707-942-2100


Email:

wine@tamberbey.com


Website:

tamberbey.com



Tasting Room:

Tasting Room Open Daily 10–5

Touring & Tasting is a media company that produces a wine and travel magazine and is also partner in the Hitched Wine Club.