It's nearly impossible to describe Wente Vineyards without using superlatives like "longest," "most," and "best." For starters, with a history in wine that dates back 131 years, Wente Vineyards is the oldest continuously operated family-owned winery in the United States. From its earliest years, it has also been a leader in the world of wine, maintaining a global vision for quality and integrity in every aspect of the wine industry.

The legacy of Wente Vineyards is a story of integrity, perseverance, and family. It begins with Carl H. Wente, an immigrant from Hanover, Germany, who arrived in America around 1870. After spending a few years learning about winemaking in the cellar at Charles Krug Winery in the Napa Valley, Carl was drawn 70 miles south to the Livermore Valley. He moved there with his wife Barbara in 1883 to manage a vineyard and quickly invested in it. He sold his first vintages from barrels on a wagon. By the time two of Carl's seven children, Ernest and Herman, became winemakers in the early 1900s, the family winery was a well-established, successful business selling premium quality wine in bulk.

When Ernest graduated in 1912 with the first class in viticulture from the University of California at Davis, he collaborated with UC Davis employee, Leon Bonnet, and secured cuttings of Chardonnay from France's University of Montpelier to plant in the family's vineyards. Ernest cultivated the plantings and also sourced budwood from the Gier Vineyard in Pleasanton. Over the next several decades, he selected vines that showed the most favorable traits, replanted them, and slowly developed what is now known as the Wente Clone of Chardonnay.

When Prohibition came into full swing in the 1920s, the family managed to keep afloat by diversifying. Besides producing wine for sacramental purposes, they raised crops and cattle and kept their business alive. At the repeal of Prohibition, the family began bottling wine under the Wente Brothers label. In 1933, rather than copying regional names from Europe, they released the nation's first varietally labeled Sauvignon Blanc and Semillon. Soon thereafter, they released the nation's first varietally labeled Chardonnay, a 1936 vintage, and Herman helped launch California's Wine Institute to advocate public policy that supports all aspects of the California wine industry.



"When Prohibition came into full swing in the 1920s, the family managed to keep afloat by diversifying."


With each generation, the Wente family has maintained their global vision. Karl L. Wente, representing the third generation of Wente winegrowers, brought the family into the 1950s with expanded national and international distribution. As a winemaker, he introduced stainless steel fermentation and other advancements to blend the family's traditional winemaking practices with the best innovative ones. Karl was also instrumental in the development of the Monterey region, where the family still farms exceptional Pinot Noir, Chardonnay, and Riesling.

Today, Wente Vineyards' Fourth Generation Winegrowers Eric, Philip, and Carolyn Wente work seamlessly together to nurture the winery's position as an international leader. The winery remains family owned, and all of its fruit is estate grown and sustainably farmed under the watchful eye of Fifth Generation Winemaker Karl D. Wente. Karl is responsible for all winemaking and works with his family to farm nearly 3,000 acres of certified sustainable estate vineyards in some of the most desirable regions of California. His sister Christine Wente brings an important added dimension as a proponent for The Wente Foundation for Arts Education, which she helped found in 2012, and as a dynamic advocate for the Livermore Valley as a whole.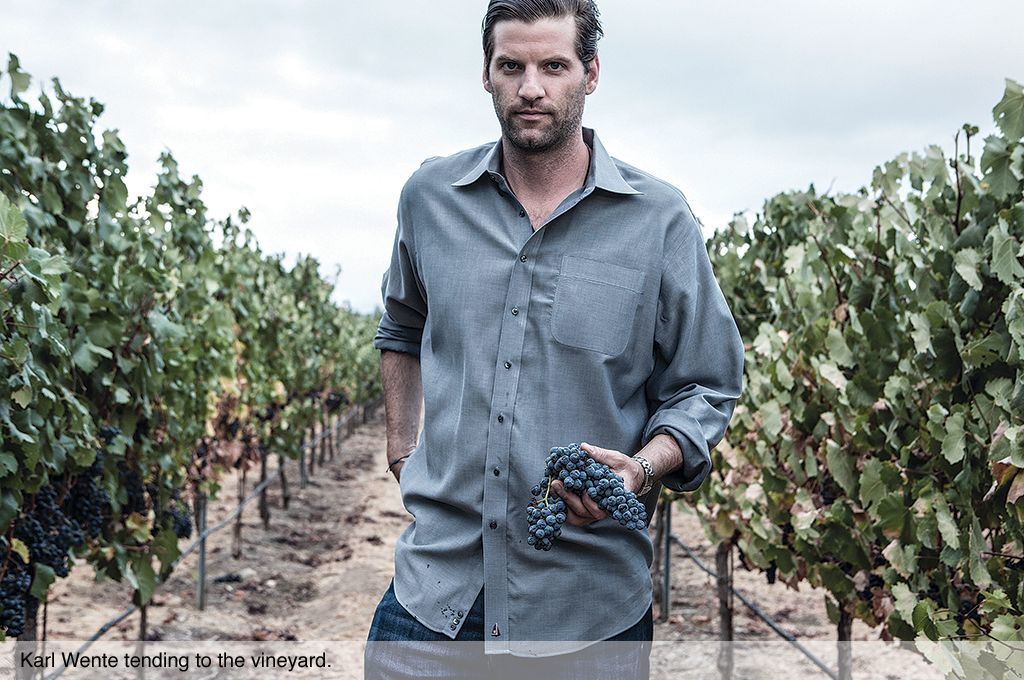 California's First Family of Chardonnay


It has been more than a century since the Wente family first planted Chardonnay in the Livermore Valley. Today, nearly 100,000 California vineyard acres are now planted to Chardonnay—the number one selling wine varietal in the nation. More than 70 percent of this Chardonnay comes from plants originating from the Wente clone, and this is just the beginning. Countless more acres of Wente Clone Chardonnay are planted in Chile, Australia, Argentina, and beyond.

Wente now creates four unique Chardonnays. Each of these wines is stylistically different, yet together they demonstrate the winery's full scope and why the Wentes are often called California's First Family of Chardonnay.



What's New at Wente Vineyards


The Wente family has an uncanny ability for maintaining their legacy while they impeccably lead us forward. Last year, to honor the 130 year vintage, they introduced sleek, new updated the name of each wine to better identify its sense of place (e.g., Estate Grown, Single Vineyard, Small Lot, and Nth Degree.



"More than 70 percent of [California] Chardonnay comes from plants originating from the Wente clone."


It's also not surprising that Wente Vineyards was one of the first to create a true destination experience for its guests. Now, in addition to offering a world-class restaurant, outdoor concert venue, and 18-hole championship golf course, the engaging Winemakers Studio at Wente Vineyards opened last spring. This beautiful little campus, located on the Wente Vineyards Estate property along Tesla Road, demonstrates the Wentes' understanding that hands-on experiences go a long way to teach their guests more about wine.

The Winemakers Studio offers innovative resources, knowledgeable staff, and fun, interactive classes. The Winemakers Blending Experience is an intimate blending session where guests are guided through a detailed tasting and evaluation process before they are cut loose to blend, bottle, cork, and label their contemporary labels and very own bottle of wine. The Wine Aroma Seminar shows guests how to identify a wine's specific aromas by presenting an array of real aromatic items, each in an individual wine glass. The Wine & Cheese Pairing takes guests on a delicious exploration of cheese and wine to discover the characteristics that make them complement each other. Beyond classes, the Winemakers Studio at Wente Vineyards has a traditional tasting bar with a variety of Winemakers Selection wines available on tap. Guests can buy a bottle or a refillable growler of their favorites. There are also iPads with interactive wine knowledge games and videos.

"We are committed to passing on what we inherited to the next generation," says CEO and Fourth Generation Winegrower Carolyn Wente, "And with every decade that passes, the next generation of Wente leaders continues to move the business forward through innovation."

The Wente family gives us many ways to appreciate their legacy through The Restaurant, The Concerts, The Course, The Winemakers Studio, and of course, their wines. We raise our glasses high and look forward to experiencing what's next at Wente Vineyards.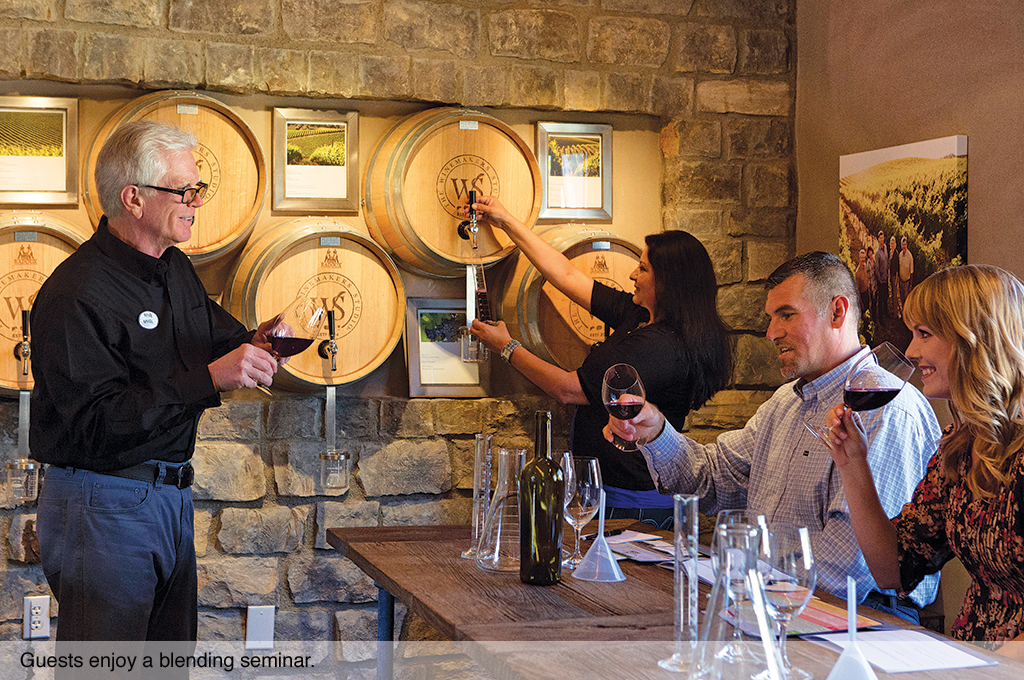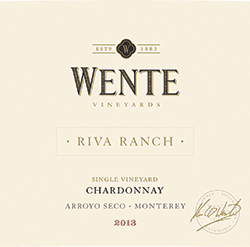 What to Buy




'12 Charles Wetmore Cabernet Sauvignon - $30


Black cherry, mocha, vanilla, chocolate, oak



'13 Morning Fog Estate Grown Chardonnay - $15


Green apple, tropical fruit, vanilla, toasty oak



'13 Riva Ranch Single Vineyard Chardonnay - $22


Tropical fruit, butter, vanilla, subtle oak



'12 The Nth Degree Chardonnay - $80


Ripe apple, apricot, nutmeg, tropical fruit, graham, clove



Special Notes


Private tasting tours, wine club events, weddings and receptions, gourmet dining, golf, picnics and bocce available at Tesla tasting room only.



Contact


5565 Telsa Rd.
Livermore, CA  94550



Phone:

925-456-2300


Email:

info@wentevineyards.com


Website:

wentevineyards.com

Vineyard Tasting Room 5050 Arroyo Rd.
Livermore, CA  94550

The Winemaker Studio
5565 Tesla Rd.
Livermore, CA  94550



Tasting Room:

The Winemakers Studio: Open Thur-Sun 11-5; Vineyard Tasting Room: Open Daily 11-6:30; Estate Tasting Room: Open Daily 11-5

Touring & Tasting is a media company that produces a wine and travel magazine and is also partner in the Hitched Wine Club.