On the western shore of California's massive Clear Lake, a magnificent 4,300-foot volcano casts a majestic presence against the sky. Its core samples tell us it began to form 480,000 years ago as part of a volcanic field that experienced serious eruptions until around 38,000 B.C. When the first humans—tribal members of the Pomo Nation—settled nearby, they named it Mount Konocti, roughly translated to "Mountain Woman." Through the centuries, Mount Konocti has been a source of spiritual inspiration, legends, and wonder.

Although it has been thousands of years since its last eruption, Mount Konocti is not dormant. An active magma field runs approximately five miles below the surface of the earth and extends into the earth's upper mantle for at least 17 miles. Gaseous bubbles arising around Clear Lake, particularly in the Soda Bay area, are evidence that there is still volcanic energy. Although an eruption is possible, it is highly unlikely, based on its cyclic pattern from the past. It's time to experience this mighty mountain's treasures.



Elevated Wines



Not surprisingly, the soils surrounding this quiet giant are volcanic in composition. The area is very mountainous with soils consisting of gravely clay loam with lots of rocks and numerous sites of obsidian, basalt, and other volcanic material. These sloping hillsides and well-drained soils provide for frost protection and optimal air movement: ideal conditions for growing winegrapes. Only three percent of California's vineyards are considered to be high elevation (1,000 feet or more above sea level) and nearly all of Lake County's are. The fact that they range in elevation from 1,400 feet to 3,400 feet is a major factor for the vineyards that flourish under clear, often cloudless skies. They are exposed to increased sunlight with more ultraviolet light, extreme diurnal temperature swings, and lower humidity. Daily afternoon breezes mix and temper the hot afternoon temperatures, resulting in fruit that ripens early with thicker skins.



" The fact that they range in elevation from 1,400 feet to 3,400 feet is a major factor for the vineyards that flourish under clear, often cloudless skies."


"The thicker skins result in bright fruit flavors, balanced acidity, and mature tannins and, therefore, require less winemaking intervention," says Gregory Graham, Chairman of the Lake County Winery Association and owner of Gregory Graham Wines. "These conditions are ideal for most varieties, but especially Cabernet Sauvignon."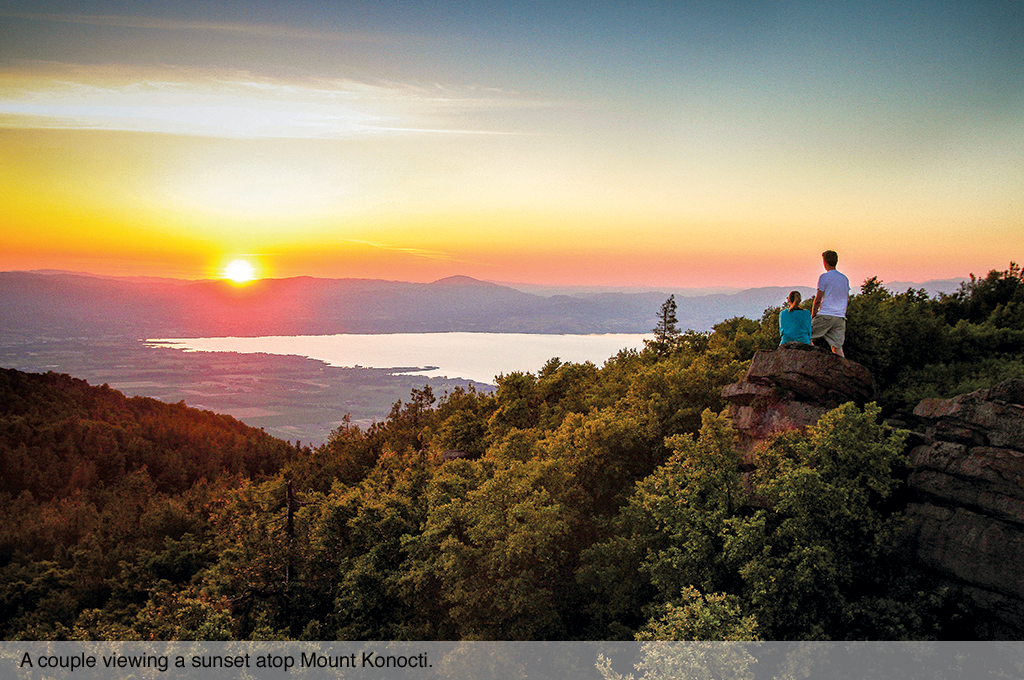 A Trail to the Top



In 2011, Mount Konocti County Park, covering 1,520 mountaintop acres, opened with a six-mile round-trip hiking trail with access to three summits: Buckingham Peak, Howard Peak, and Wright Peak at 4,300 feet. The Wright Peak Summit Trail offers an exhilarating, moderately strenuous hike with an elevation gain of about 1,600 feet. The trail passes walnut orchards and dense chaparral to a hauntingly beautiful forest with ancient stands of canyon oak trees believed to be several centuries old. It was in this sanctuary where a 59-year-old pioneer woman, Mary Downen, built a little cabin and homesteaded in 1903.

"Magnificent vistas of mountain peaks and lakes await at the summit," says Tom Nixon, retired State Parks Ranger who leads the Konocti Regional Trails docent-guided hiking program. In the spring and fall, docent-led hikes allow visitor access to the Mount Konocti lookout tower that offers sweeping 360-degrees views. Lake County boasts the cleanest air in the nation, so one can readily identify peaks as distant as Mount Lassen, Snow Mountain, Sutter Buttes, and Mount Diablo.

"In late spring to summer, magenta blossoms of a gorgeous, endangered plant species, the Sonoma beardtongue, can be spotted on the way to the summit," Tom says. Docent-led hikes are available by reservation through the County of Lake Public Services Department.



A TWO-DAY HIKE & WINE LOVER'S TOUR





Day 1: Climb & Taste


Grab coffee and pastries at Studebakers Coffee House & Deli, plus a sandwich for your backpack
Hike Mount Konocti
Check in, shower, and rest at The Gunn House in Kelseyville *
Savor dinner at the Saw Shop Bistro *
Star gaze! The night skies are amazing!



Day 2: Hike & Taste


Enjoy breakfast at Woody's Cafe Grill & Pub inside Kelseyville Lumber & Supply Co.
Go wine tasting in the Red Hills AVA
Follow the Red Hills Terroir Trail Vineyard Pathway between Vigilance Winery & Vineyards and Gregory Graham Wines
Head for dinner at the Blue Wing Saloon *



Tour & Taste


Round out each day with a visit to two or three of these wineries:
Brassfield Estate, Moore Family Winery, Laujor Estate, Gregory Graham Wines, Shannon Ridge Family of Wines at Vigilance Vineyards, Wildhurst Vineyards, Rosa d'Oro Vineyards, Steele Wines, and Robledo Family Winery *
* Reservation needed

For more information, visit lakecounty.com.com and konoctitrails.com

Touring & Tasting is a media company that produces a wine and travel magazine and is also partner in the Hitched Wine Club.