It has been 20 years since the founder of Abacela, Earl Jones, planted the first Tempranillo in the Pacific Northwest. In 1992, his passion for the grape and a good deal of scientific analysis was strong enough to justify a move for Earl and his wife Hilda from the Gulf Coast to Southern Oregon's Umpqua Valley. Here, Earl found the land he dreamed of, resting over an ancient geological fault with steep hillsides featuring an exciting diversity in soil types, microclimates, and sun exposures. What's more, at 43 degrees North latitude, the land occupied a similar geographic position as sections of northern Spain.

Today, Abacela's site-matched 76-acre estate vineyard provides a benchmark for world-class, American-grown Tempranillo. It has also proven to be an excellent incubator for Albariño, Syrah, Merlot, Dolcetto, Malbec, Grenache, and other carefully selected varieties. The estate fruit is hand-harvested at optimal ripeness and gently processed using minimal handling and a gravity-flow system. The resulting wines express the harmony between each variety and its unique terroir.

Year after year, Abacela wines win rave reviews, medals, and 90-plus scores. Earl was named Oregon Vintner of the Year at the 2009 Portland's Classic Wines Auction, and Wine Press Northwest recognized Abacela as the 2013 Oregon Winery of the Year.

Abacela is a wonderful place to visit with an inviting Vine & Wine Center, open daily except major holidays. Besides regular drop-in wine tasting, visitors are invited to call ahead to schedule a private seated tasting where they can enjoy a more immersive experience. They can also schedule a winery tour or vineyard tour in Abacela's Yellow Capsule Wagon. Vineyard tours are offered during the summer each Friday afternoon at two, or by appointment.

In each bottle of Abacela wine, one appreciates the brilliant results of the Jones family's 20-year adventure in winemaking, along with the potential of Southern Oregon as a winegrowing region.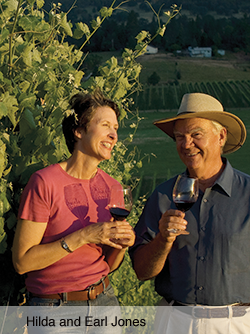 AN INTERVIEW WITH FOUNDER EARL JONES





T&T: Abacela has done a lot to put Southern Oregon on the winegrowing map. What makes this region so special?





EJ:

Southern Oregon's growing season and climate, being intermediate to California and the Willamette Valley, are perfect for producing very fine wines that have both Old World character and new world verve. These ideal conditions enticed our move to Oregon and enabled our early success with Tempranillo and other alternatives to the five international varieties that were commonly grown in Oregon at that time. Other growers and producers have also thought outside the box and produced excellent variety site-matched wines that caused wine critics to notice Southern Oregon.



T&T: In the two decades you've been farming Tempranillo and other Portuguese and Spanish grapes, what have you learned about these varieties?





EJ:

We turned to the experts—the Spanish and Portuguese—only to find their answers varied depending on the exact growing conditions of their site. We have found that true in the microcosms of Abacela as well. Basically, we don't over crop nor excessively stress the vine and, just as in raising children, give each vine-child the individual attention, love, and affection it requires.



T&T: Your Paramour Gran Reserva-style Tempranillo is a real labor of love. Can you tell us about your vision for this wine?





EJ:

The inspiration for our Paramour was Vega Sicilia's Unico arguably Spain's best and one of the world's finest wines. It is a "Gran Reserva-style wine" assembled from the very best lots of our finest Tempranillo and aged 24 months in barrel, then four in bottle for release in its sixth year. This purple black wine is our magnum opus. It's incredibly concentrated, rich, textured, complex, and alluring with intense aromas and flavors. It is produced only in truly exceptional vintages (only four times in 20 years) and ages extremely well.



T&T: What's next? Are there any other wines you're interested in making?





EJ:

Our experience with Touriga Naçional, Tannat, and Tinta Amarela has been very positive convincing me that they have a place in the future of Southern Oregon.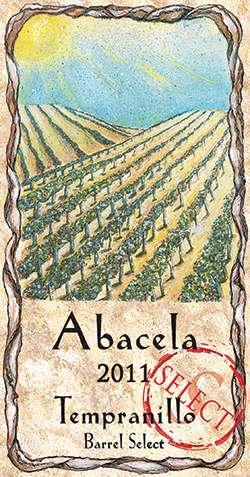 What to Buy




'14 Albariño - $21


Citrus, apple, dry



'11 Barrel Select Tempranillo - $36


Dark berry, plum



'09 Paramour - $100


Intense, cherries, cassis



Special Notes


Private tastings and tours by appointment, panoramic views, wine club, special scheduled events, interpretive winegrowers walk.



Contact


12500 Lookingglass Rd.
Roseburg, OR  97471



Phone:

541-679-6642


Email:

wine@abacela.com


Website:

abacela.com



Tasting Room:

Open Daily 11–5 (Nov–May); 11–6 (June–Oct).

Touring & Tasting is a media company that produces a wine and travel magazine and is also partner in the Hitched Wine Club.