The following is an excerpt from "Marriage in Modern Life: Why It Works, When It Works."

Many of us did not see our parents communicate about the issues that need discussing in a modern relationship, so new and more equitable ways of engaging and interacting with our partners may not come naturally. The good news is that it is never too late to create a relational style that meets the needs of the 21st century family—a style that is mutually beneficial and emotionally rewarding and in which responsibility, accountability, and decision-making are shared.

Communication in a relationship works like oxygen, sustaining life. Couples never come into my office and say, "We are talking way too much." It is always, "We have a problem with communication." I rarely take that to mean the partners are not talking, and I understand the subtext signifies that they are not successfully communicating.

It may mean that one or both partners backs away from communication or limits their conversation to the unimportant things. Perhaps past conversations between the two became heated and escalated to the point that someone got angry or shut down. For many of us, our natural instinct is to avoid situations that feel complicated and confrontational; but keeping and maintaining a successful marriage depends on learning how to fight the avoidance instinct effectively and discussing difficult issues.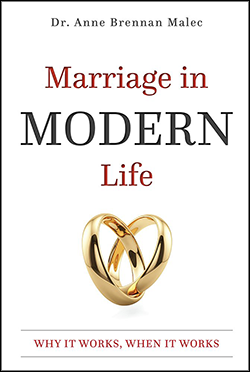 The only way to keep the lines of communication open is to make the talking space emotionally safe. Both partners in the relationship need to know that their concerns, feelings, anxieties, complaints, plans, and dreams will be heard respectfully. Being married for 16 years, I know this is easier said than done. It is not easy to listen to your husband or wife when you are completely opposed to or misunderstand his or her perspective. It is not easy, but communication works best if you come to the discussion table with an open, patient, and tolerant mind. If emotional safety is lacking and if partners do not feel as though they can be honest and emotionally vulnerable, yet nonetheless heard; then they will likely back away from the interaction, physically or emotionally. To be able to share openly with a spouse, one must know he or she will not be yelled at, belittled, dismissed, invalidated, rejected, or ignored.

Couples who fall into bad relationship habits that cut off communication comprise a significant portion of my practice. Typically, one spouse brings up a sensitive topic or maybe even a seemingly ordinary one, like getting help with the kids while he or she cooks dinner. The responding spouse may react poorly or not at all to the request, which then causes the initiating spouse to feel dismissed, frustrated, and resentful. Often the initiating spouse then shuts down and stops trying to communicate because doing so seems to have made things worse.

If you avoid difficult conversations and conflict because you fear it will turn ugly, you need to get help with that issue unless you have a spouse who is also conflict-avoidant. Two conflict-avoidant people can successfully navigate a relationship only if you both are truly willing to let things roll off your back and not secretly build resentment. But even then, it would benefit your marriage if you worked on building your conversational muscles. It never hurts to become a better communicator.



"I see it all the time in my practice: a partner agrees to do something when he or she has no intention of doing it, just so the spouse will stop nagging about it."


If you have chosen a partner who is not conflict-avoidant—who values communicating about small and large issues—and you are conflict avoidant, you potentially have trouble. Even if you are successful at avoiding verbal communication, you still communicate behaviorally. In my field we call this being passive-aggressive; that is, acting out your feelings instead of talking about them. As a relationship strategy, passive-aggression ranks near the bottom because of the mixed messages it sends. You say one thing but do another, or worse, you say nothing but roll your eyes or sigh dramatically. This interaction style communicates judgment and contempt, which is disrespectful and hurtful to your spouse. It also dramatically lessens the likelihood that you will feel heard or understood by your husband or wife.

When we act passive-aggressively, we usually do so because discussing our thoughts, feelings, and opinions with our spouse makes us uncomfortable or seems too risky. I see it all the time in my practice: a partner agrees to do something when he or she has no intention of doing it, just so the spouse will stop nagging about it. For example, a husband conveniently "forgets" about a social commitment because he does not want to go, but found it difficult to tell his wife how he felt. Another example: a partner who is afraid of telling her spouse that she finds him controlling acts out her feelings by arriving home three hours later than she had agreed to and blaming her phone's battery for not being able to call him. Passive-aggressive habits create distance between partners, and may lead to resentment, emotional and physical disconnection, and marital distress.

Dr. Anne Brennan Malec is the founder of Symmetry Counseling, a counseling, coaching, and psychotherapy group practice in Chicago. Dr. Malec, who had an earlier career in business, made a significant shift in 2000 when she began her training in the fields of Marriage and Family Therapy. She is the author of "Marriage in Modern Life: Why It Works, When It Works." Dr. Malec earned her Bachelor's degree from Villanova University in Accountancy and holds two Master's degrees: one in Liberal Studies from DePaul University, and one in Marital and Family Therapy from Northwestern University. Dr. Malec earned her Doctoral degree in Clinical Psychology from the Chicago School of Professional Psychology. For more information visit www.drannemalec.com.