If you toured the entire nation, you wouldn't find a place like California's San Luis Obispo (SLO) County. It's located in a primo spot—just about halfway between San Francisco and Los Angeles. Easy to get to and hard to leave, stunning San Luis Obispo County is full of possibilities for coastal, culinary, and cultural exploration, or as we like to say, "the three Cs."



Behold the Coastal Beauty



The western edge of San Luis Obispo County is defined by the Pacific Ocean. When you first lay eyes on this dramatic swath of land and how its rolling coastal hills dip down to touch the sea, you may hear yourself exclaim, "ahhh," or "wow." It's really that beautiful. The tapestry of hills and valleys in San Luis Obispo County are simply beyond compare. On many mornings and evenings, a coastal fog moves in, providing a light blanket for the wine grapes and other crops.

This coastal beauty is an inspiration to us all. Outdoor enthusiasts find a cornucopia of year-round fun, from the relaxing—tidepooling, whale watching, fishing, and visiting the elephant seal rookery—to the heart pounding—surfing, kiteboarding, hiking, and rock climbing.



Savor the Culinary Bounty



Year round, the abundance of fresh produce and seafood can be appreciated in many of the region's restaurants, showcasing artisanal preparations and a farm-to-table lifestyle. In addition to bountiful farm stands and you-pick farms, SLO County has more than 10 farmers' markets throughout the week, the largest being the San Luis Obispo Farmers' Market on Thursday evenings in downtown SLO, bringing more than 70 farmers, fishermen, and foragers together for one festive community tradition.

And then there's the wine! San Luis Obispo County is home to more than 280 wineries, with more than 40 different grape varieties. Travel throughout the Paso Robles and San Luis Obispo wine regions where wine trails and clustered tasting rooms make it easy to plan a memorable itinerary for a quick afternoon or long weekend of wine tasting.

Culinary and wine festivals happen year-round, giving you a unique chance to taste the artisan products from the region. In 2015, SLO County's signature event, Sunset SAVOR the Central Coast, takes place September 24 through 27. The four-day culinary and wine journey features special dinners, adventure tours, and a main event held annually at the Santa Margarita Ranch featuring local artisanal food, restaurants, breweries, wineries, music, and much more.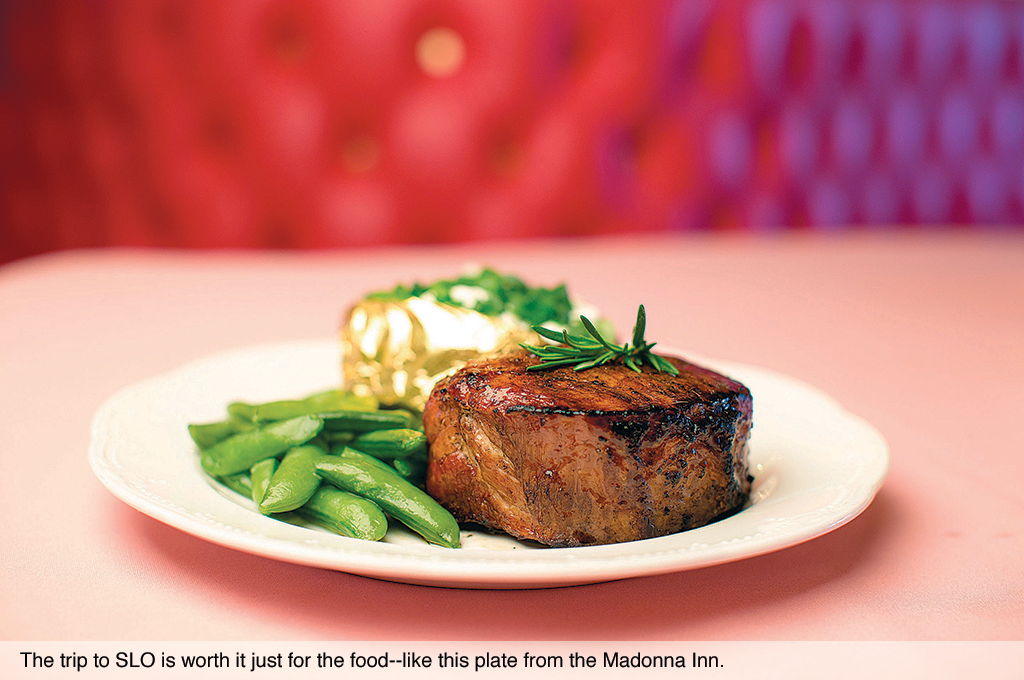 Appreciate the Culture



For fascinating tours and a taste of regional history, SLO County is home to two missions (Mission San Luis Obispo De Tolosa in downtown SLO and Old Mission San Miguel near Paso Robles) and a castle! Hearst Castle—a state park—is the magnificent former estate of the famed publishing magnate William Randolph Hearst.

For headline concerts, there's The Christopher Cohan Performing Arts Center SLO, and The Vina Robles Amphitheatre in Paso Robles with shows from April through November. Each summer, Paso Robles is home to the California Mid-State Fair, and San Luis Obispo hosts the Festival Mozaic, a world-class Mozart-inspired music festival, celebrating its 45th anniversary this year.

Coastal, culinary, and cultural—SLO County has all you could ask for in a unique destination. So pull out your roller bag, toss in your swimsuit, and leave your city clothes at home. It's time to come out and play!

For more information, see visitsanluisobispocounty.com and savorcentralcoast.com.

Touring & Tasting is a media company that produces a wine and travel magazine and is also partner in the Hitched Wine Club.