When Brooks opened its new tasting room in September 2014, the event was about much more than just brick and mortar. It was a celebration of the generosity and friendship of the Oregon wine community, who helped the winery get through devastating times when its founder passed away at an early age—only to carry on, rebuild, and uphold his legacy.

The stunning tasting room has fast become a destination for a number of reasons. Although it's far from the beaten path, it was built with wine lovers in mind. The main tasting room features large floor-to-ceiling windows overlooking the vineyard. Bar stools line the tasting bar, and around the rest of the room chic but comfy chairs for lounging are grouped with an assortment of tables.

"We want people to come and stay for a while," says Janie Brooks Heuck, the winery's director. Besides regular tastings, the winery offers a full program of engaging events, including Pizza Fridays on the third Friday of each month. Brooks has its own commercial pizza oven and grows its own ingredients for the pizzas on the tasting room's bottom floor. The fourth Sunday of every month is Live Music Sundays, when Brooks hosts some of the area's best musicians. Even on non-event days, there's a welcoming, laid-back feeling at Brooks that makes some guests glad they brought along a picnic lunch, and other, non-planners, glad that there are snacks available for purchase.

Actually, the wine portfolio is enough to put Brooks on the map. Winemaker Chris Williams has an uncanny ability for capturing the signature characteristics of Brooks' estate vineyard. Chris was the assistant to the winery's original winemaker, Jimi Brooks, whose reverence for the land made him an early proponent for organic and biodynamic farming. Today, the wines affirm Jimi's convictions and are the real reason the Brooks wine club is growing by leaps and bounds.



"Brooks has its own commercial pizza oven and grows its own ingredients for the pizzas on the tasting room's bottom floor."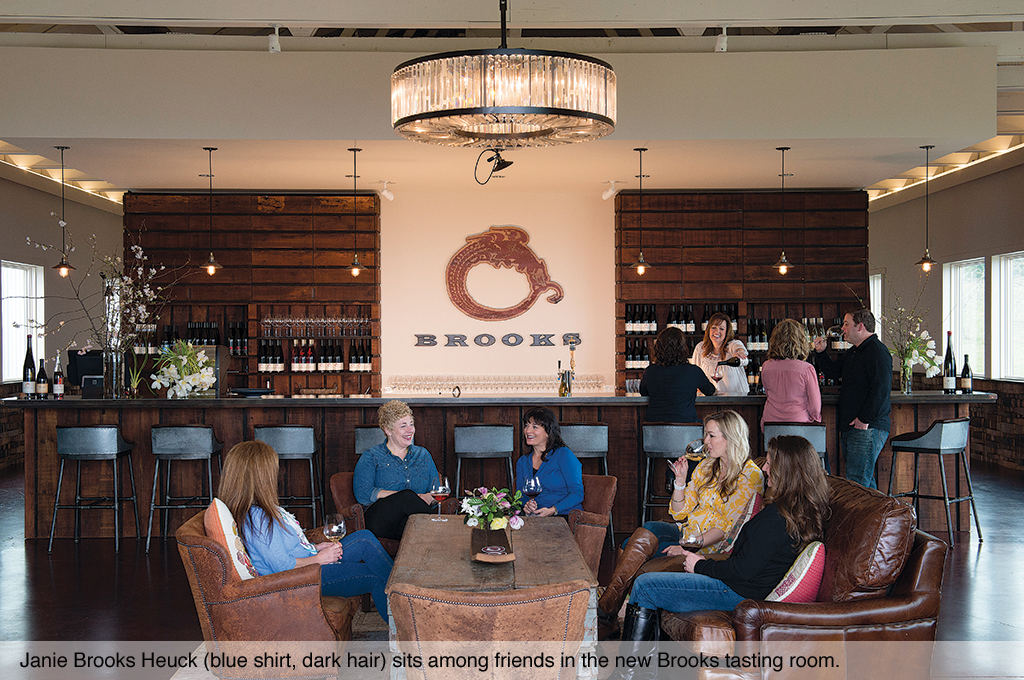 What to Buy




'12 Ara Riesling - $28


Round, ripe fruit, rose, cotton candy, hazelnut, macadamia, citrus



'12 Janus Pinot Noir - $38


Root beer, bacon, blackberries, dark fruit, smoked meat, plum



'11 Rastaban Pinot Noir - $55


Wild cherry candy, rhubarb, orange peel, wild raspberries, nutmeg



Special Notes


Certified biodynamic vineyard and winery, educational seminars, private tastings and tours, snacks available, scenic views.



Contact


21101 SE Cherry Blossom Ln.
Amity, OR  97101



Phone:

503-435-1278


Email:

info@brookswine.com


Website:

brookswine.com



Tasting Room:

Open Tue - Sun 11:00am-5:00pm

Touring & Tasting is a media company that produces a wine and travel magazine and is also partner in the Hitched Wine Club.