Sex Q&A: How Long Should Sex Last?
This week, Dr. Read discusses the right amount of time to have sex and super sperm.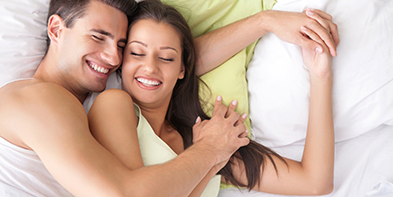 ---
"
So simply having penis-vagina intercourse all night long will become boring quick."
S

ex and relationship expert, Dr. Trina Read, is ready to answer your questions.

How long should intercourse last?

There's a belief that in order for a guy to be super studly, he needs to last all through the night. Definitely there are some guys and gals who would be on board.

Generally though, although the closeness of intercourse feels nice it's probably not getting most women off. Why? Her clitoris isn't located inside of her vagina. So simply having penis-vagina intercourse all night long will become boring quick.

This is especially true when there hasn't been enough foreplay for a woman's vagina to become sufficiently aroused. You see, while in a resting state a vagina is like a collapsed tube. Once aroused the vaginal canal balloons out and produces her natural lubrication.

When her vagina isn't properly aroused—at least 15 to 20 minutes of foreplay—chaffing can occur making intercourse uncomfortable.

So for the average couple, after she is aroused 10 to 15 minutes of intercourse will probably do the trick. However, studies show that the average length of intercourse lasts for three to seven minutes.



Great Sex Tip:

Want the sex to last longer? Focus on tons of foreplay and taking a break during intercourse to do other erotic activities.

What's the average speed of male ejaculation?

When a man is ready to ejaculate his body will undergo a series of events. He will see an increase in the size of the head of the penis and the head may also change to a purplish color. His Cowper's gland will secrete 'pre-cum' fluid, which dribbles out of his urethra. His testes will move in towards his body and increase in size. As well, he may experience a body flush, muscle tension, increase in heart rate and rising blood pressure.

Just before ejaculation he will feel contractions in his vas deferens, seminal vesicles, and the prostate, causing seminal fluid (ejaculate) to collect in a pool at the base of his penis. He will feel a 'tickling' type sensation. When ready to ejaculate, he will feel a "throbbing" around his urethra.

Ejaculate will leave his penis at roughly the same rate of travel as a city bus, about 28 miles per hour. But can reach speeds of 43 miles per hour depending how long since the last time he came. (It's all fun and games until somebody loses an eye!!)

Once he has ejaculated, his scrotum and testes will return to their normal size. He will have a general feeling of relaxation and experience a refractory period (where a he is physically incapable of getting another erection). This period may be from a few minutes to much longer depending on his age.



Great Sex Tip:

Unless he is at the point of no return, you can stop him from ejaculating by firmly (yet very gently) squeezing on the tip of the penis.

Dr. Trina Read is the founder of VivaXO.com; a leading relationship and sexual health expert and educator; and is a best selling author, media expert, syndicated blogger, international speaker, magazine columnist, and spokeswoman. Trina has just launched Sensual Tastes Events, an interactive workshop blending the pleasures of food and sex education. Follow her on Twitter and Facebook.


---