Widely known as the Napa region's premier wine country destination tour service, Beau Wine Tours creates lifetime memories for its clients. The company is owned by Thomas Buck, whose passion for wine, wine country, and education are apparent at every turn.

Although the fleet of 60 spotless vehicles—ranging from luxury town cars to Mercedes Benz Sprinters—is quite impressive, Beau Wine Tours has built a stellar reputation with its uncanny ability for building meaningful relationships with its clients and understanding their needs. For one thing, the company's staff is knowledgeable and well-trained—from the expert tour guides who personally drive the vehicles to the team of dedicated concierges who custom-tailor itineraries for parties of up to nine.

"Our concierge team has three members, and we each confirm up to 20 custom itineraries per week," says Chief Concierge Marina Freedman. "That number increases in the summer with the anticipation of harvest, or crush, which is our busiest season."

The concierge's job is to first determine what kind of wine touring experience the customer is looking for. First time visitors to the Napa Valley often need help navigating a long list of recommendations they've received from well-meaning friends. "We assist them by narrowing their list and making new memories for them, based on their preferences. Hopefully, they return home and share their new recommendations for their friends' next visit!"

Other clients have romance in mind. "There are gentlemen looking for an ideal way to propose marriage, honeymooners, and couples celebrating an anniversary, too," Marina says. "We will find the perfect spot to pop the question, whether it's in a vineyard or on a mountaintop. We can even embellish the site with flowers and make it so memorable, they'll wish to revisit year after year."

Beau Wine Tours also assists party planners. "In the Napa Valley, larger parties of more than six guests usually require reservations," Marina says. "We guide them to the wineries who not only host and accommodate larger groups, but make a point of providing a festive, fantastic experience for them."

Seasoned connoisseurs and loyal Beau Wine Tours clients also turn to Marina and her colleagues for help. According to Marina, "Although they've been to the valley many times, they're always looking for something different—either a winery they haven't visited in the past, a boutique winery not open to the public, or a new hidden gem worth discovering. We keep concise records of where each of our guests has toured with us, so we can continue to provide them with new and unique experiences."

With a full understanding that not everyone can plan ahead and work with its concierge team, Beau Wine Tours also has a spur-of-the moment offering called the Daily Dynamic Tour, planned by the tour guide who will personally lead the tour. Each Daily Dynamic Tour has a theme, based on the interests of the clients who have e-mailed or called in last minute to express an interest.

Whether a customer plans an excursion 10 months or 10 hours in advance, once confirmed, they couldn't be in more capable hands. After all, Beau Wine Tours has nearly 20 years of experience providing meaningful wine excursions for groups of two to 200. Considering this, it's the only way to go.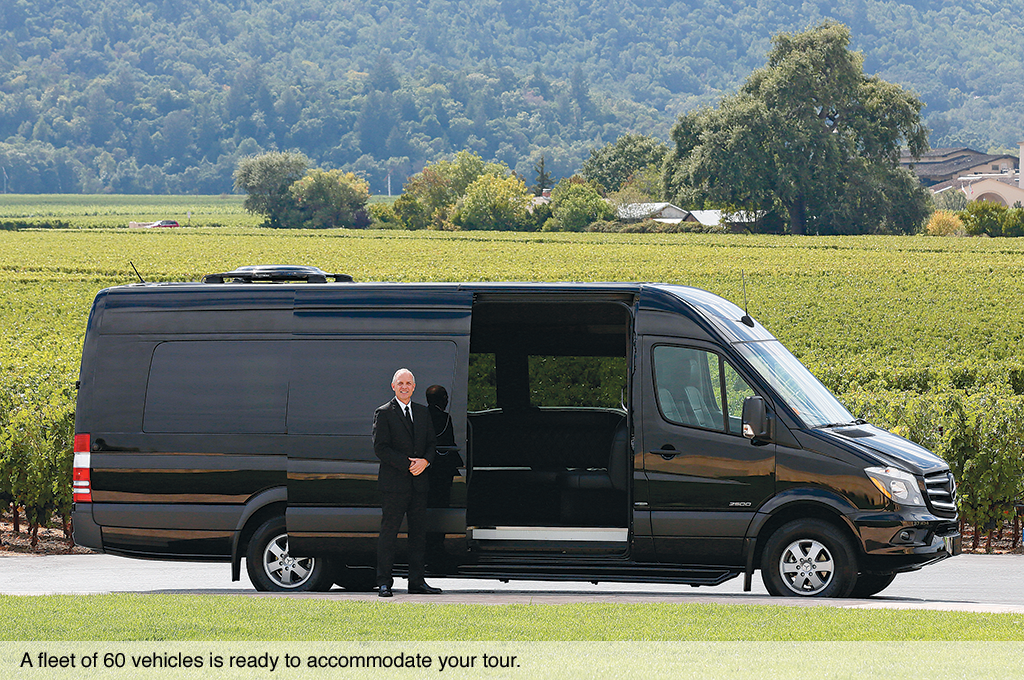 Nearby Wineries





Artesa Vineyards & Winery


Aside from excellent wine, an epic family history, dramatic Napa Valley views, and stunning architecture make Artesa Vineyards & Winery a destination worthy experience.



B Cellars Vineyards & Winery


When B Cellars opened its doors along the renowned Oakville Cross Road last August, it was the first winery to do so in 18 years. Founded in 2003 by Duffy Keys and Jim Borsack, the winery is a fitting addition to the neighborhood.



Bennett Lane Winery


With magnificent wines, a magnificent attitude, and a magnificent, beautiful tasting room, there are many reasons to visit Bennett Lane Winery.



Beringer Vineyards


The beauty of Beringer Vineyards is evident in the wines and fully realized when one visits its historic grounds in the Napa Valley.



Castello di Amorosa


Named a "must-see destination" by The Wall Street Journal, the Castello offers a myriad of ways for guests to enjoy their visit.



Etude Wines


Aptly named "Etude" after the music term for a focused study to perfect technique, Etude Wines is dedicated to mastering the craft of winegrowing in the Napa Valley.



Foley Johnson


Located in the heart of the esteemed Rutherford AVA, Foley Johnson is dedicated to producing wines that reflect the brilliance of its exceptional terroir.



Grgich Hills Estate


At Grgich Hills Estate, they're shattering the myth that only French soil can produce the world's greatest wines.



Heitz Wine Cellars


The family run Heitz Wine Cellars focuses on innovative winemaking and farming practices.



Jamieson Ranch Vineyards


Majestically seated at the southern gateway to the Napa Valley, Jamieson Ranch Vineyards welcomes guests with award-winning wines, sophisticated cuisine, and jaw-dropping vista views.



Materra | Cunat Family Vineyards


With a little patience and persistence, Brian Cunat, who hails from McHenry, Illinois, realized a dream when he, his wife Miki, and daughters Neena and Amie, founded Materra, Cunat Family Vineyards, in St. Helena, California, in 2007.



Monticello Vineyards


Inspired by the author of the Declaration of Independence and third president of the United States Thomas Jefferson, who once said, "Good wine is a necessity of life for me," Jay Corley founded Monticello Vineyards.



Napa Cellars


It seems only fitting that a winery by the name of Napa Cellars should embody the sense of place for which the famed Napa Valley is known. Every day in the winery's tasting room, guests discover great wines in a friendly setting that celebrates the Napa Valley legacy.



Peju


Through passion and hard work, the Peju family has transformed their Rutherford Estate into a wine, architecture, and art lover's paradise in Napa.



Pine Ridge Vineyards


Today, the esteemed winery is a showcase for exquisite Cabernet Sauvignon with nearly 200 acres planted in 12 prime vineyard sites: four in the Stags Leap District; two in Rutherford; three in Carneros; one in Howell Mountain; and one in Oakville.



Robert Mondavi Winery


With his belief that the Napa Valley could be the center of a gracious lifestyle embracing wine, food, and art, Robert Mondavi built the valley's first major winery since Prohibition in 1966.



Silverado Vineyards


From the moment visitors turn onto the drive leading to the vineyard estate, they realize this is not another Napa Valley Winery. As guests meander to the top of the knoll they're greeted by the façade of the majestic Mediterranean- style stone winery of Silverado Vineyards.



St. Clement Vineyards


St. Clement's history began in 1976, when William Casey, a local ophthalmologist, bought the house and built a 10,000-case stone winery in the backyard.



Stags' Leap Winery


Located on the east side of the Napa Valley, the 240-acre estate rests in its own intimate valley, graced with natural beauty, historic buildings, gardens, and a legendary reputation for elegant wines that express their unique terroir.



Sterling Vineyards


When British financier Peter Newton selected the site for the Sterling Vineyards winery, he chose a hilltop at the northernmost end of the Napa Valley.



The Hess Collection


Hidden away in the hills of Napa Valley is the wolrd-class winery, the Hess Collection.



V. Sattui Winery, Artisan Foods & Italian Marketplace


In 1885, Vittorio Sattui opened a small winery in San Francisco's North Beach, marking the birth of what would become, after four generations, a storied Italian tradition in Napa Valley—V. Sattui Winery.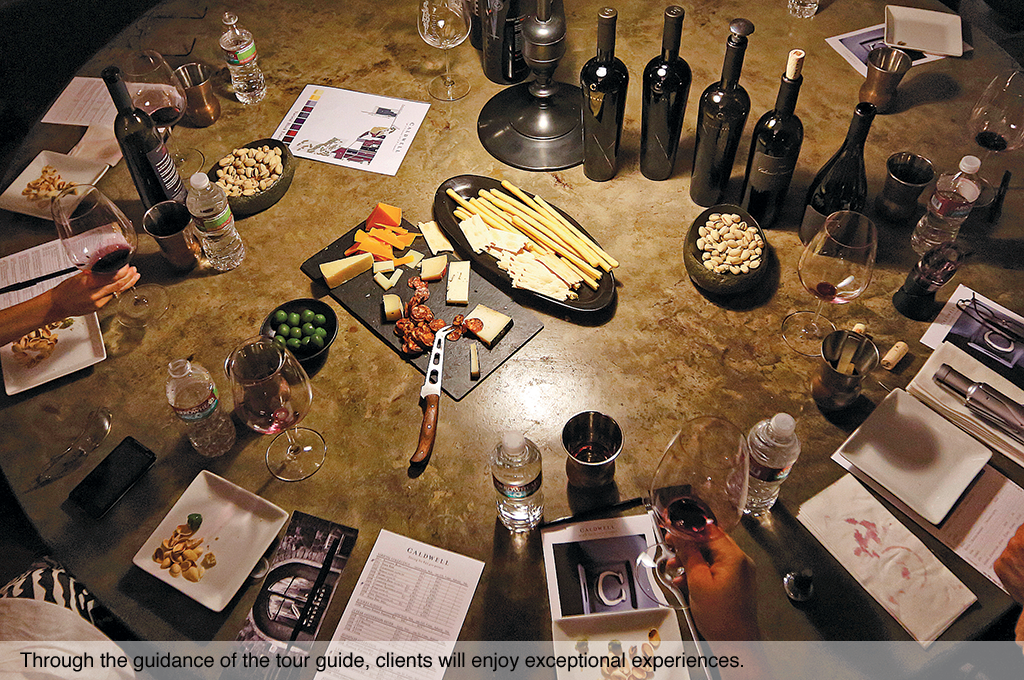 Contact



1754 2nd Street, Suite B
Napa, CA  94559



Phone:

707-257-0887


Email:

info@beauwinetours.com


Website:

beauwinetours.com


Hours:

Concierge Desk Open Daily 7am–8pm

Touring & Tasting is a media company that produces a wine and travel magazine and is also partner in the Hitched Wine Club.