Tips for a Romantic Road Trip Adventure
Let these simple tips be your guide in planning the perfect summer road trip.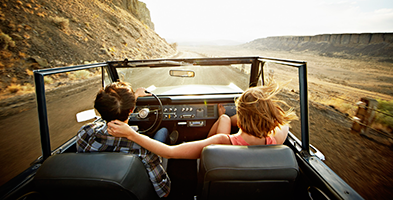 ---
"
Create a general outline of your route and research the cities and towns sprinkled along the way."
T

he sun is out, the windows are down and you and your honey are ready for an adventure. Fill up the tank and embark on a road trip that visits some of the most picturesque and unique locations of America. The great thing about a road trip is that you and your spouse can have long stretches of uninterrupted time together. Create an itinerary that is tailored to the interests of you and your spouse—this is great for honeymoons too. Additionally, make sure you have all the necessary tools and equipment, and plan so that your transportation and accommodation logistics will fall into place. Here are some useful tips and destination ideas for your romantic adventure.



Planning



Even if you and your partner are seekers of surprises and spontaneity, some plans and reservations should be in place for your big trip. Worst case scenario would involve a location that catches your fancy that is booked or open only on limited days. Create a general outline of your route and research the cities and towns sprinkled along the way. Utilize Trip Advisor, Yelp, Fodors and Eater for ideas of where to visit.

Make the appropriate reservations for dining, lodging and activities. Check Groupon for deals on activities and attractions that will enhance your trip while giving you a deal on the local must-sees.

Organize all of your planning information in an electronic document so you can access it on your smartphone, tablet or laptop.



Tools and Gear



A road trip requires a reliable automobile to seamlessly travel from point A to point B. Make sure your car is updated on the essentials—a good battery and solid brakes. Check your tires' air pressure and assess their tread wear. A tire rotation may be necessary, or even new tires.

A general checkup at your mechanic could save you time and money on the road. Keep essentials in your car for any emergencies, such as a few gallons of water, a first aid kit and a car safety kit. Once you have the basic necessities for your trip, you can include other important gear.

Make sure you bring a good camera along to capture all the wonderful moments with your partner in crime. Don't forget the charging cords (plus an adapter to charge in the car) and batteries, as energy-depleted electronics can be one of the most frustrating things while you're traveling.



Destinations



Sit down with your honey and discuss which region appeals to both of you. If you seek a mountainous terrain, a variety of climates and a scattering of beach towns and liberal cities, do a West Coast road trip. Start in Washington or California and head along the coast for some breathtaking views and wonderful destinations.

Rather than take Interstate 5, opt for the more scenic, coastal routes of HWY 101 and the Pacific Coast Highway. In California, stop at Big Sur for a view of the rocky giants that emerge from the azure Pacific Ocean. Nepenthe is a Big Sur pit stop that shouldn't be overlooked. Its cliff-top restaurant is the perfect place for lunch or a sunset dinner.

If you seek a hot, desert climate, visit the Southwest to explore the states of Utah, Arizona, New Mexico and Texas. For the perfect combination of outdoor recreation and culture, create a trip that includes time in Moab, Utah—the red rock capital of the U.S.—and then head south to Marfa, Texas, a small town chock full of experimental art installations.

Other regional road trips include the Deep South (New Orleans, Savannah, Charleston), New England, Yellowstone and the Everglades. These locations have amazing food you'll want to take advantage of, from New England lobster rolls to Southern barbecue.

Kyla Stelling is a graduate of the University of Washington, where she studied literature. She is the curator of the blog Seattle Street Style which focuses on fashion and design in Seattle where she lives. She has worked in L.A. doing costume design but has recently shifted her career focus to public relations. When she isn't working as a freelance writer, she is preparing herself delicious food or working on a DIY home decor projects.


---
---
---
Leave a Comment