T

he historic Calistoga National Bank building in downtown Calistoga is now a charming tasting room and an ideal setting for Huge Bear Wines. Founded in 2006 by family members with a heritage in agriculture and love of wine, Huge Bear Wines embodies the spirit and history of California.

Beyond the fact that bears have always been an important symbol in California's heritage, the winery's name was inspired by an article uncovered in local historical archives. According to written lore, a huge bear repeatedly descended from the mountains in search of food and raided the home of the local justice of the peace. The bear was never captured, and his rogue independence inspired those who fought for the Independent Republic of California. Today, his legend lives on—as a symbol on the California state flag and in Huge Bear wines, whose grapes are sourced from some of California's finest vineyards.

Huge Bear Wines shares the same ownership as the exclusive Knights Bridge Winery, located in Knights Valley. Both wineries began bottling a decade ago. Even their earliest wines attracted the attention of Wine Enthusiast and Connoisseurs' Guide to California Wine who, for instance, roundly applauded the 2006 Huge Bear Cabernet Sauvignon with scores of 90-plus points.

Early in 2015, Huge Bear found its own den in a beautiful ornate building adorned with high ceilings and crown molding on Calistoga's main drag. Guests are invited to drop in and immerse themselves in the area's history and listen to the legend of the Huge Bear as they sample the exceptional wines. While no appointment is required to come and taste the Huge Bear wines in the historic building, those who are interested in the wines from Knights Bridge Winery need to make an advance appointment for The Vault Tasting. These guests are in for a special treat: a private seated tasting of Knights Bridge limited production wines paired with local cheeses or small bites from the French bistro, Evangeline.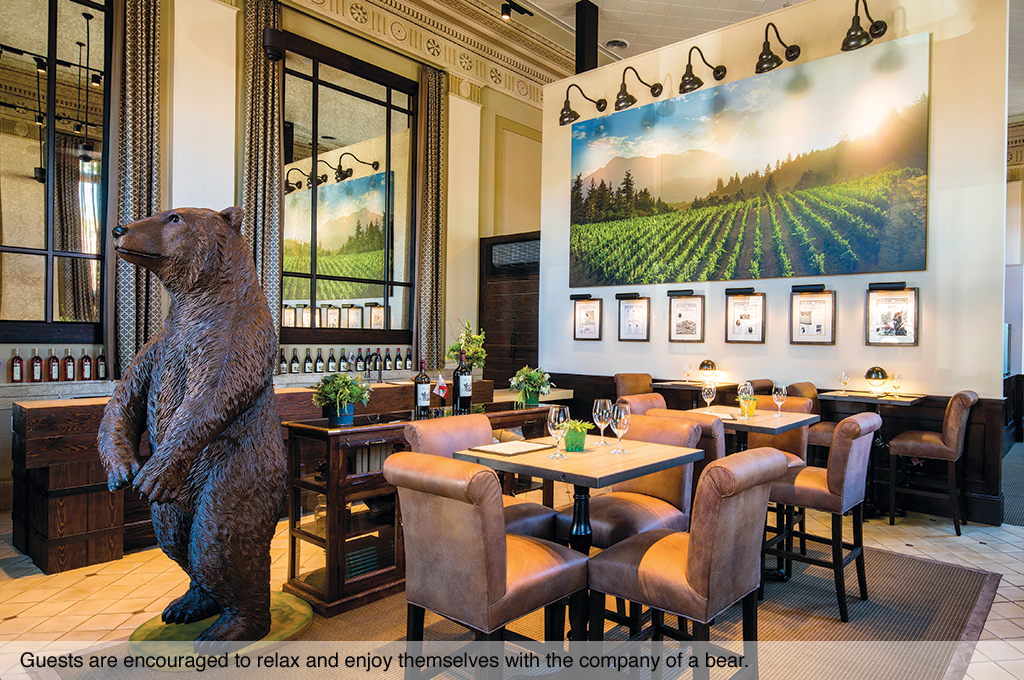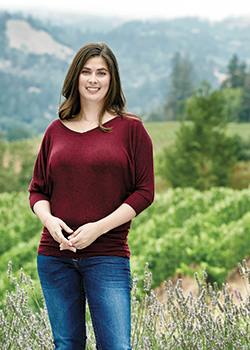 An Interview with Winemaker Meredith Leahy



T&T: As the winemaker for Huge Bear Wines, what is your vision for these wines and what do you hope they'll express?

ML: At this time, Huge Bear wines primarily come from Sonoma County, and I wanted to express the differences that can be found between Napa and Sonoma and do it in a way that is approachable to many. The fruit that became part of the program needed forward expressiveness and balanced tannin structure. I want people to be able to open a bottle of Huge Bear wine for all occasions—be it every day or a special celebration.

T&T: The portfolio presents an impressive variety of small lot wines. Why?

ML: In the vineyards that we source for Huge Bear, we have been able to select—down to the exact rows—what we want for our wines. The amount of fruit from these sections lends itself to small lots. Why blend it all together when you can bottle small lots? We want to showcase the subtle differences from each place so that our customers can taste the differences and share the stories. Making small lots is also great to keep our customers engaged with our brand. If we are always running out then they can't forget about us.

T&T: You have the enviable job of being winemaker for two brands with the same ownership— Huge Bear Wines and Knights Bridge Winery. How do they differ?

ML: Knights Bridge is primarily from our estate vineyards and has its focus on the purity of the varietals— Cabernet Sauvignon, Sauvignon Blanc, and Chardonnay—whereas Huge Bear Wines can come from beyond, and I look for vineyards that express the flavors within the varietals that I'm making. I spend a lot of time in the vineyards, and I enjoy the opportunity to be able to work within neighboring vineyards. Knights Bridge wines are sophisticated with fine tannins and elegant flavors. The Huge Bear wines can be whimsical and easy to enjoy. Neither is better as they both have their place in the world of wine.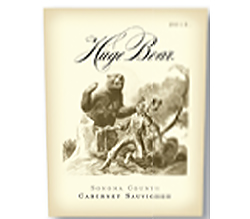 What to Buy




'13 Chardonnay - $40


Green apple, peach, vanilla custard



'12 Ursa Gigantes - $45


Blackberries, plum, mocha



'12 Cabernet Sauvignon - $55


Lush dark fruits, cocoa, baking spices



Special Notes


Private tastings with winemaker by appt, wine club events and discounts, sustainable farming practices.



Contact


1373 Lincoln Avenue
Calistoga, CA  94515



Phone:

707-341-3414


Email:

info@hugebearwines.com


Website:

hugebearwines.com



Tasting Room:

Mon - Sun, 10 AM to 5 PM

Touring & Tasting is a media company that produces a wine and travel magazine and is also partner in the Hitched Wine Club.