Strip Club Foreplay
How to turn a handful of dollar bills into a night full of sex.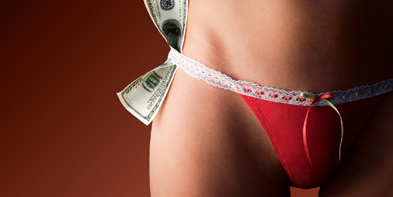 ---
For most men, a trip to the strip club means hiding the credit card receipt and coming up with an alibi. But for a few lucky bastards out there, a night at the club means several hours of foreplay with their wife—without having to do any of the work. As women's sexual appetites become more like their male counterparts', more and more women can be found enjoying the same naughty pastimes once reserved for the boys. That means if he's willing to share, and she's willing to try, a couple can discover a whole new way to spice up their sex life.

If flinging dollar bills at a stage together sounds like your kind of night, here are four simple tips for getting the most out of your money:

Start your engines. Experienced couples know that foreplay starts even before you get to the club. "We don't do it often, but once we do decide to go to a strip club, I immediately start getting excited for what happens when we get home," says Cara, 26, who was pleasantly surprised by the outcome of her first visit to a strip club with her husband Mark*, 30, who was her boyfriend at the time. "How can you not have hot sex after a night of watching [that]?" Make the most of this pre-club foreplay by grabbing some drinks first and flirting across the table.

Check your jealousy at the door. There are two kinds of jealousy: the kind that destroys relationships and the kind that keeps things hot. If either one of you subscribe to the first one, don't even bother entertaining this idea; that kind of jealousy stems from a lack of trust—and a room full of naked girls is not the place to be working out these types of issues. The second kind of jealousy, however, isn't necessarily all bad and can even work in your favor. This is the type of jealousy that reminds you how sexy your partner still is, even when it sends a little pang to your chest to see another person flirt with your spouse. "Part of the reason I like going to strip clubs is because it makes [Cara] a little jealous," says Mark. "She always gets more lovey-dovey because she wants to one-up them."

"I admit I get a little hot when I see another girl dance for him," says Cara. "But I remember one time watching a girl lead him to the VIP area and I got so jealous. I was actually mad at him. I had to talk myself down and remind myself that it was my idea to go there."

Mind your manners. It goes without saying that this type of activity demands no boundaries are crossed. It's a good idea to discuss what's allowed and not allowed before you even get there. Are lap dances okay or strictly table dances? Is touching allowed or do hands stay at your side? And, as is often the case, minds may change. It's very likely that what was deemed okay outside the club is suddenly inappropriate inside. Pay attention to any clues that your spouse is uncomfortable and immediately stop. If your wife said it was okay to get a lap dance but now looks like she's about to cry, let the stripper finish (lest you insult her) and ask your wife if she wants to leave. "I always make sure [my wife] knows how much more beautiful she is than the strippers. It makes her feel more attractive when I tell her they don't hold a candle to her."

Turn fantasy into reality. For most men, the real turn on of going to a strip club has nothing to do with them and everything to do with their wife. "It's so incredibly sexy to watch her face as she's getting a lap dance," says Mark about Cara. "I've even paid a stripper $20 once to have Cara giver her a lap dance. When your wife turns into the stripper—that was a total fantasy of mine. It's every guy's dream to take the stripper home and bang her."

Whether you're a first-timer or a regular, going to a strip club together can be just the type of naughty (and safe) fun your relationship needs. So the next time you feel a little frisky but are too lazy to spend time on foreplay, grab a handful of dollar bills and let someone else do the work for you.

*Editor's note: due to the sensitivity of this subject, last names have been omitted by request.


---