Gas Is Up, So Is Travel
The nation is seeing record gas prices and more travelers are hitting the road this year compared to last. What gives?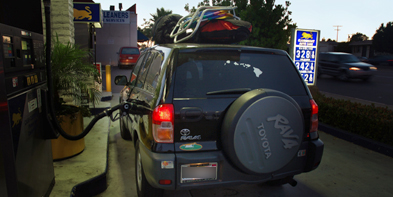 ---
A funny thing is happening this summer. Despite the hullabaloo over high gas prices, which are hovering above $3 a gallon—and getting worse everyday with Israel and Hezbollah bombing the hell out of each other—more Americans are choosing to pack up and hit the road. Over the 4th of July weekend, AAA estimated that over 34 million people put rubber to the road, which is a 1.3 percent increase compared to last year. Three bucks a gallon be damned, it seems like nothing is going to stop us from taking that road trip to the beach.

With tightened budgets and higher living expenses, how can people afford to leave town? Especially when costs are up across the traveling spectrum. Gas isn't the only thing going up. The cost of renting that lovely Geo Metro is up five percent from last year and that cozy seat in that all-too-packed airplane is up seven percent. At least you can enjoy your complimentary headphones . . . oh, whoops, scratch that, too.

"We cut costs for months to afford to travel as a family," says Donna Maria Coles Johnson, 33. Donna and her husband, Darryl Johnson, 34, have been married for six years and have two kids, and they had to take in some serious considerations to plan ahead for their vacation. This included eating out less, not using the air conditioner as much and even cutting down on trips to their parents' house—a 45-minute jaunt from their Washington, DC, suburb.

Kansas State University financial management specialist, Carol Young says that rising costs shouldn't hamper vacation plans, just modify them. She suggests money-saving tips, such as shortening the vacation time by a day and planning ahead for costs like admission prices and attractions. In other words, pack your bags and some lunches too, as meals can be pricey; you may be surprised to find out how much money you can save by bringing your own food.

Christine Karpinski, author of How to Rent Vacation Properties By Owner agrees. "It's much easier today to find vacations suitable to any budget or lifestyle," she says. If couples are looking for a bargain, Karpinski says to try vacationing closer to home to save on gas money and using sites like www.fuelcostcalculator.com to find out how much it will take to get you there.

Donna Abbott is the PR director for Ocean City, Maryland and says that most of the visitors to her resort town come from nearby cities like Baltimore and Washington, D.C. "We really stand to do as well as last summer," says Abbott.

Those numbers will change by this time next year because gas prices won't be coming down anytime soon; remember the outrage at $2 a gallon? So before you have to take out a second mortgage to fill your gas tank, do some research, plan ahead, and let the good times roll.


---
---
---
Leave a Comment