Stagnant Sex Life? Do It Daily
Having regular sexual relations can provide a number of exciting benefits to your marriage.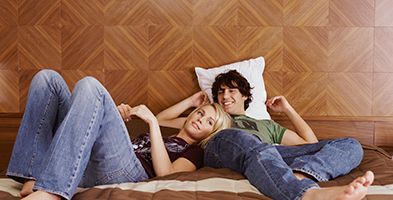 ---
"
Your chances of experimenting are likely to increase when you have sexual relations on a daily basis."
A

re you in a marriage? If so, are you pleased with the frequency of intimacy? If your desired goal is to be more sexually active with your spouse, you will want to share this with your partner. It can begin simply as a game to get you started. Don't under estimate the power of having a sex life you are happy with at any age. It can be a time to get to know your body in new ways—and a great goal to accomplish this is to have sex on a daily basis.

Right now, you're thinking two things. First, you may be thinking "we already have enough sex." If so, good for you. Fantastic! You officially have a happy and healthy sex life. Second, you may be thinking "no way, there is no time." If this is the case, know it isn't true. You may be surprised just how many couples have sexual relations on a regular basis. It is also important to note that couples who are satisfied with their sex life often have the healthiest and happiest relationships.

Why the goal of being intimate on a daily basis? First, it's fun. Also, connecting intimately shows your partner that you truly love them—which can be an important reminder as the years in your marriage go on. Of course your relationship should not be based on sex, but it is a huge component of it. So why not take the plunge to express your love every day? Here are a few more reasons.

Your chances of experimenting are likely to increase when you have sexual relations on a daily basis. Why? Because if you have sex daily, you may get bored with your present method. Rather than opting to reduce the frequency of intimacy, many couples decide to experiment, instead. This is something that may provide you with excitement or a source of motivation. This experimentation may involve the use of sex toys, videos, new positions, role playing, or any combination of these.

Sex is also good for your health. This carries over into many other aspects of your life as well. We feel better both physically and mentally due to it. Having sex releases feel good hormones which can improve your mood and therefore the environment around you.

Another one of the many reasons why you may want to set a daily goal is, those who have healthy sex lives are less likely to suffer from stress and depression, and live longer. This may improve your marriage by limiting the number of disagreements. It is also important to note that sex burns calories. What could be better than working to lose weight while being adventurous with the man or woman you love? Didn't know there were that many advantages? Well, there are!

Shirl Hooper, Founder/CEO of Matches By Design, LLC-TM, is a Certified Matchmaker, Expert Dating and Relationship Coach, who has previous experience in Customer Relations in the healthcare field. Shirl has a passion for romance and helping others find love. The first relationship one should have is, a healthy respect and love for one's self. Once this occurs, we project our best self, and truly inspire others to find their happiness.


---