Men, Do You Have Your N.U.Ts?
According to author Wayne Levine, there's an epidemic today of men not being men.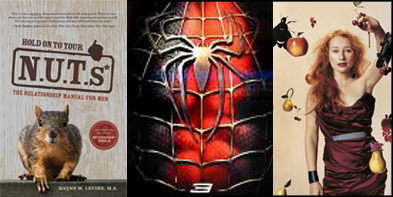 ---
READ
Hold on to Your N.U.Ts
Wayne Levine, M.A.
www.greenleafbookgroup.com

According to Wayne Levine, there's an epidemic today of men not being men, and if Levine has anything to do with it, the epidemic stops with his book Hold on to Your N.U.Ts, a guide for men to take control of their lives by identifying the principles they should live by. In his book, Levine tells readers how to utilize the eight "BetterMan" tools to fix their marriage, why it's important for men to develop trusting relationships with other men, why some men actually fear the women in their lives, and how to silence the little boy within every man. Do you have a hold of your N.U.T.s? Or your Non-negotiable, Unalterable Terms?

WATCH
Spider-Man 3
Tobey Maguire, Kirsten Dunst, James Franco, Topher Grace
http://spiderman3.sonypictures.com/

A strange black entity from another world bonds with Peter Parker (Maguire) and causes him inner turmoil as he contends with new villains, temptations and revenge. As anticipated, Spider-Man 3 is chock-full of intense fight scenes and action-packed moments that far surpass the first two movies, but a convoluted plot and underdeveloped characters leave you feeling like too much is being shoved into one film. Where the film lacks in hokey dialogue and too many story lines, however, it makes up for in action and incredible special effects, so Spidey fans won't be disappointed.

LISTEN
American Doll Posse
Tori Amos
http://toriamos.com/

Tori Amos has never really been one to fit in to a box, and her latest album, American Doll Posse, is no exception. Amos' ability to blend bizarre sounds with improbable verse structures is still the back bone of her latest album, but the real meat lies in the political and feministic statements she's trying to make. American Doll Posse consists of songs sung by five different female characters that Amos developed, complete with their own wardrobe and stage persona. Political and theatrical issues aside, American Doll Posse proves Amos is still the queen of the keyboard and a lyrical master able to take listeners on a musical ride that bends the rules of conventional song.


---
---
---
Leave a Comment