6 Country Roads to Cruise in Santa Ynez Valley
With all the talk of ride-sharing apps and self-driving cars, we can sometimes forget the pleasure of driving a quiet country road and enjoy the scenery.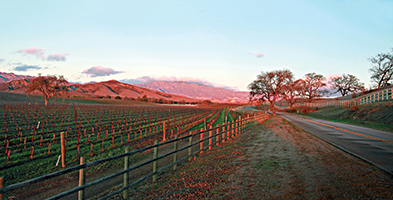 Photos courtesy of Visit Santa Ynez Valley
---
"
This undulating roadway proudly unfurls the glorious valley landscape, with a few horse and cattle ranches and nothing more but view, view, view."
T

he stunning Santa Ynez Valley, about 125 miles north of Los Angeles, is a road tripper's dream with barely traveled rural routes leading from town, to village, to winery. Here are six roads you'll want to cruise down.



Alamo Pintado Road


The short drive from Los Olivos to Solvang has something for everyone, from a lavender farm and several wineries with tasting rooms to miniature horses to admire from the road and a playground. The charming hamlet of Ballard lies just off Alamo Pintado. For window shopping, wine tasting, and a meal, take a stroll through Solvang or—just a few miles east—downtown Santa Ynez.



Alisal Road


This lovely road connects the eastern end of Solvang to Route 246. It takes you past the beautiful golf courses of the Alisal Guest Ranch and Resort, then winds and stretches through wooded glens and colorful countryside. Bring a picnic and stop at Nojoqui Falls Park, or go just a few miles north on Highway 101 to Buellton where a variety of great restaurants await.



Armour Ranch Road


Short but very sweet, Armour Ranch Road is the continuation of Highway 246 just east of Highway 154. This undulating roadway proudly unfurls the glorious valley landscape, with a few horse and cattle ranches and nothing more but view, view, view. The rolling terrain straightens into a steady series of hills that are quite popular with accomplished cyclists. After your brief spin, you can backtrack to downtown Santa Ynez for some window shopping and a memorable meal.



Drum Canyon Road


This adventure-filled road connects the town of Los Alamos and Route 246. As its name implies, it leads you through the vacuous Drum Canyon along the edge of a small mountain. As you dip and climb, you won't encounter much in the way of humanity, unless you happen across a determined mountain biker or two. Los Alamos is a friendly, walkable town, now home to tasting rooms and gourmet eateries.




Figueroa Mountain Road


Just north of Los Olivos, the town's Grand Avenue becomes Figueroa Mountain Road. The road passes grazing cattle and the gate to Michael Jackson's Neverland Ranch before it reaches a narrow bridge. From there it gets steep and winding, and you'll eventually enter Los Padres National Forest. The ever-changing vistas are amazing along this route. Return to Los Olivos for wine tasting and a stroll.



Foxen Canyon Road


Although this is one of the region's most popular wine trail routes, it is still a peaceful two-lane road that meanders through low-lying cattle ranch land spotted with valley oak trees. Most of the wineries you find along this trail are open daily and welcome guests and small groups without an appointment. Los Olivos offers several tempting restaurants for before or after your tour.

There are many unique and wonderful places to stay in and around the hamlets, villages, and towns of Ballard, Buellton, Los Alamos, Los Olivos, Santa Ynez, and Solvang. For a complete list of options, visit visitsyv.com

Touring & Tasting is a media company that produces a wine and travel magazine and is also partner in the Hitched Wine Club.


---
---
---
Leave a Comment