Blending Finances
Entering a second marriage and donít want to mix your money like the first time? Mr. Brogan lets you in on what not to do the second or even third time around.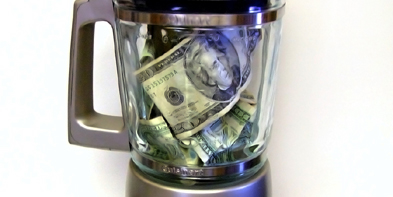 ---
I just started my second marriage and money played a big part of my previous divorce. What can I do to avoid money issues with my new husband?

What would you say if your financial advisor told you about an investment that had a chance of losing 50 percent to 100 percent of its value and could dramatically change your future lifestyle?

Oh, and by the way, the chance of this investment not working out is roughly 50 percent of the time. Would you invest in it?

Well, for many people not only do they try this investment once but several times in a lifetime. The investment is marriage.

I have been in the financial industry for over ten years as an advisor and research consultant for many portfolio managers. This is my second career since receiving my Masters in Clinical Psychology so I understand how these two entities, marriage and money, can affect relationshipsóespecially the second or third time around.

I have always been taken back by how many people give the wrong answer to a simple old question. Why do people get divorced? The number one answer people give is "money". I know a lot of poor happy couples who canít get enough of each other. The real answer is not money but "intimacy". Show me a happy couple thatís been married for many years and I will find a couple that communicates well with each other about all things under the sun. Intimacy has many faces in a relationship and one of them is financial intimacy. My definition of this is for individuals who are committed to each other to be open and honest about their financial histories and current financial situations, including how one views money and how money makes them feel. Also, I look at a couple's future dreams regarding money and what they hope it brings.

So, for those of you getting into a commitment of marriage for the second or third time and want to know how to handle financial issues with a new family, my advice is to act as if itís the first time.

What I mean to say here is that there is probably a good chance you didnít talk about money and financial issues in a healthy way in the past. So, stop here and start to add new skills and awareness to what money is and what it means to you. Also, include your new relationship in this process. In this way, you will both experience a new first together. To experience a first time of something, especially as important as money, it will have an incredibly positive effect on the relationship going forward.

To help you get started, donít talk about money in these four places:

In the Bedroom: Donít even try it. You think having a TV in the bedroom is a bad idea? Nothing compares to this. This is where the magic, not the money, is supposed to happen.

While paying the bills: By this time the damage is done. Doctors donít talk about why the leg is broke when they are putting the cast on. Just pay it and make a note to talk about it later.

In the car: Men love doing this because she has nowhere to run to. Donít do it! Itís the quickest way to get in a car accident.

Over a meal: Food is for nourishment and connection, not division.

This is a good starting point, and there is much more you can do to insure your chances of success and happiness going forward.

Many authors have covered these skills to help couples talk about money and become financially educated. I would still say that David Bach and Suzie Orman are the leaders after many years on this mission. Daveís book "Smart Couples Finish Rich" is an easy read filled with great information. Suzie is helpful with introspective questions for couples to ask each other.

Thereís no quick fix, but a beautiful journey of discovery and awareness, which any couple can take together at their own pace. I wish you love and success.

Vice President Brian D. Brogan of H.G. Wellington & Co. Inc. Mr. Brogan can be reached at bdb@signalreport.com or 610-896-8823.


---
---
---
Leave a Comment