Maroon 5 Goes Upbeat
It's the second and third time around for these artists, read how they've evolved.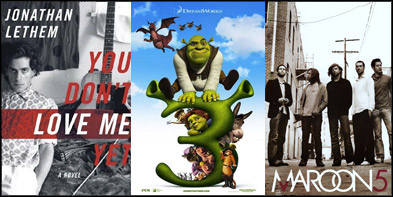 ---
READ
You Don't Love Me Yet
Jonathan Lethem
http://jonathanlethem.com/loveme.html

Lucinda Hoekke plays bass for an alternative rock band and spends eight hours a day answering phones for the "Complaint Line," a place where anonymous people call and air their random grievances. A regular caller soon captivates Lucinda, leading them to meet and fall in love, with unusual consequences. Full of satire and sex, You Don't Love Me Yet takes readers through the L.A. scene of hipsters and musicians as two people struggle to find love.

WATCH
Shrek the Third
Mike Meyers, Eddie Murphy, Cameron Diaz, Justin Timberlake
www.shrek.com

When Shrek's father-in-law, King Harold, suddenly falls ill, Shrek must find Fiona's cousin Arthur, the next heir in line or face taking the throne himself. Finding Arthur and convincing him to take the throne, however, proves to be more trouble than they anticipated in this popular storybook satire, which grossed $122 million its opening weekend to become the biggest opening weekend by an animated film.

LISTEN
It Won't Be Soon Before Long
Maroon 5
www.maroon5.com

It's been a few years since Maroon 5 has released an album, and according to lead singer Adam Levine, their sophomore album promises to be "sexier and stronger" than the multi-platinum, Grammy-winning Songs About Jane. Their first release, "Makes Me Wonder", sets the tone for the album, which is heavily influenced by '80s icons like Prince and Michael Jackson. Expect a much more intensified and upbeat pop sound this time around.


---
---
---
Leave a Comment