T

o produce truly great wine you need to appreciate the soil from which the grapes grow. You must also respect the culture of region and embrace the heritage that has enabled the fruit to ripen. These five wineries have done just that and are worth your time.



Benziger Family Winery



For more than 30 years Benziger Family Winery has farmed its 85-acre ranch on Sonoma Mountain. Only 35 of these acres are planted with vines. The rest of the estate is used for biodiversity to create a polyculture. Besides insectaries, gardens, sheep and cattle pastures, and more than 800 olive trees, there are two wetland areas used for water purification.

Benziger specializes in Bordeaux-style and single-varietal wines. Tribute is the flagship biodynamic estate wine: a Bordeaux blend of primarily Cabernet Sauvignon. Also grown on the estate is Joaquin's Inferno, a robust Zinfandel blend that got its name for its dificulty to harvest on a steep slope of Sonoma Mountain. The portfolio also features several exquisite Pinot Noirs grown at the family estate on the Sonoma Coast.



SOMMELIER PICKS


13 Tribute Estate Blend - $85
Dark fruit, coffee, vanilla, spice

'14 de Coelo Quintus Pinot Noir - $75
Cherry, raspberries

'14 West Rows Chardonnay - $34
Apple, mineral, vanilla, caramel



CONTACT


707-935-3000
benziger.com
1883 London Ranch Rd.
Glen Ellen, CA  95442



Cuda Ridge Wines



Cuda Ridge Wines is a family-owned winery that produces handcrafted small-lot Bordeaux-style varietals and blends. These world-class, award-winning wines are produced from grapes sourced from the region's premier vineyards. Cuda Ridge's signature varietals, Cabernet Franc and Petit Verdot, have both received 90+ ratings from Wine Enthusiast. Other award winners include Merlot, Cabernet Sauvignon, and Malbec. While known for reds, Cuda Ridge also produces Sauvignon Blanc and Semillon, which are historic varietals of Livermore Valley. Cuda Ridge strongly supports Livermore Valley's local art and music scene and frequently has artists and musicians performing on the patio.



SOMMELIER PICKS


'14 Black Label Cabernet Sauvignon - $38
Deep, dark and complex

'14 Cabernet Franc - $36
Raspberry, soft and elegant

'14 Petit Verdot - $38
Blueberry, plum, licorice and tar



CONTACT


510-304-0914
cudaridgewines.com
2400 Arroyo Rd.
Livermore, CA  94550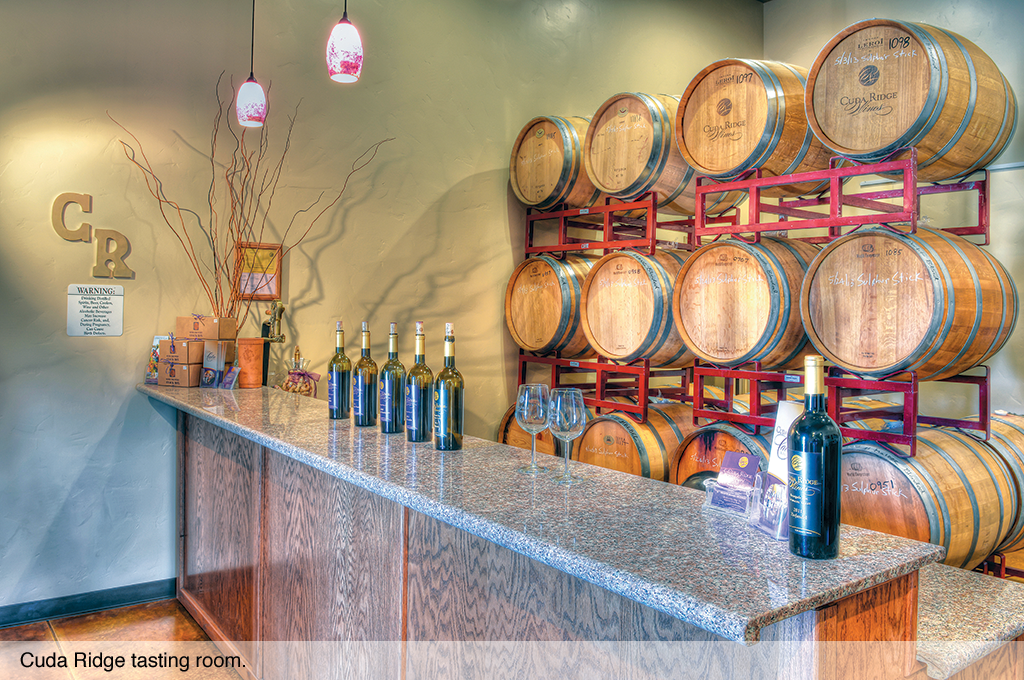 Mettler Family Vineyards



Through eight generations in the grape growing industry, Mettler Family Vineyards has cultivated an unrivaled kinship with the earth. Beginning in Germany in the 1770s and continuing with their arrival in California's Central Valley region of Lodi in the late 1800s, the Mettler family has a tradition of producing premium wine grapes, both for their own label as well as for other winemakers and respected wines.

As stewards of the soil, the Mettlers have chosen to run their farm as both sustainable and certified organic. Consistent leaders in farming techniques, they utilize practices such as composting, cover crops, hand hoeing, and modern trellising to get the most out of their grapes while being mindful of the health of the vine and the regeneration of the soil. "Embracing organic and sustainable farming keeps our vineyards nourished and viable for generations to come," says Vineyard Manager Jason Eells.

The wines are made from selective blocks in the vineyards with a crop level controlled by minimal water use and hand thinning. The integrity with which the Mettler family approaches both farming and winemaking has not been lost on industry critics. Consistently recognized through awards, their wines stand up in both domestic and international competitions. "Being diversified is key to maintaining quality control," Larry Mettler says. "We are involved every step of the way."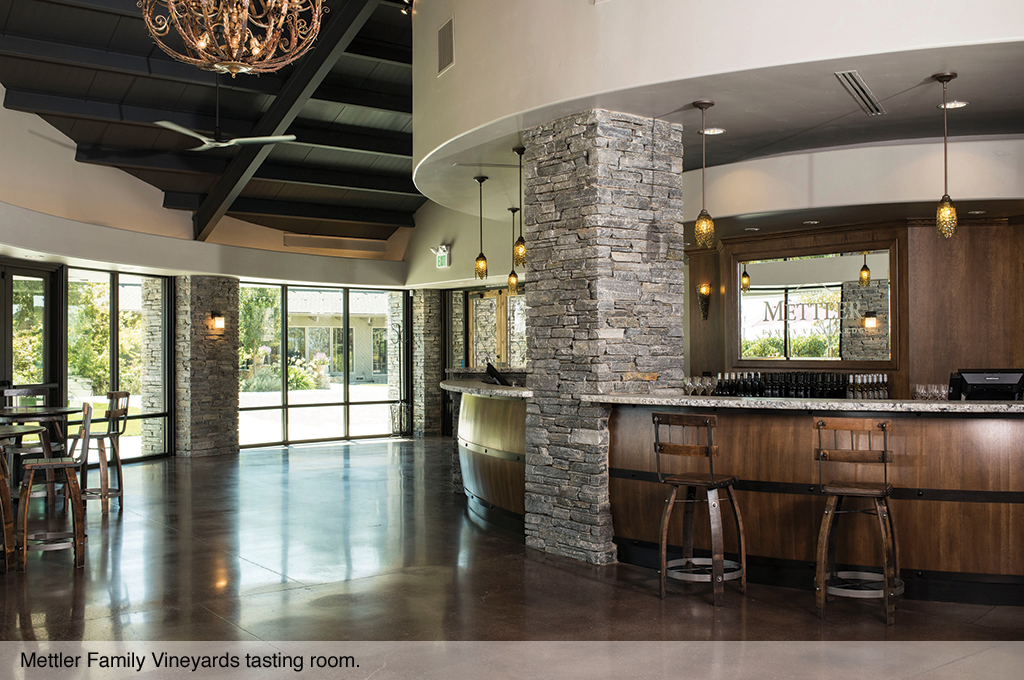 CONTACT


209-369-3045
mettlerwine.com
7889 E Harney Ln.
Lodi, CA  95240



Huge Bear Wines



The historic Calistoga National Bank building in downtown Calistoga is now a charming tasting room and an ideal setting for Huge Bear Wines. Founded in 2006 by family members with a heritage in agriculture and love of wine, Huge Bear Wines embodies the spirit and history of California.

Huge Bear Wines shares the same ownership as the exclusive Knights Bridge Winery, which features estate Sauvignon Blanc, Chardonnay, and Cabernet Sauvignon. Both wineries began bottling a decade ago. Even their earliest wines attracted the attention of Wine Enthusiast and Connoisseurs' Guide to California Wine who gave the 2006 Huge Bear Cabernet Sauvignon 90-plus points.

Early in 2015, Huge Bear found its own den in a beautiful building adorned with high ceilings and crown moulding on Calistoga's main drag. Guests are invited to drop in and immerse themselves in the area's history and listen to the legend of the Huge Bear as they sample the exceptional wines.



CONTACT


707-341-3414
hugebearwines.com
1373 Lincoln Avenue
Calistoga, CA  94515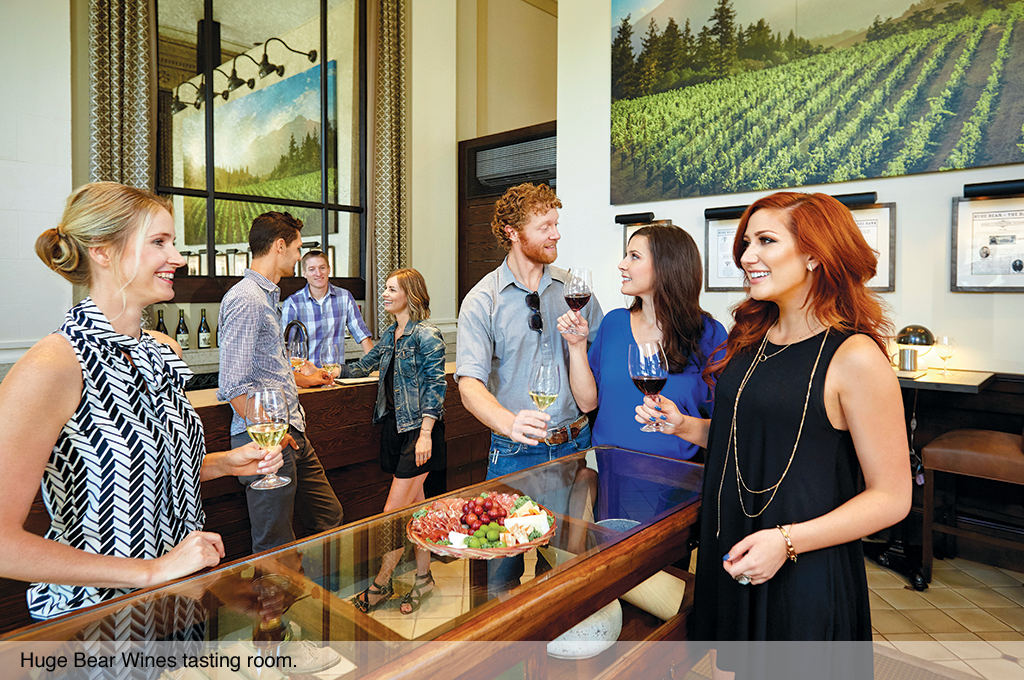 Ledson Winery & Vineyards



Nestled among 20 acres of estate vineyards and inviting picnic grounds dotted with ancient oaks, stands an architectural showpiece designed and built by fifth generation Sonoma as "the Castle," Ledson Winery & Vineyards has become a destination estate with plenty of options to make any wine country experience unforgettable.

The Ledons are on of the oldest farming families in the valley with more than 150 years of tradition.  Approximately 90 percent of Ledson wine is produced from meticulously farmed estate-grown grapes, resulting in a superior wine portfolio with something to delight the palate of every guest.

The winery's broad range of varietals include Merlot, Pinot Noir, Sangiovese, Syrah, Petite Sirah, Zinfandel, Cabernet Sauvignon, Cabernet Franc, Malbec, Barbera, Mourvèdre, Primitivo, Grenache, Chardonnay, Sauvignon Blanc, Rosé, and Madera Port. Ledson consistently produces highly coveted, small-lot wines that showcase Sonoma County at its absolute best.



CONTACT


707-833-2330
ledsonwinery.com
7335 Sonoma Hwy
Kenwood, CA  95409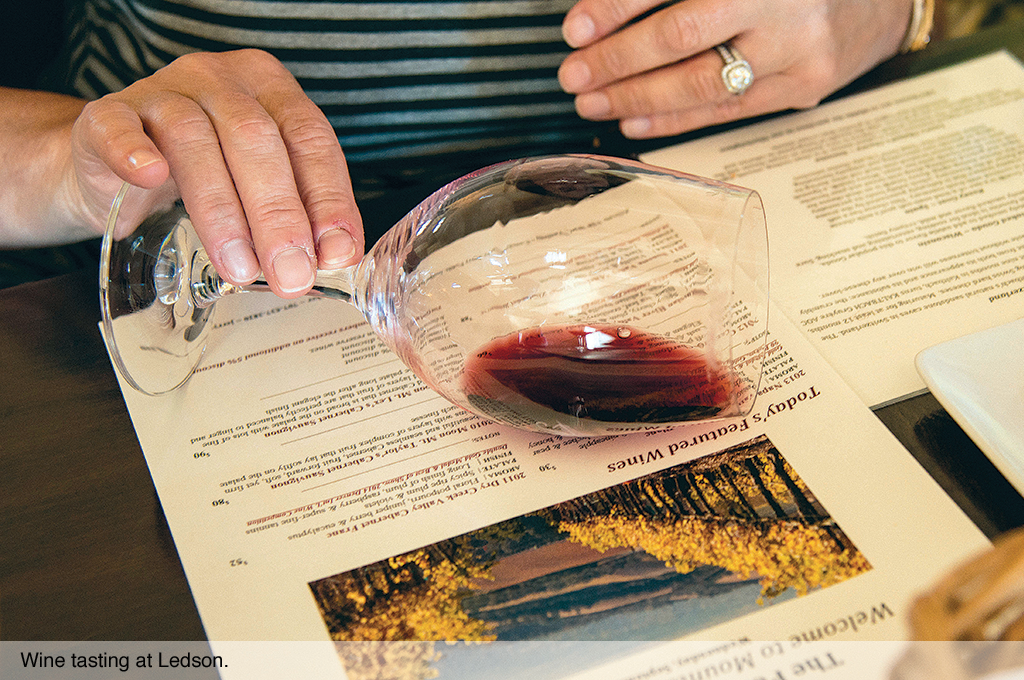 Touring & Tasting is a media company that produces a wine and travel magazine and is also partner in the Hitched Wine Club.