U

nshaken by the great San Francisco earthquake and Prohibition, SIMI Winery is proudly celebrating 140 years. The winery was founded in 1876 by Italian brothers, Giuseppe and Pietro Simi, who immigrated to California from Tuscany during the Gold Rush. Instead of finding gold, they founded SIMI, making it one of the longest continually operating wineries in Sonoma County.

Today SIMI holds more than 600 acres of estate vineyards in Sonoma County including property in the most prominent regions of the Alexander and Russian River Valleys. SIMI remains devoted to producing wines that reflect the vineyards where they are grown—expressing complex, evocative fruit flavors with remarkable regional character.

A visit to SIMI is always a rich and rewarding experience. To fully appreciate the winery's history and get the lay of the land, guests take the winery tour. Offered twice daily the tour takes guests on a stroll around the storied grounds that exude an old Western pioneer feeling. They pass historic buildings and old railroad tracks, walk through a redwood grove, and visit the winery's original stone cellar while hearing the intriguing history of this iconic winery. It's best to make a reservation for the tour online in advance.

SIMI is a pioneer in the field of pairing wine and food. In fact, it was one of the first California wineries to employ a full-time chef. Today, under the direction of Executive Chef Kolin Vazzoler and Director of Winemaking Susan Lueker, SIMI's extensive wine and food program includes a luncheon series that runs from spring through fall. The ongoing Vino e Cibo–themed dinner events are also popular. This year dinners include a Celebration of Spring winemaker dinner in May, an Italian family-style dinner in July, and a Cajun-style lobster boil in September.

To commemorate its 140 years in Sonoma County SIMI recently released Savoring SIMI: Since 1876, a beautiful limited-edition cookbook, a compilation of recipes created by past and present SIMI chefs with wine pairings. The cookbook is sold online with a bottle of 2013 SIMI Alexander Valley Cabernet Sauvignon.



An Interview with Director of Winemaking Susan Lueker & Executive Chef Kolin Vazzoler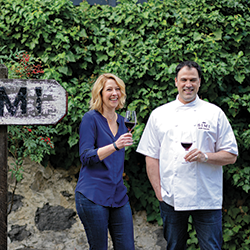 T&T: The two of you are a personification of the way wine and food complement each other. What is your goal as you work together at SIMI Winery?





SL:

Our goal is to make wines of balance that are varietal correct and fruit forward, showcasing the beautiful fruit grown in Sonoma County. We use a gentle hand so the wines can speak for themselves and tell the story. Our wines tend toward elegant profiles—all things in balance. That gives them the ability to pair well with food, which Kolin does with amazing subtlety and use of local, seasonal ingredients. Or they can stand on their own for easy enjoyment. It's really a win-win with our wines.



KV:

My goal is to showcase Susan and the winemaking team's efforts in each wine they have made by showing how versatile SIMI wines are. In showing unique and classic wine pairings we demonstrate how food friendly SIMI wines are.



T&T: Susan, SIMI has an astounding portfolio of tasting room–exclusive wines, including Winemaker Select wines. Please tell us more about them.





SL:

We have such lovely fruit sources available to us. Our winery sits where Alexander Valley, Dry Creek Valley, and Russian River Valley come together. We keep most of our lots separate so we can get to know their individual personalities. That type of winemaking gives us the opportunity to hold aside small lots, sometimes as few as eight barrels, and create unique and beautiful wines. We can share with our visitors wines that have stood out for us as typifying what a wine from that region should be. Our favorites are always changing. Depending on the vintage and what wines shine we select three to four whites and four to five reds. The beauty of the program is that they truly are selected by the winemaker and showcase unique varietals and standout vineyards.



T&T: Kolin, how did you select the recipes for SIMI's new cookbook?





KV:

We have had only three winery chefs in the history of SIMI winery: Mary Everly, Eric Lee, and myself. Susan and I collaborated on which wines to show in the book, and then I went through the SIMI archives of recipes and chose some of the popular dishes that each of us had made during our time at SIMI that went with those wines.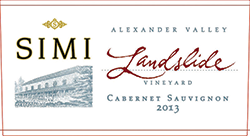 What to Buy




''13 Alexander Valley Chardonnay - $40


Citrus zest, green apple, vanilla, caramel



'13 Russian River Pinot Noir - $55


Ripe plum, fresh strawberries



'12 Cabernet Sauvignon Reserve - $75


Black currants, chocolate



Special Notes


Open to the public, private tours and tastings by appointment, corporate events, weddings, receptions, winemaker dinners, culinary events.



Contact


16275 Healdsburg Ave.
Healdsburg, CA  95448



Phone:

800-746-4880


Website:

simiwinery.com



Tasting Room:

Open Daily 10-5 pm

Touring & Tasting is a media company that produces a wine and travel magazine and is also partner in the Hitched Wine Club.