(Zester Daily)



A

merican life is full of references to cherries, from George Washington chopping down a tree of them (Why did he do that?) to the popular song "Life Is Just a Bowl of Cherries" sung by Ethel Merman in 1931. But the actual fruit itself, beloved by most, is a sweet, juicy reminder of the changing season.

Here in California, our local cherry season lasts just a bit longer, while the Pacific Northwest and Midwestern harvests are still weeks away, guaranteeing that the cherished cherry will be in good supply until the end of July.



Pitting Cherries



Many varieties of cherries are on the market these days. Some of my favorites are the sweet Brooks variety, the meaty Bing, the orange-red Queen Anne and the pink and yellow Rainier. Generally, the lighter-colored varieties are more fragile and need to be used up quickly.

Virtually any recipe using cherries begins with pitting them. The easiest way is with a pitter hand tool, which also works nicely on olives.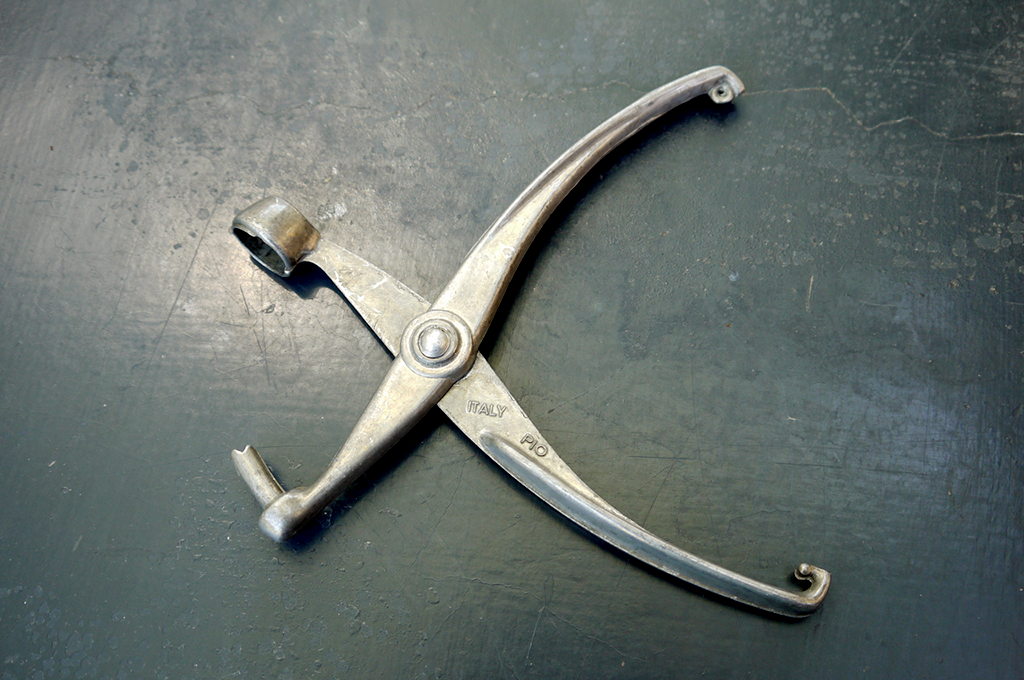 Sweet Cherry Sauce



Cherries lend themselves quite well to both savory and sweet sauces. For a dessert sauce:

Ingredeints:
2 C of pitted cherries
1 C of water
half a cinnamon stick
1/4 C sugar
1 Tbsp. cornstarch dissolved
1 Tbsp. amaretto
1 Tbsp. fresh lemon juice

Directions:
Combine pitted cherries, water and cinnamon stick. Bring to a boil, then reduce the heat and simmer 10 minutes.

Add sugar, cornstarch dissolved with 2 more tablespoons of water, and the amaretto and fresh lemon juice. Continue cooking at a low simmer until mixture thickens.

Tips: Serve over ice cream with brownies or as a topping for chocolate or sponge cakes with whipped cream.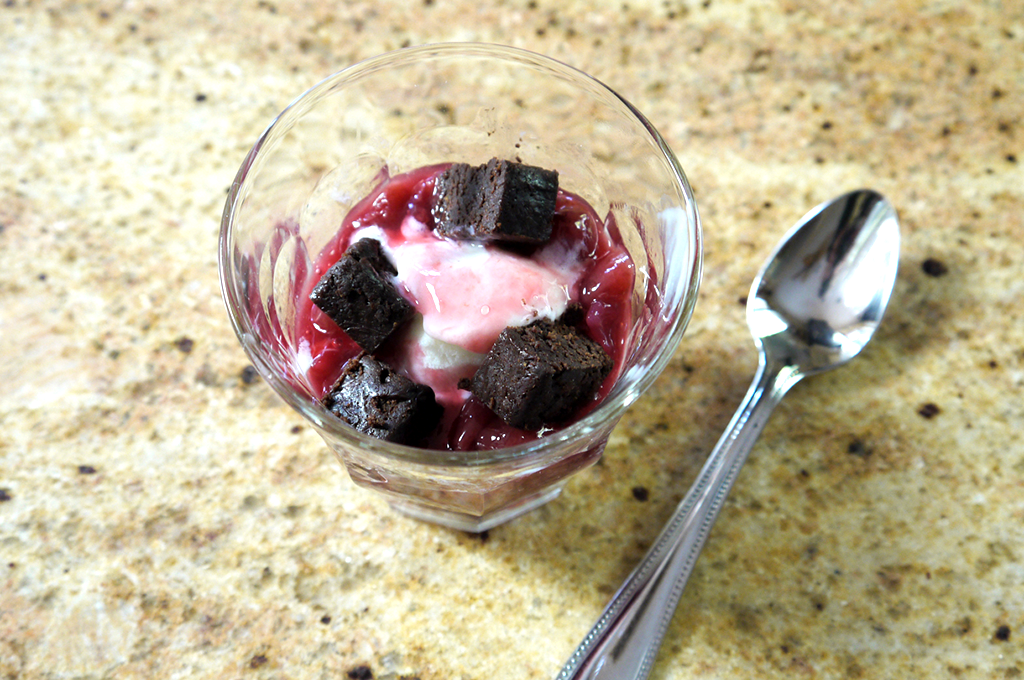 Savory Cherry Sauce



This recipe makes for an easy pan sauce for pork tenderloin.

Ingredeints:
1-2 lb. tenderloin
1 Tsp. olive oil
2 Tbsp. finely chopped onion
2 Tbsp. balsamic vinegar
1 1/2 C of pitted, halved cherries
1 Tbsp. crème fraiche

Directions:
Brown tenderloin in olive oil in an oven-proof skillet until golden on all sides. Put the skillet in a 350 F oven until pork is done to your liking, (165 F internal temperature), about 20 to 25 minutes, depending on thickness. Pull the skillet out, move the tenderloin to a plate and tent with foil.

Over medium-high heat, brown chopped onion in the pan juices then deglaze with balsamic vinegar. Cook down until liquid is reduced by half. Add cherries and sauté until they are tender and release their juice, about 7 minutes.

Finish the sauce with 1 heaping tablespoon of crème fraiche. Slice the pork and fan out on plates, then top with the sauce.

Tips: The sauce is also delicious with roast or grilled duck, chicken or turkey.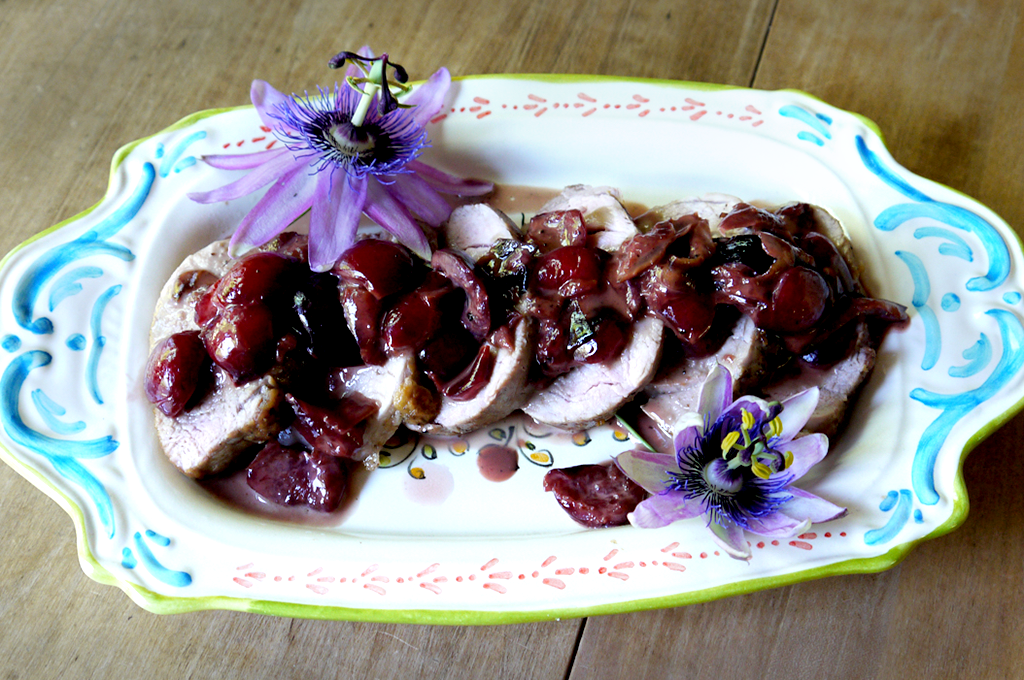 Cherry-Splashed Salad



Tender spring greens pair perfectly with cherries in salads.

Ingredeints:
4 C (packed) of mixed baby greens or baby spinach leaves
1 C pitted, halved Queen Ann or Rainier cherries
1/2 C crumbled blue cheese
1/4 C toasted hazelnuts

Directions:
Combine mixed baby greens or baby spinach leaves with cherries, crumbled blue cheese and toasted hazelnuts.



Dressing


Ingredeints:
1 Tbsp. sherry vinegar (I like O brand)
3 Tbsp. hazelnut oil
Salt and pepper

Directions:
Whisk sherry vinegar and hazelnut oil together until an emulsified dressing forms. Season to taste with salt and pepper, then toss with the salad and serve.

Tips: You can switch out the hazelnuts for toasted walnuts and use walnut oil in the dressing, and you can also substitute goat cheese for the blue cheese.






Basic Cherry Pie or Tart



Cherries are a dessert baker's dream and work just as well in pies and tarts as they do in crumbles and cobblers. They pair well with apricots, peaches and berries of all kinds.



Mixed Cherry Pie


Ingredients:
3 C pitted, stemmed and halved cherries (a red variety works best)
6 C blueberries
2 oz. butter
4 1/2 Tbsp. fresh lemon juice
3 Tbsp. flour
1/4 Tsp. salt
3/4 C white sugar
3/4 C brown sugar
Pre-made pie or tart shell
Whipped cream

Directions:
Mix cherries with 3 cups of blueberries, butter and fresh lemon juice in a saucepan. Cook over medium heat until the blueberries release their juice and the cherries become slightly soft, about 5 minutes.

Add flour, salt, white sugar and brown sugar; cook until mixture thickens, about 3 to 4 minutes. Add additional flour by 1/4 teaspoons if mixture doesn't develop heavy syrup consistency.

Remove from heat and cool. Fold in 3 cups of fresh blueberries and pour into a baked pie shell and chill until set. Serve with whipped cream.

Tips: To make the volume of filling for the pictured tart, reduce the quantities of all ingredients by two-thirds.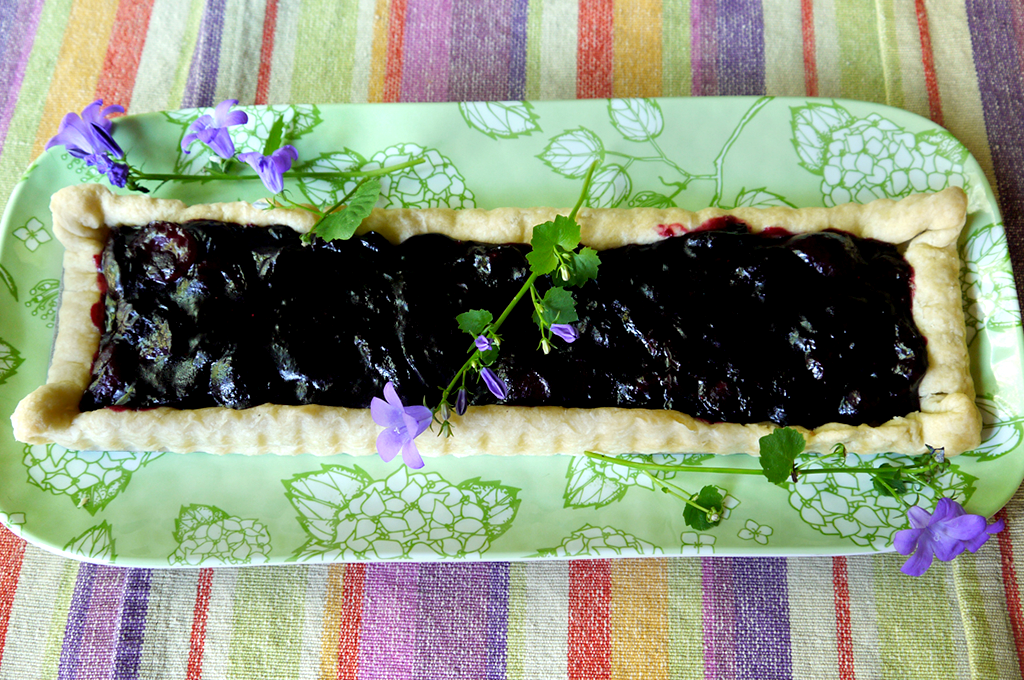 Cocktails and Drinks



Whether you're muddling, blending or slushing, cherries add a burst of flavor to warm-weather cocktails.



Cherry Margarita


Ingredients:
Pitted cherries
Lime juice
Agave syrup
Ice
Tequila
Triple sec

Directions:
Purée all the ingredients in the blender.



Cherry Julep


Ingredients:
Fresh cherries
Mint
Superfine sugar
Crushed ice
Bourbon

Directions:
Muddle cherries and mint with sugar in a little water in the bottom of a highball glass, then fill the glass with crushed ice and pour in bourbon. Give it a stir, garnish with a mint sprig and gallop away.



Cherry Mojito


Ingredients:
1/4 C fresh mint leaves
3 oz. rum
1 1/2 oz. agave syrup
1/2 oz. lime juice
6 pitted cherries
2 ice cubes

Directions:
Combine mint leaves, rum, agave syrup, lime juice, cherries and ice cubes in a blender jar. Blend on high speed until the mixture is slushy. Pour into glasses and garnish with 1 fresh cherry and a mint sprig.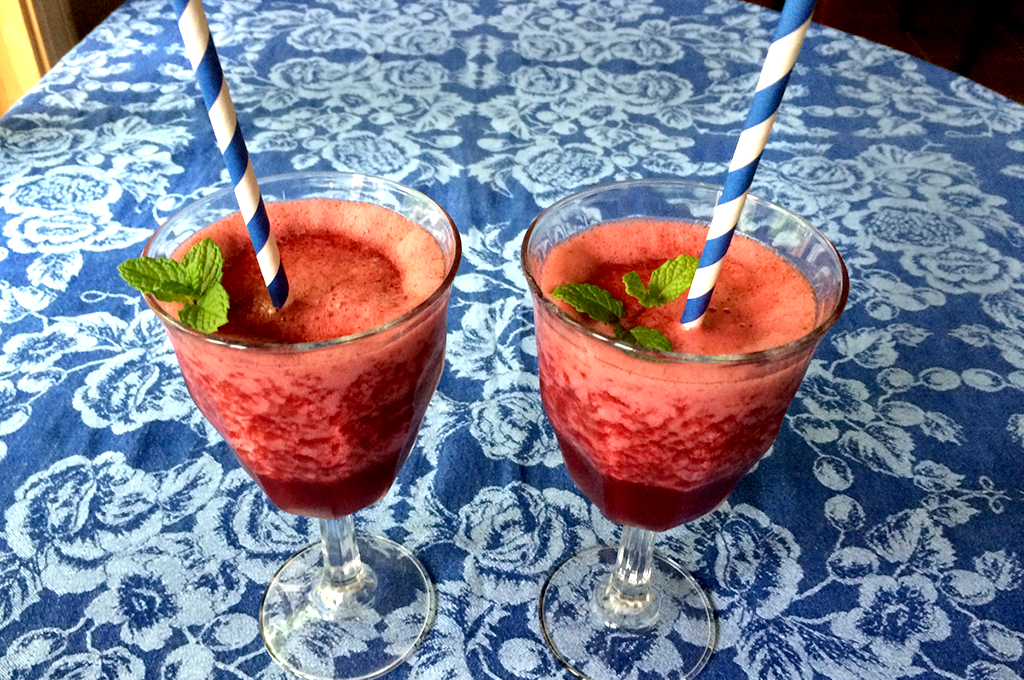 How to Buy & Store Cherries



If you can get cherries at your local farmers market, then taste your way through the vendors to find your favorite varieties. At grocery stores, try to taste before buying, if possible, to make sure cherries are sweet and ripe. Look for ones that are plump without wrinkles or mold and are firm to the touch.

Store cherries in the refrigerator for longer shelf life and wash just before using.

Given the fleeting nature of cherry season and the fruit's amazing versatility, life can just be a bowl of cherries, at least until the end of July.

Copyright 2016 Brooke Jackson via Zester Daily and Reuters Media Express