Take Your Sex Life Out of the Bedroom
Counter tops, couches and chairs, oh my! Four rooms and nine ways to sex up your home.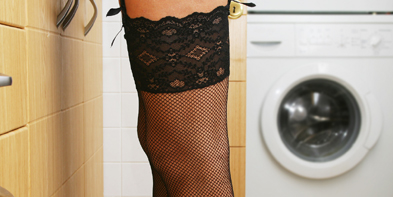 ---
It's inevitable—one day you're having back-scratching sex that moves the mattress, and the next day you suddenly realize the only thing shaking the bed is your partner's snoring. Like most couples, if you've been together more than a year, chances are your sex life is starting to wither a little. The quick fix? Take the sex out of your bedroom.

Your home is a virtual playground when it comes to sex—why play on the same tired swing set when you have the monkey bars, merry-go-round and slide to enjoy?

The Kitchen: Bring some heat back into the kitchen by taking advantage of the various levels of counter space. Low counters and even kitchen tables are the perfect height to have your wife sit or lay on, while you stand between her. For the more athletic women, taller countertops provide a whole new angle if you're able to prop yourself up when you're hanging off the edge and wrapping your legs around your husband's waist.

The Living Room: The best place to have sex in your house, by far, sits in the middle of your living room. Whether you're on it, bent over it or hanging off of it, the couch is the best spot on the playground. For women, straddling your husband while he's sitting down provides the type of friction and closeness you need. For men, bending her over the couch arm provides the type of angle and visual stimulation you need. To really change things up, men should sit on the edge of the couch while she's straddling him, gently lowering her down so she is able to rest her back or is able to sit her forearms on the floor.

The Laundry Room: Turn your washer on spin and take advantage of the vibrations. Have a drying rack or hooks up above? Test their sturdiness and hang on, lifting yourself up so your husband can reach you while standing.

The Bathroom: Believe it or not, toilets can be a fun sex-accessory. Put the toilet seat down and have your husband sit while you straddle him, or sit in his lap facing away. And, after a long day of playing, clean each other off with a quickie in the shower—the second best spot on the playground.

From kitchen counters to coffee tables, your house is full of fun places to have sex. And, after a week of making the bedroom off limits, you'll turn your bed into the rocking mattress it used to be.


---