L

et's get cooking! We've pulled together a few recipes to help you explore the kitchen—and each other. All three aphrodisiac food recipes are chock full of organic, healthy ingredients and, as an added bonus, all three contain ingredients that are known aphrodisiacs!

Here are a three simple aphrodisiac food recipes to help get you in the mood and #makeitgood:



Watermelon Avocado Basil Salad


(Recipe courtesy of Gluten-free Homemaker)

What better way to start off a nice meal than a light, bright appetizer? This refreshing salad contains a whopping FOUR libido boosting foods—watermelon, basil, avocado and honey!

Watermelon is high in citruline, a phytonutrient that increases the amount of nitric acid in the body, which in turn increases blood flow, blood vessel relaxation, and sexual arousal.

Not only has the scent of basil been said to drive men wild, the herb may also help increase blood circulation, contribute to heart health, and has long been associated with stimulating sex drives and promoting fertility.

Considered an aphrodisiac by the Mayans and Aztecs, avocado was thought to enhance sexual desirability. The libido boosting fruit is also considered a remedy for erectile dysfunction and contains high levels of folic acid, vitamin B9 (which provides the body with more energy) and vitamin B6 (which increases testosterone production). You'll be happy to know that avocados are beneficial for body parts above the belt too; they're high in omega-3 fatty acids, which are known to promote a healthy heart.

Honey contains boron, a chemical element which helps regulate nitric oxide and hormone levels. Nitric oxide increases blood flow during arousal and helps open up blood vessels involved in creating erections and clitoral sensitivity.

Ingredients
6 to 8 cups salad greens of your choice

2 cups diced, seedless watermelon

2 avocados, cubed

Generous handful of basil leaves, sliced into ribbons

3 tablespoons balsamic vinegar

2 tablespoons olive oil

Juice of 2 limes, divided

1 tablespoon raw local honey

Instructions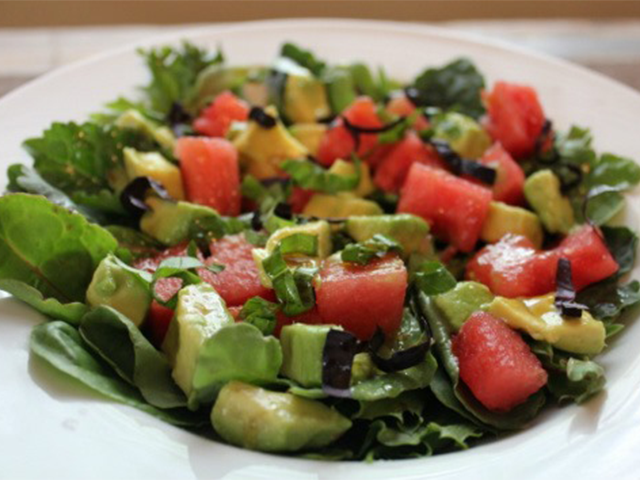 1. Juice the limes, reserving juice from 1/2 of one lime. Set aside. Whisk remaining lime juice, vinegar, olive oil and honey together in a small bowl to make dressing. Set aside.

2. In another small bowl, combine cubed avocados and juice of 1/2 lime. Toss to coat avocado (this will discourage browning).

3. On two serving plates, divide salad greens.

4. Top with watermelon, avocado and basil ribbons.

5. Drizzle dressing over salad. (You will have dressing left over. It stores well in the refrigerator. )



Baked Salmon with Figs and Braised Fennel


(Recipe via Elle Decor)

Moving on the main course, this sexy salmon dish contains three libido boosting foods: salmon, red wine, and figs.

Like avocados, salmon is high omega-3 fatty acids, which helps your libido by providing building blocks for production of estrogen, testosterone, and progresterone.

Red wine contains a power antioxidant called resveratol which helps decrease inflammation and gets your blood pumping.

High in amino acids which boost sexual stamina and increase libido, figs are thought to be a sexual stimulant.

Ingredients

2 pounds center-cut, boneless, skinless salmon fillet, cut into 4 portions

1 teaspoon sumac

Salt

3.5 tablespoons extra-virgin olive oil, plus extra for drizzling

3 fennel bulbs– 2 trimmed and cut into small wedges, 1 trimmed and thinly sliced

1 cup unsalted chicken stock

7 ripe figs—4 halves, 3 diced

1/2 tablespoon balsamic vinegar

2 shallots, sliced

1 cup dry variety red wine

Pinch of sugar

3 tablespoons unsalted butter

1/4 pound of arugula

Freshly squeezed juice of ½ lemon

Freshly ground white pepper

Instructions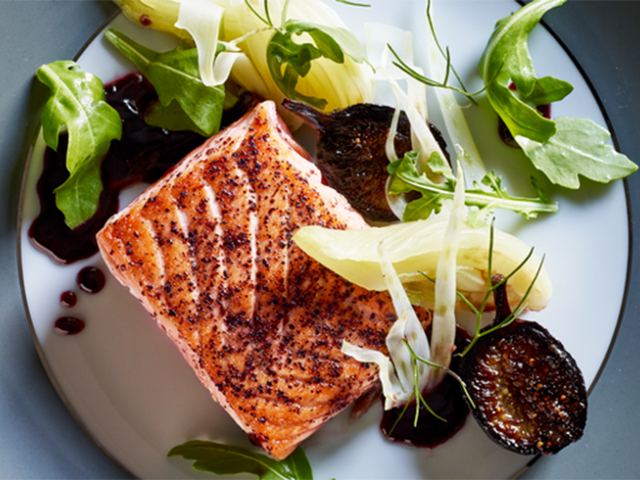 1. Preheat the oven to 350°F and place a rack in the center. Season both sides of the salmon fillets with sumac and salt. Drizzle with olive oil and place on a foil-lined or nonstick baking sheet. Bake fillets for about 8 minutes.

2. Put the fennel wedges, chicken stock, and 1 tablespoon of olive oil in a medium saucepan and season with salt. Cover and cook over medium heat until fennel is tender (about 15 minutes). Remove from the liquid, set fennel aside, and keep warm.

3. Meanwhile, set a medium nonstick sauté pan over medium-high heat and add ½ tablespoon of olive oil. Add the halved figs, cut side down, to quickly sear them. Reduce the heat to low and add the balsamic vinegar. Cook for about 2 minutes, spooning the liquid over the figs until they are lightly glazed. Set figs aside and keep warm.

4. Place shallots, diced figs, red wine, and sugar in a small saucepan over high heat. Cook until the liquid is reduced to 1/3 cup, then strain through a fine-mesh sieve. Discard the solids and return the liquid to the pan. Reduce the heat to low and whisk in the butter.

5. When ready to serve, toss together the arugula and thinly sliced fennel. Drizzle with lemon juice and 2 tablespoons olive oil, then season with salt and white pepper. Place the salmon fillets onto warm dinner plates and garnish with four wedges of braised fennel and two glazed figs. Drizzle the sauce over the plate, and add the arugula and fennel as either a small salad atop the salmon or scattered delicately around the fennel and figs.



Pomegranate Brownies with Cacao Nibs and Sea Salt


(Recipe via With Food + Love)

Saving the best for last? This delicious dessert boasts sensual aphrodisiacs chocolate and pomegranate. Double down and pair it with a glass of red wine to top off your meal. Yum!

Pomegranates are full of numerous antioxidants which help deliver blood flow to all areas of your body, including your genitals.

Chocolate contains phenylethylamine, a stimulant that elictis excitement and an overall sense of well-being. It also relaxes and lowers inhibitions while increasing the desire for physical contact.

Ingredients

1/2 cup melted coconut or olive oil

1 1/4 cup organic cane sugar

3/4 cup cacao powder (natural cocoa powder will also work)

1/2 teaspoon sea salt

1 teaspoon vanilla extract

2 large eggs

1/3 cup gluten-free or regular all-purpose flour

1/3 cup pomegranate seeds

2 tablespoons cacao nibs (mini chocolate chips will also work)

Instructions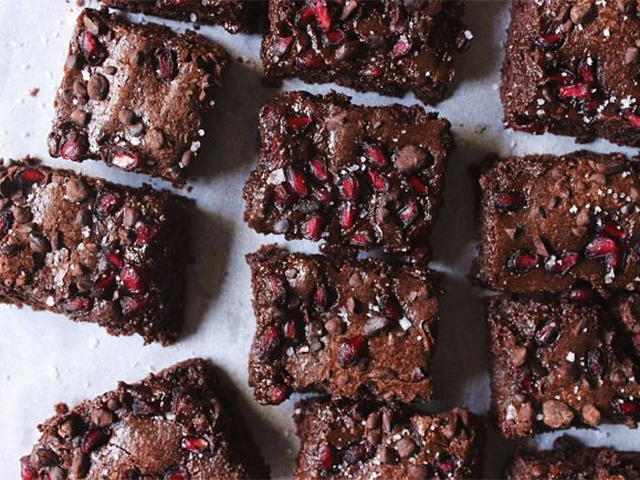 1. Preheat the oven to 350 degrees and line a 8 x 8 baking dish with parchment paper.

2. In a large mixing bowl, whisk together coconut oil, sugar, cacao powder and salt. Mix in vanilla and eggs. Add in the flour and mix until smooth.

3. Pour the batter into lined baking dish and sprinkle with pomegranate seeds and cacao nibs. Bake for about 40 minutes. To test for doneness, edges should be hard and formed. Stick a toothpick into the center should come out slightly wet still.

4. Remove brownies from the oven and sprinkle with high quality sea salt. Allow the brownies to cool completely in the pan before cutting and serving. Bon appetit!

We hope you and your partner enjoy these recipes, and that spending time in the kitchen brings you closer together.

Emma Fager is a writer for goodcleanlove.com and attends the University of Oregon and majors in Business Administration/Marketing in Eugene, Oregon.