Pasta and Sangria
Stay out of the heat and away from the hot grill with this classic Italian meal washed down with a Spanish splash.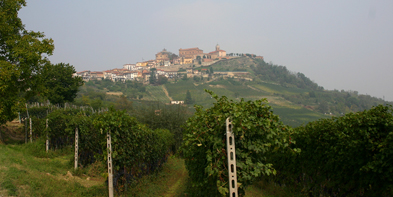 ---
When it's hot outside you may not want to venture outside to light the grill. So, here is an easy summer dinner that utilizes the freshest ingredients and keeps you in the comfort of your cool kitchen. On the menu: Penne Primavera with Garlic Toast and Chilled Sangria.

To get started, consider preparing the sangria up to a day early so all the fruit flavors can have fun together before you enjoy it.

Sangria
Ingredients:
One Bottle of Syrah or Syrah Blend (you want a fruity wine, but don't spend too much on it. If you are near a Trader Joe's, the Two Buck Chuck Syrah is perfect!).
2 Fresh Peaches
2 Tangerines or Navel Oranges
1 Seedless Watermelon
1 Cup Fresh Strawberries
Fresh Mint
2 Cups Orange Juice
2 Cups Club Soda
1 Cup Simple Syrup (available at most liquor stores or see tip below.)

Instructions:
Chill the wine for two hours.
Pour wine in a large container; add orange juice, simple syrup.
Peal and section the peaches.
Cut oranges in half and squeeze juice into wine and drop the rind in.
Add several cubes of watermelon.
Add strawberries.
Throw in two or three stalks of mint.

Stir. Let stand in fridge for up to 24 hours. But can be served immediately—I know how summer schedules can be. When ready to serve (while prepping your dinner, of course) strain into a pitcher and add club soda. Serve as cold as you can!

Tip: You can also make your own simple syrup. It really is, well, simple; find a recipe on the internet, which should basically advise you to boil down two parts sugar to one part water. It's something your spouse can do while you work on the rest of the sangria ingredients.

Penne Primavera with Garlic Toast
Choose the freshest summer vegetables possible. Vegetables are their best if you can literally smell them through the skin. I have listed my preferred veggies below, but you can add or subtract based on your own tastes.

Ingredients:
1 Fresh Zucchini
1 Fresh Summer Squash
1 Bunch Fresh Asparagus
Two Ears of Fresh Sweet Corn cut off the cob
Grape or Cherry Tomatoes
Fresh Basil
Yellow or Sweet Onion
Chopped Garlic
Extra Virgin Olive Oil
White Wine for Cooking
Chicken or Vegetable Broth (Pacific Brand is a good Organic Stock)
One Box Barilla Penne or Bowtie Pasta
Freshly Shredded Parmesan Cheese

Instructions:
Pour you and your spouse an ice cold sangria. If you not made the sangria yet, stop now and go make it, I'll wait. Now, cut zucchini and squash in small cubes.
Cut asparagus in two-inch sections, discarding the bottom third of each stalk.
Cut corn kernels off the cob.
Halve the tomatoes.

Throw all the ingredients, except tomatoes, in a pot of heavily salted boiling water for two minutes.
Drain the pot and rinse with cold water. (This is called "par boiling" and will cook the veggies just slightly.) You can also skip par boiling, sautéing everything (sans tomatoes) together instead.

Boil pasta in water. This will be too much for two, but you will have a nice cold pasta dish for the next day.
Chop two or three cloves of garlic. I like garlic in most Italian dishes, but I don't like to overwhelm the whole thing. You can use more or less to accommodate your tastes.

Tip: Here is an easy way to chop garlic, and, again, it may be a task to which you can assign your spouse. Peel the papery thin skin from the cluster and break off three individual cloves. Cut the thicker stem side first and then lay your chef's knife over the clove. Using the soft side of your fist, in one quick motion carefully smash the garlic with the flat edge of the knife. The skin should then just squeeze off. Mince garlic. Peeled garlic from the grocery store is fine if it hasn't been sitting in the refrigerator for very long, but do not use already minced garlic—ever!

Chop half the onion and save the rest for another time.

Heat about 1 cup of extra virgin olive oil in a large heavy skillet on medium high heat.
Toss in garlic and onions. You should hear them sizzle in the pan to indicate that the oil is hot enough. This ensures the most flavor.
Cook onions until just tender and translucent.
Deglaze the pan with 1 cup white wine. Reduce this liquid by half.
Throw in all the par boiled veggies and sauté in wine.
Add 1 cup of chicken or vegetable stock and continue to cook vegetables until they are cooked through, but not too soft.
Turn off heat and throw in tomatoes and chopped basil.
Toss primavera in large bowl over noodles.
Salt and pepper to taste.

I like to toss in a handful of freshly grated parmesan. Serve hot or at room temperature; having this option allows you to take the evening at your own pace.

For garlic toast—slice fresh garlic and place in a sauce pan of melting butter. Brush onto sliced baguettes. Salt and pepper to taste and put under the broiler for two to three minutes. Serve warm with pasta.

Pour another glass of sangria and enjoy the summer.

Owner and Head Chef Mitchell Anderson created MetroFresh Café in Atlanta, GA. Though he still acts occasionally, most days you can find Mitchell in the kitchen or otherwise handling the business of the restaurant that touts itself as a healthy alternative to fast food. Check out his website at www.metrofreshatl.com to find out more about this actor turned chef.


---
---
---
Leave a Comment