Princess Bride With Cooler Special Effects
Stardust has a star-studded cast and offers a breath of fresh air to the typical blockbuster.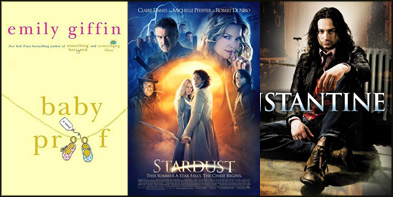 ---
READ
Baby Proof
Emily Giffin
www.emilygiffin.com

The bookshelves are full of non-fiction tomes to help you master the art of childrearing. Take a break from all that advice with this fictional tale of Claudia Parr, a New York City editor who is happily childfree. The story starts after her marriage to Ben who also vows never to want kids—but changes his mind. Claudia's world shifts as she struggles to reconcile her marriage and her desire to never have kids. Sometimes sad, funny and definitely relatable, this is a good read for anyone who has kids, doesn't ever want kids or just wants to get lost in some other's marriage trials and tribulations for awhile.

WATCH
Stardust
Claire Danes, Michelle Pfieffer, Robert DiNiro
www.stardustmovie.com

Fantasy comes to life in this romantic fairy tale starring a luminous Claire Danes as Yvaine, the embodiment of a fallen star come to earth. A young man (Charlie Cox) is on a quest to find the star to help him win a young woman (Sienna Miller). It soon becomes a quest for everyone to find the star, including the witch Yamia (played by Pfieffer), who needs to steal the essence of the mystical star, to make her young and beautiful again. With a cast rounded out by Ricky Gervais, Rupert Everett, Peter O'Toole and Robert DiNiro, Stardust is a fanciful feast for the eyes—an excellent flight of the fantastic to take leave of the typical summer action fare. Think Princess Bride—with cooler special effects.

LISTEN
Constantine
Constantine Maroulis
www.constantinemaroulis.com

Of all the American Idol alums, few have made such a memorable impact on the pop culture landscape. Certainly not sixth place finishers, anyhow. But this charismatic crooner surprises with his debut solo album, the self-title Constantine. He showcases his strong voice on power ballads like "Fading Into You" and "Sister Sister." Cool guitar licks give a Santana-like feel to "Girl Like You." "Thought it Was Something" is a jumping and energetic track that contrasts nicely with the more mellow-folksy "So Long." Overall, his efforts are way more fun to listen to than some other Idol rejects (sorry Nikki McKibbin).


---
---
---
Leave a Comment