7 Rainy-Day Dates
Don't let a little bad weather rain on your parade.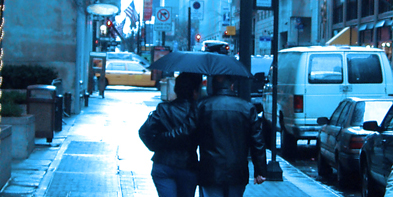 ---
Has rainy weather thrown a wrench in your date plans? Just because it's wet outside, doesn't mean the movie theater is your only alternative. Whether you're braving the outdoors or staying cozy at home, here are seven ideas for planning a memorable rainy-day date.



Rock out.

Get your blood pumping and work up an appetite by going indoor rock climbing. Not only will you get a great workout, you'll also get to work on those important relationship skills of trust and healthy competition.



Singin' in the rain.

The best way to beat the rainy-day blues is by listening to someone else sing them. Find a cozy jazz/blues club and melt under the warm, soothing sounds.



Get cookin'.

Plan a romantic dinner at home, but throw the standard three-course meal out the window. Start with some yummy soup and go straight to warm brownies and freshly baked cookies.



Take a class.

Spend a rainy day or night learning something new. Sign up for an Italian cooking class, learn how to Samba or hone your painting skills.



Make memories.

You know all those digital photos you've taken together over the years? It's time to take them off the computer and put them into a memory book or scrapbook. Spend time together picking out your favorite photos, from your first date to the dinner party you went to last week. Places like Target and Walgreen's will let you upload your digital photos online and have them ready for pick up within an hour. Light a fire, make some hot cocoa and spend the evening on the living room floor cutting and pasting pictures and other memorabilia from your relationship into your very own scrapbook.



Go under water.

Stay warm and dry as you stroll through the homes of creatures natural to wet environments. Spend the day looking at sharks, stingrays and other underwater creatures at your local aquarium.



Snuggle time.

Keep the stiff tie and uncomfortable heels in the closet and stay home. Surprise your spouse with a brand new pair of fuzzy socks and soft pajamas and spend the night cozying up together on the couch. Order in your favorite food and watch a movie as the rain beats down outside.


---