Valentine's Dining Savvy
Etiquette coach Diane Gottsman gives the boy's some tips on impressing the wife at a fancy restaurant.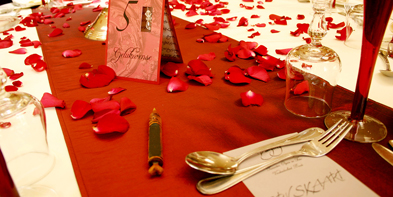 ---
Let's face it guys, when it comes to restaurant etiquette you're not exactly the sharpest knife on the table. Instead, you open the menu and you are stumped because you don't know your "foise gras" from your "escargot." Even though she's content with your "normal" dinning skills, you'd still like to impress her on this special day. The following are a few menu terms that will relieve your ordering anxiety and restaurant experience. But that's just the beginning. I've also included some useful dining tips to improve your table manners.

Sommelier (sew-me-yeah)—a waiter that has an extensive knowledge of wine and can help you make a nice selection.

Maitre D' (matra-dee)—a person who is in charge of the waiters and oversees the seating of customers.

Amuse Bouch (amooz-boosh)—an appetizer that is served at the beginning of the meal to blunt the appetite.

Gratinee' (gratin-ae)—a breadcrumb topping of cheese.

Ganache (ganash)—a thick, chocolate icing made with heavy cream.

Foise Gras (fwah-grah)—the literal French translation is "fat liver." A purposefully enlarged duck or goose liver that has been seared and served warm or minced and served chilled.

Pate (pat-ay)—liver, meat or fowl that has been ground fine and seasoned.

Truffles—two meanings, a chocolate confection or an edible fungi that grows under the ground, near the roots of trees—considered a delicacy.

Escargot (escargoe)—edible snails.

The Dinning Tips

So now that you're confident with your terminology, it's time to sit down and impress her with your table manners.

1. Don't eat from your wife's bread plate—the bread plate is always on the left.

2. Your water and wine glass is always on the right.

3. Just like you, salt and pepper are married and passed together, even if your wife only asks for the salt.

4. Do not sling your tie over your shoulder and keep your jacket on during the meal.

5. Put your napkin over both knees, not just one.

6. Never cut spaghetti, twirl a couple of strands, you may use a spoon for assistance.

7. Propose a thoughtful Valentine toast to your wife, prepare it in advance and make it heartfelt and sincere.

8. If you excuse yourself from the table temporarily, you need not announce to your wife where you are going—simply say, "Honey, excuse me." Your wife in turn should not say, "Where are you going?" it should be apparent that you are going to the restroom and no need announcing it, especially if you are with another couple.

9. If you can't figure out which utensil to use, a rule of thumb is to use utensils from the outside in. Let's hope the restaurant knows how to properly set a table.

10. Food is always passed to the right, counterclockwise.

11. If you are out with another couple, a standard tip is 15 to 20 percent. Consider leaving 20 percent and upwards if it's a special Valentine's Day meal that has been specially prepared with "extras."

12. Skip the toothpick when walking out the door—not a romantic gesture to suck on and clean your teeth with a small stick.

So, there you have it. Make this Valentine's Day one she will remember.

Diane Gottsman, a nationally recognized etiquette expert, is the owner of The Protocol School of Texas, a company specializing in etiquette training for corporations, universities and individuals, striving to polish their interpersonal skills. You can reach Diane at 877-490-1077 or www.protocolschooloftexas.com.


---
---
---
Leave a Comment