Breakfast in Bed
Repay your wife for all of her hard work with a little breakfast in bed celebration.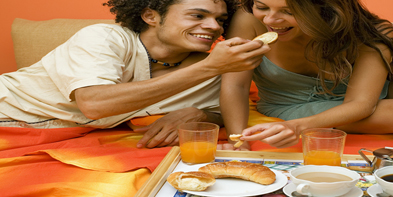 ---
What are you planning for your wife this weekend? Wouldn't it be nice to surprise her on a Saturday or Sunday with a little unexpected TLC? Consider starting her day off right by serving her breakfast in bed.

Most weekday mornings, your wife is probably running around the kitchen, packing lunches for the kids, making you a healthy breakfast, sewing a loose button on your shirt, tying little shoes, walking and feeding the dog, ironing a last minute change of clothes, finding lost keys and flying out the door before rush hour traffic.

This weekend, make some plans and earn some brownie points.

* Find a couple of decorative trays (you probably have some lying around the house) that will make a nice presentation for serving your beloved her special breakfast. A tray with a raised edge is preferable to catch any rolling grapes or drips of coffee.

* Cover the center of the tray with a linen napkin to add elegance to the occasion.

* Start off the breakfast with coffee and a selection of warm pastry's and the newspaper.

* Plan the menu earlier in the week. Make a secret shopping run and have all of the ingredients ready to go. An easy item to fix is an egg casserole, just pop it in the oven ahead of time and it looks and tastes like you slaved over the stove for hours. No one will ever know you just threw it all together and mixed it up!

* Turn the ringer off on the telephone and discourage any interruptions.

* The kids can be of great help and play a major role in the Breakfast in Bed ceremony. You can also set up a sleepover for the kids if you plan to host the Breakfast in Bed on a morning that you want to pamper you wife alone.

* Offer her several courses and make each course an event.

* Place an additional insulated thermos nearby, but not on the tray, for quick refills.

* Encourage your spouse to enjoy some quiet time while you prepare the rest of her special meal.

* When the next course is ready, whether it is waffles, eggs or cereal and yogurt, bring it in on beautiful china. Don't have nice china? Visit an antique store, department store or garage sale. You can find great, unique items that can be part of her gift.

* Serve orange juice or mimosas in a crystal glass. Don't have any crystal? Pick some up when you buy the china.

* Candles are a nice touch but be careful not to use heavily scented candles. The smell may interfere with the comforting aroma of the coffee and food.

* Add a small vase of simple flowers to the tray or bring a beautiful arrangement in and place it someplace where your spouse can see, and enjoy looking at while she eats her breakfast.

* Use this time to reconnect with your wife and listen to what your wife wants to talk about. Keep the conversation light, thoughtful and focused on her. This is not the time to bring up the budget, household repairs or visits to the principal.

* If you are the creative type, pre-design a menu that your wife may make a selection from. Title it "Breakfast Choices For the One I Love." Be sure and have all of the ingredients to make whatever your wife chooses.

* Extend the pampering to the rest of the day. Leave the day completely open to do whatever your wife chooses. Take in a movie, go antiquing or just spend the day watching old movies.

If your excuse for not doing this is that you don't know how to cook, forget it. There are wonderful grocers, bakeries and coffee shops that will sell you anything your wife's heart desires. Dress up or stay in your robe and jump back into bed and enjoy the main course with your wife. The object of breakfast in bed is to show your wife how much you love her and value all that she does for you. You never know, maybe next time it will be your turn!

Diane Gottsman, a nationally recognized etiquette expert, is the owner of The Protocol School of Texas, a company specializing in etiquette training for corporations, universities and individuals, striving to polish their interpersonal skills. You can reach Diane at 877-490-1077 or www.protocolschooloftexas.com.


---
---
---
Leave a Comment