Lelo Products Offer Plenty of Pleasure
In the launch of our new column, our products expert reveals some of her favorite pleasure objects from Lelo.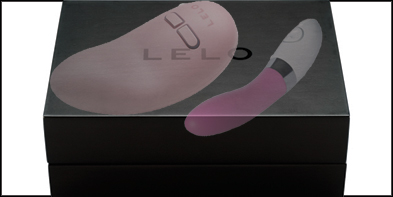 ---
I had mixed feelings about vibrators when I first started my love products business and was learning about the adult industry. I always believed skin-to-skin contact was best and had heard errant reports about the over use of vibrators, which can lead some women unable to orgasm without one. After exhibiting at a few lingerie shows, I had seen the dizzying array of selection in every imaginable color and size. I never felt compelled to take one home, until one afternoon when I met the founder of Lelo, Erik, a handsome Swedish guy who came to my booth, happy to trade for a variety of love products. He gave me a "Lily," one of the line's best-selling pleasure objects to try out. Little did I know that would be the beginning of a love affair with this company and their beautiful pleasure objects.

Still it wasn't until I tried it out that I knew I had found a product line with the same integrity, attention to detail and quality that I was committed to developing for my own products.

The Lily is a small and luxurious piece, which has a motor so quiet that it purrs at its lowest settings and hums as you bring it up through its fifteen speeds. While some women who need more power might not find this exciting enough, it was quite the experience for me. Additionally, my husband was also intrigued because the same ergonomic shape, which makes it a perfect fit in the panty, also serves a great up and down motion on the shaft. The Lily became a regular part of our late night dates. One charge lasts for seven hours—perfect for you forgetful types. This best selling piece is available in a variety of finishes and colors.

As with any innovative company, which by its existence defines the market, you know that the products will get better. The second generation of Lelo's do not disappoint. In addition to their new 27-speed motor, they also now have five different and rotating "pleasure patterns." Available in a variety of designs and colors, this size and shape of the "Liv" and the "Gigi" are the ultimate in first-time pleasure experiences. The Gigi is specifically designed to stimulate the G-spot. Both vibrators have a silky smooth silicone finish and a two-hour charge can provide up to 1.5 hours of bliss. All Lelo pleasure objects come in an elegant gift box with charger, manual, satin pouch and the one-year Lelo warranty.

Their newest model, the "Elise," makes me wish it was Christmas sooner, although I am sure I will have to find another excuse to try her out (for educational review purposes, of course). With this newest model of pleasure object, luxury and function take a giant leap. With both amazing surface capacity and depth, an almost silent motor and few new features like a red light display when it needs recharging, this vibrator invites you to really explore feminine desire and capacity for orgasm.

If you are going to add an accessory to your love life, take the high road. Where is luxury more important than in your most erogenous zones. Save money on shampoo if you have to, but don't skimp on what you use to love yourself. I promote Lelo products like my own, because I have seen the impact they have made on my own love life and I can guarantee that any model of the pleasure objects you choose is sure to bring you hours of pleasure that will surprise you and inspire your love.

Wendy Strgar is the founder of GoodCleanLove.com, which provides products and advice for sustainable love. If you have questions about products or toys send them in and Wendy will be happy to share her knowledge. When visiting the website, use coupon code NEWSITE08, to enjoy a new year 15 percent discount.


---