Robert and Mildred Tong
In 1990, Robert and Mildred Tong met. In 1995, they got married. Today, both 36, this stay-at-home mom and Senior QA engineer have four children and share what they've learned about "off-limit" topics.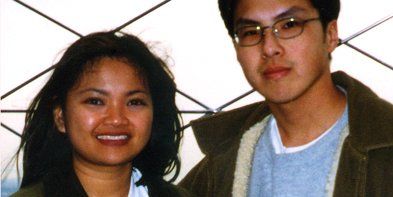 ---
ROBERT
Marriage has taught me…
(1) She needs more, not less, time with me. And date nights are still a must.

(2) Honest feedback: good. Repressed feelings: bad. Even with "off-limit" topics like 'Am I fat?' Just be cautious in the way you say it.

(3) Girls are talk-oriented; guys are task-oriented. Mildred will want to discuss something; I'll try to solve it.

(4) Both partners need alone time—maybe guys more so since we're task-oriented.

(5) I'm to lead the family spiritually.

(6) If you wait to address a topic until it's become an argument, it will be too late.

(7) To plan my free time with my wife first, then plan my alone free time.

(8) I don't mind grocery shopping if she's busy.

(9) Mildred tends to be nervous about things and I need to relax her.

(10) Family is a unique bond. I treasure my wife and I also treasure my kids. I will be very sad when my kids leave for college.

MILDRED
Marriage taught me that…
(1) Being right is sometimes not as important as making peace.

(2 I'm not perfect, so I shouldn't expect him to be.

(3) To not be afraid to just tell him what I expect.

(4) I'm not his mother or his "Holy Spirit".

(5) There is so much about a person that you learn everyday—and you can fall deeper in love with someone everyday.

(6) If you don't communicate, you don't really have a relationship. I need to have regular communication almost daily—at least a half-hour of just talking about our day.

(7) With more kids, there isn't much free time. It's important to set aside time and planning is necessary to keep the relationship alive.

(8) I married someone with different tastes than me. I think it shows love to consider others while grocery shopping, like buying Robert ice cream bars and steaks.

(9) I'm a control freak, but I appreciate having a husband who thinks different than I do. I also appreciate that he can make up for where I fall short—in many areas!

(10) My husband comes first before my family.


---
---
---
Leave a Comment