"30 Rock" Returns With Tina Fey and Friends
If you're new to Tina Fey's TV show "30 Rock," this season will have some familiar faces to help ease you in.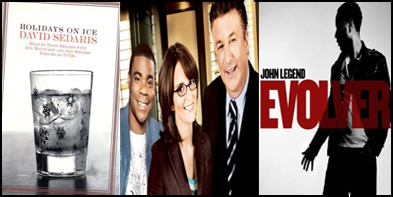 ---
WATCH
30 Rock
Tina Fey, Alec Baldwin and a ton of A-list celebrity cameos
www.nbc.com/30_Rock

Back from racking up a couple Emmys and some Sarah Palin momentum, 30 Rock writer and star Tina Fey is back with more behind the show-biz scene comedy that's stuffed with celeb cameos. The already hilarious show aims to simultaneously pump up both the comedy and ratings by mixing in a little Megan Mullally, Steve Martin, Oprah Winfrey and Jennifer Aniston. Mullally is the first cameo up this season, acting as the child adoption evaluator for Liz Lemon (Fey). Liz's one-time boss Jack (Baldwin) is literally trying to get back his job from the mail room up, but gets sexually harassed by his new soap-opera-obsessed mailroom director. The season starts Thursday, October 30 but NBC has already premiered it at their website here.

READ
Holidays on Ice
By David Sedaris

Whether you're anxious for the holidays to come around or not, reading David Sedaris's new edition of Holidays on Ice should put a smile on your face. The sarcastic six short story set, made up of five classics and one new story, meditates on appreciating holiday traditions in ways no other tales of yore quite do. Stories like "SantaLand Diaries"—Sedaris's unforgettable account of working through the holidays as a Macy's elf in New York—and "Dinah, the Christmas Whore" work as excellent PG-13 preludes, follow-ups or replacements for a cozy "'Twas the Night Before Christmas" reading by the fire with friends and family.

But these holiday stories also sample some of Sedaris's best work. Perhaps because of all the cultural and emotional themes that load the holidays, the full dimensions of both Sedaris's comedic and philosophic genius make these stories must-have literature

LISTEN
Evolver
John Legend
http://www.johnlegend.com

Evolver delivers every bit of the class and romance expected of the smooth-crooning John Legend, but not without some fresh and funky energy added by featured artists Estelle, Brandy, Kanye West and Outkast's Andre 3000. Though not devoid of his signature love ballads, the five-time Grammy award-winner successfully ventures just enough from the mellow gospel and jazz of his 2004 album, Get Lifted, to create a few irresistible dance songs. "Sometimes you gotta step out from behind the piano," raps Andre 3000 of Legend who takes the liberty of doing just that in the album's first bouncing single "Green Light." The swinging beat of "Quickly" and "It's Over" are further evidence that Legend knows how to get listeners on their feet. The rest of the songs on the album, especially "I Love, You Love" and "This Time," reveal passionate songs of emotional depth he is such an ace at achieving.


---
---
---
Leave a Comment