Slumdog Millionaire is Golden
Take your spouse for a night on the town to hunt down the limited release, Slumdog Millionaire.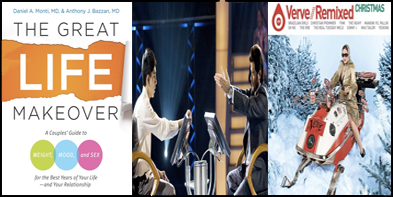 ---
WATCH
Slumdog Millionaire
Directed by Danny Boyle
www.foxsearchlight.com/slumdogmillionaire

I know what you're thinking and the answer is no, this movie isn't on wide release yet. And what a shame, because the suspense and romance flowering out of the train-dodging journeys, colorful rush of metropolitan Indian life and a fateful opportunity on India's version of "Who Wants to Be a Millionaire?" in Slumdog Millionaire make it a must-see. So even if this isn't playing in your neighborhood, experiencing the exciting story of the Mumbai film's protagonist, 18-year-old Jamal Malik, is a great excuse for a date out of town. In addition to the National Board of Review already naming it the "Movie of the Year," publications like the New York Times and Los Angeles Times have praised the film with Oscar buzz. It's already received four Golden Globe nominations.

Jamal's fateful day begins as an unsuspecting and average contestant on "Who Wants to Be a Millionaire." To the surprise of the show's managers, this average young man that grew up as an orphan in the slums of Mumbai with his brother nails every question asked on his first night on the show. Before he answers the million-dollar question the next day, skeptical show managers drag him into an interrogation of how he got every question right and why the potential financial gain isn't motivating his appearance on the show. For every explanation, Jamal has stories that stretch back to his rough childhood, vicious gang encounters and the separation from his first true love. The broadcast of his face on the show alone is about to change more than the fate of his bank account.

READ
The Great Life Makeover
By Daniel Monti, Anthony Bazzan
http://harpercollins.com

This book offers an equal opportunity makeover for both husband and wife. The redirection of the word "makeover" from superficial make-up and clothes transformations for women to a cooperative transformation of biological, sexual and psychological habits for both sexes makes this a refreshing read and a good bedroom reference book.

Both Dr. Daniel Monti, a specialist in psychiatry and couples' counseling, and Dr. Anthony Bazzan, a specialist in aging and hormones, offer up practical solutions for addressing problems with metabolism, hormones and mood. Instead of each spouse looking up their own biological problems in secret shame, couples can begin to understand each other's biological problems and work together to prevent or get past them with The Great Life Makeover. The information is also presented in easily digestible sections that couples can study together. The doctor's make a solid case for taking on a practical mission of making over diet-, fitness- and stress-reduction techniques in order to overcome biologically-inspired ruts in any relationship.

LISTEN
Verve Remixed Christmas
www.amazon.com

Most Christmas songwriters and performers have faced a big challenge over the last 50 years: topping or even equaling the classic Christmas melodies of legendary crooners from the 1930's to the 1950s. Whether it's because of the draw of nostalgia or the knack of Depression Era artists to cheer up a crowd, the songs of musicians like Mel Torme, Ella Fitzgerald, Shirley Horn and Louis Armstrong have an almost indomitable charm—well, until they get played out two weeks into December.

That's where the Verve record label comes in to save Christmas-song merriment. For a number of years now, the label has entrusted holiday classics to present-day DJ visionaries who give the songs a stylish twist without harming its original integrity. In this year's collection, DJ's Christian Prommer, Sonny J and Fink dare to mix in a little reggae to songs like "'Zat You, Santa Claus?" by Louis Armstrong, "The Christmas Song" by Mel Torme and "I've Got My Love to Keep Me Warm" by Billie Holiday. The description may sound intimidating and experimental, but the product sounds nothing but swanky and refreshing.


---
---
---
Leave a Comment