The (Sex) Gifts that Keep On Giving
Spice up your holiday season with these pleasure-pleasing products.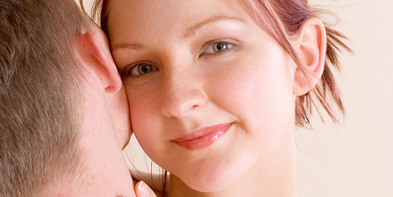 ---
'Tis the season when we're all faced with finding the perfect gift for someone we love. With the economic turmoil and its associated fears coming to bear on all of the purchases we make, here area a few gift ideas that can give back to your physical, emotional and mental well-being throughout the year. Adding useful and innovative tools and accessories to help you enjoy a reliable and vital sex life is actually like putting money in the bank. A New York Times article said that researchers at Warwick University concluded that a healthy and sexually satisfying partnership is like having a nest egg of $100,000.

Buying gifts that remedy the primary issues that compromise most long-term sex lives is a good place to start. When ones sex life is down, it's likely due to pain with intimacy, vaginal dryness and lack of libido. Often, any one of these symptoms can generate the others. Recognizing and treating these symptoms with love and creativity instead of turning them into a negative relationship story is one of the most loving gifts you can give this holiday season.

Getting Well Lubed
Amazing personal lubricants can change everything when it comes to intimacy. By erasing dryness issues, much of the pain of intimacy also goes away, and by creating moist smooth gliding tissues ones libido is able to peak out around the corner. Many ingredients in the standard lube formulation are petrochemical-based and can cause irritation, itching and burning with use. If you have any of these symptoms, check out Firefly (www.fireflylubricant.com) or Sylk (www.sylkonline.com) lubricants. There's no better place to invest in organics than for the most sensitive tissue in your body. You will feel the difference.

Enhance Your Libido
Products to enhance libido are a billion dollar industry, and that's not counting pharmaceutical solutions. I came across Maca ( www.macasex.com ) products at one of the industry shows I attended and have been using their products on a daily basis ever since. Maca is a Peruvian herb that has been used since the time of the Incas and is gaining widespread popularity among the green organic community for the wide range of hormonal balancing and libido enhancing properties that it conveys. Many women, soothed by the calming effect that Maca provides, claim it can ease hormone irregularities, improve the functioning of the endocrine system, restore muscle tone, add moisture and give a youthful glow to the skin.

Stay Young with Innovative Shapes
Adding innovation to intimacy is easier when you incorporate supportive shapes to help you experiment with and hold new positions that most of us don't have the ability to maintain ourselves. Liberator (www.theooh.com) makes a variety of foam shapes, most popularly the Wedge and the Ramp, which you have probably seen in a movie or two. The added height and new angles that become available with the help of these foam pillows—available in a range of sexy colors from deep purple, deep blue and red—can help women achieve more satisfying penetration and also take the pressure off their partner's knees and back.

The use of props for lovemaking can make all the difference for couples that struggle with a physical disability or are just out of shape. Those with weakened muscle tone will feel younger with these product aids, allowing for a more athletic approach to intimate times. Another company that is worth looking into is Canadian-based Love Bumper (http://www.lovebumper.com), which carries a similar line with rounder edges.

Great Reads
Give the bookworm in your bedroom "101 Nights of Great Romance: Secret Sealed Seductions for Fun-Loving Couples" and "101 Nights of Grrreat Sex" by Laura Corn. Each page is a sealed gift that you give to each other offering great ways to spice up your date nights and add a little romance into the tedium of sustaining busy lives.

Another must-have book and some of my favorite writing directions come from Dr. Ian Kerner, who writes intelligent and translatable prose on the joys of really great oral sex. I also like that he is smart enough to realize that "She Comes First: The Thinking Man's Guide to Pleasuring a Woman" and "He Comes Next: The Thinking Woman's Guide to Pleasuring a Man" is the appropriate order of things for the best results.

Another book that is sure to revitalize both your sexual understanding and skill is Tammy Nelson's, "Getting the Sex You Want: Shed Your Inhibitions and Reach New Heights of Passion Together." Applying Harville Hendrix's "Imago" therapy communication techniques to build a sexual language really works in the exercises provided, and I guarantee your understanding of sexual anatomy will be enhanced. A worthy reference guide no matter what your level of experience of sexual comfort.

Go Green with Sex Toys
If the person you love does not yet own a Lelo pleasure object (www.lelo.com) then consider spending your whole budget on this gift. It will become a trusted companion throughout the years. Our favorite model, the Gigi, is good for opening up a sexual dialogue and doing some anatomical research on the g-spot response. The Gigi has 17 speeds and five remarkable patterns (change the pattern and you change the entire interaction.) Packaged in an elegant black box with its own electric recharger (no wasted batteries here) and silk storage pouch, this is truly a gift that will return its cost to you in pleasure ten-fold. Another amazing gift to consider, especially for the more adventurous is the njoy Fun Wand (www.njoytoys.com). Made of surgical grade stainless steel, it's a pleasure piece that will last for decades. Although it doesn't have a lot of electric options, it is surprising how a cold smooth piece of metal in between the sheets can heat up and even electrify sexual relations.

All the products mentioned in the review are available at my website Good Clean Love (www.goodcleanlove.com). Free shipping for orders over $50.00 available to Hitched Magazine readers. Use the coupon code Green Holiday 08.

Wendy Strgar is the founder of GoodCleanLove.com, which provides products and advice for sustainable love. If you have questions about products or toys send them in and Wendy will be happy to share her knowledge. When visiting the website, use coupon code NEWSITE08, to enjoy a new year 15 percent discount.


---