Starting Family Food Traditions
Try one of these food and party tips, plus a special family recipe.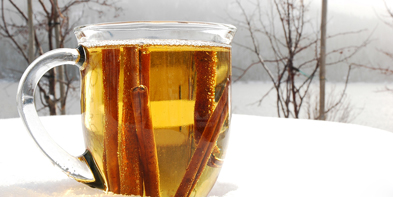 ---
It's nice to have food traditions; they make for fond memories, lasting impressions and great stories. Whether you carry on the traditions of your family or invent new ones, they provide your family with something to talk about, something to look forward to and something to remember.

Outside of serving traditional meals during your holiday feast, here are a few ideas for starting a new tradition that may remain with your family for years:

Pot luck dinner party: These are great family fun, easy to put together and you won't spend the night in the kitchen. Here is how they work: each family you invite to the dinner brings a dish. When you do your inviting, specify what type of dish (i.e. pasta side dish, veggie appetizer, main dish, etc.) you want each family to bring. Let them know how many people it needs to serve. Also, ask everyone to bring recipe cards for the dish they are bringing. Keep it simple by setting the dinner up buffet style. Collect all the recipe cards and send each family home with a "mini" cookbook of the evening.

Make homemade gifts: Preserves, salsa, relishes and candies make thoughtful gifts. Find one of your grandmother's famous recipes and bring it back in her honor. The kids can help cook and they can also help decorate the packaging. If the thought of more cooking during the holidays does not sit well with you, a fruit basket makes a wonderful holiday gift. Decorating the basket or hand making cards adds a great personal touch.

Volunteer during the holiday: The holidays can be very lonely for folks without family. Family volunteering is quite common and can involve children of all ages. Whether it's Christmas caroling in a hospital, helping at a soup kitchen for Chanukah or visiting the elderly during Kwanzaa, it will leave a great impression on you and your children.

Winter fun: After a snowstorm, take the whole family sledding. Bring along a Thermos of thick, creamy hot chocolate with plenty of whipped cream. When you get home make a nice pot of warm soup and relax. Or have a new jigsaw puzzle, firewood, plenty of hot-spiced apple cider and cheese fondue on hand to celebrate the first snowstorm of the year.

We asked our Mom to share her hot-spiced cider with all of you. She has been making this recipe for as long as we can remember. It conjures up awesome family memories for us; we hope you can create some of your own around it.

Charlotte's Hot Spiced Cider
Ingredients:
½ gallon apple cider
1 quart cranberry apple juice
½-cup orange juice
juice of a lemon
8-10 whole cloves
4 cinnamon sticks
¼ to ½ cup sugar, to taste

Directions:
It is best to make the cider a day ahead. Heat all of the ingredients in a large pan and stir it until the sugar melts. Refrigerate overnight. When ready to serve, Reheat and ladle into cups. Avoid getting the cloves and cinnamon sticks into the cups.

Cheryl Tallman and Joan Ahlers are sisters, the mothers of five children and founders of Fresh Baby (www.FreshBaby.com). They are the creators of the award-winning So Easy Baby Food Kit and Good Clean Fun Placemats, available at many fine specialty stores and national chains including Target and Whole Foods Markets.


---
---
---
Leave a Comment