Furnishing Your Love
Take back the pleasure and reduce sex-related stressors with some unique furniture.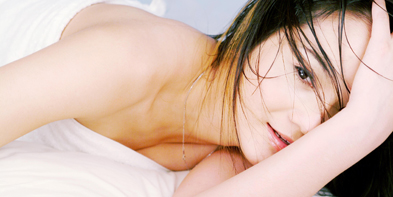 ---
There are a lot of good reasons to consider the use of love furnishings in your life. Not the least of which is your health and the health of your relationship. Maintaining an interesting and vital sex life has the power to sustain your relationship and alleviate a range of health problems including things like chronic pain.

And yet, the stress and common occurrence of back pain often interferes with a couples' ongoing intimacy—85 percent of adults will experience back pain at some time in their life according to Spine Universe's Sexual Satisfaction and Back Pain Survey. Three quarters of couples with one partner suffering from back pain reported having less sexual activity and non-satisfying intimacy then prior to the back incident. Two thirds of these couples also report greater emotional difficulty with their relationship.

The use of props for lovemaking can make all the difference in the world for couples struggling with back pain or other physical disabilities. They also can make the aging process and the accompanying weakened muscle tone less intrusive. Love making supports allow you to experiment with and hold new positions that most of us don't have the ability to maintain ourselves. Supportive shapes can bring new vigor and innovation to the act of making love.

Liberator (www.liberator.com), the first manufacturer of love furnishings makes a variety of foam shapes like the "Wedge" and the "Ramp," which you have probably seen in a movie or two.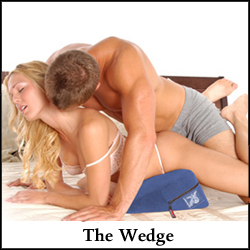 The added height and new angles that become available with the help of these foam pillows (available in a range of sexy colors from deep purple, deep blue and red) can help women achieve more satisfying penetration and also take the pressure off their partner's knees and back. They also provide the support necessary for continued enjoyment of intimacy in spite of back pain flare-ups.

The company also sells other larger items that affirm the bedroom as the love den, but having the Wedge or Ramp waiting in its black satin covered pouch is a great reminder for love making.

Another company that is worth looking into is Canadian-based Love Bumper (www.lovebumper.com), which carries a similar line of love furnishings with rounder edges. Love Bumper products are curved to fit the body and have some interesting features like a pocket to hold a vibrator in the perfect position. The cushion shapes are designed around the human body so the fit feels a bit more supported and ergonomic than the basic liberator shapes.

Either way, I must say that adding some lift to my love making has not only taken the strain off my back, but allowed us to experiment with positions that leave us breathless. Just like other furniture in your place, these items aren't cheap, but are still reasonably priced starting at around $80 and going up. In the long run, it's a small price to pay to for the comfort of knowing that your love won't hurt.

Wendy Strgar is the founder of GoodCleanLove.com, which provides products and advice for sustainable love. If you have questions about products or toys send them in and Wendy will be happy to share her knowledge. When visiting the website, use coupon code NEWSITE08, to enjoy a new year 15 percent discount.


---