The 10 Commandments of Marriage: 5. Donít Expect Your Spouse To Be a Mind Reader
Speak up, express your feelings and watch your relationship grow.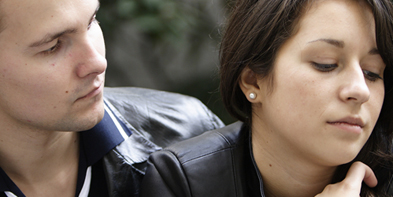 ---
Relationships are difficult. A relationship takes work, compromise and a lot of understanding. Most of all, it takes communication. Just because youíre in love with your spouse doesnít mean that all will run smoothly.

What is love? Everyoneís definition is different, but poets have been writing about it for centuries. For example, "true love is where your heart and your minds are saying the same thing" or "love is like quicksandóthe harder you fall in, the harder it is to get out."

Some people think that love is a friendship and friendship is love. Shakespeare wrote, "Love comforteth like sunshine after rain." Austrian poet Friedrich Halm said that love is, "Two souls with a single thought and two hearts that beat as one." As you can see, many people have attempted to define what love is; fewer have attempted to define what itís not.

Someone cannot define what love is for you because the answer must come from within you. What you feel is different than what someone else feels and defines as love. Love is many things. It provides different things to different couples. Love can give pleasure, comfort, security, sex, friendship, joy or a combination of some or all of these things. But, what does it not give? In order to maintain love, one of the things you must know, at the very outset, is that love does not give you the ability to read someone else's mind, or them to read yours.

If someone cannot read your mind, that means that when you have a feeling, a concern, or a need, you need to express it. You cannot assume that the other person will know it simply because he or she loves you. In other words, communication is critical to maintain love throughout the relationship or marriage. If itís jewelry you want for your birthday, you need to speak up. If you want to go to the movies over the weekend, you cannot assume that your partner knows that. If youíre uncomfortable about the way money is being spent in the marriage, you must say something.

Why is this important? Disappointment leads to arguments. Frustration about the way the marriage is proceeding leads to resentments that often cannot be undone. Is it fair to be disappointed because your love cannot read your mind? Is it fair to be disappointed because your love didnít give you the gift you wanted? Is it fair to be angry that youíre not saving money and always in debt? Without communication and discussion, the relationship is heading for resentments, fights and a lack of closeness. Communication in a relationship is critical. If there is something that you feel in your heart, it must be expressed or it stays in your heart and you are the only one who knows about it.

If you suddenly decide that you want to go back to school, donít keep that a secret. If your wife has been cooking your meat well-done because she likes it that way and always thought you did as well, and youíre turned off by the shoe leather nature of dinner, you must tactfully speak up. If you decide that you want three children instead of the two that you and your partner have always discussed, it doesnít help to stop using birth control and then say, whoops! You have to discuss that with your spouse or you may end up being the separated parents of three children.

Love and marriage is all about communicationóitís specifically about sharing your feelings and letting the other person know your wants and needs. Relationships are about trying to meet each otherís needs, while not stepping on your own. That only comes about by telling the other person what your needs are. If it comes to a point where they canít be met, thatís one thing, but they will never be met if you assume the other person can pick them out of your brain without you speaking up.

Commandment 4. Argue Constructively
Commandment 3. Make Dates With Your Spouse
Commandment 2. Communicate With Your Spouse
Commandment 1. Prioritize Your Partner Over Everything

Nationally known family law attorney Lynne Z. Gold-Bikin is chair of the family law practice at Philadelphia-based law firm Weber Gallagher. Ranked one of the top ten divorce attorneys in the U.S. by Worth Magazine, Gold-Bikin is a former chair of the American Bar Association's Section of Family Law, and has more than three decades of experience advising clients on everything from financial matters, prenuptial agreements and divorce, to custody disputes and domestic violence.


---
---
---
Leave a Comment