Directions for Men on Valentine's Day
Take the days leading up to Valentine's to remind your wife how much you care with simple, small gestures.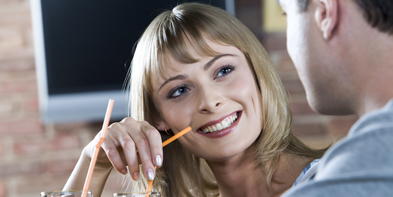 ---
You have just barely gotten over the holiday frenzy, the tree has finally been dragged to the curb or processed into garden mulch, and you're still eating the last of the snowflake cookies. Even before you were able to turn your holiday turkey into soup, stores drench their aisles in red and pink hearts and cupid seems to be staring at you around every corner. Yep, it's Valentine's Day and it's coming up quickly. This year, make a vow to skip the cheesy teddy bears and manufactured chocolates by giving her 14 days of Valentine's love.

February 1
Pick your clothes up off the floor. Also, remember that getting close to the hamper is not getting your clothes into the hamper. This includes the socks that you tucked into the shoes you just pulled off your feet.

February 2
Make the bed and get her coffee. When she wakes up and jumps in the shower, surprise her by having the bed nicely made and a hot cup of coffee ready for her. Spoiling her with the little things goes a long way. But be prepared for her to give you a strange look, as if to say, "Who is this guy?"

February 3
Write her a love note and tuck it into her purse or coat pocket so that she'll be surprised by it during the day. Even the simplest, "I love you" on a sticky note will bring a smile of surprise to her face.

February 4
Tonight, instead of asking, "What's for dinner?" try, "What would you like for me to grill tonight, honey?" or, "Where would you like for me to take you and the kids?" Try this at least once weekly. Your "Valentine rating" will soar.

February 5
When she asks, "Does this outfit make me look fat?" do not hesitate for even a nano-second before answering "Absolutely not."

February 6
When you see her across the room, especially in a public place, wink at her. She will remember why she fell in love with you.

February 7
Have a pre-Valentine's Day lunch date. Put it on the calendar and treat it as importantly as you would a lunch with your biggest client.

February 8
Trash day does not alternate weekly. Instead of waiting for her to ask you to take out the trash, simply bag it up and roll it to the curb.

February 9
Wash her car. Whether this means doing it yourself in the driveway or taking it to be washed, she'll be reminded of how she made such a great decision in marrying you every time she takes a drive. Bonus points if you spritz her favorite scent in the inside of the car.

February 10
Take control of the "twisty-tie from hell," the little covered wire that holds the dry-cleaning hangers together like super glue. Rather than spending 20 minutes trying to strategically maneuver a pair of your favorite pants off the hanger, spend two minutes untwisting the tie that brings most adults to their knees.

February 11
Acknowledge her sneeze. A thoughtful "Bless you" is a sign that you know she is still in the room with you.

February 12
Load her iPod with songs that have a special meaning to you both. Nothing will make her heart beat faster on the elliptical machine than knowing that you're thinking of her even while she's at the gym.

February 13
Clean the cat litter. Fluffy is the family cat, so you can be the part of the family that sifts the litter every once in a while.

February 14
Happy Valentines Day! Don't forget the gourmet chocolate and maybe a special trinket or two.

Diane Gottsman, a nationally recognized etiquette expert, is the owner of The Protocol School of Texas, a company specializing in etiquette training for corporations, universities and individuals, striving to polish their interpersonal skills. You can reach Diane at 877-490-1077 or www.protocolschooloftexas.com.


---
---
---
Leave a Comment