Valentineís Day Resolutions
Tips on how both spouses can say, "I love you" this Valentineís Day.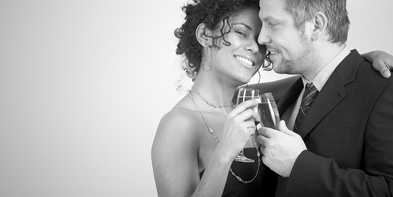 ---
How long has it been since Cupidís arrow bulls-eyed your heart? On second thought, does Cupid even know where you live now? Is Valentineís Day just like any other? If so, chances are that romance hasópardon the punóGone with the Wind. The wind is what buoys and thrills you to romantic heights. Now you find it has gusted away in Cupidís wake. It happens. Life sometimes gets in the way and snuffs out passion. Thingsóeven necessary onesócan sidetrack romance until it gets all muddled and loses its way.

How many of us know that male and female ways of saying, "I love you" can vary as widely as grilled steak to scrambled eggs? And both approaches are exquisitely profound. And how many know that as the years pass and the children marry and leave, romance can be even hotter? Hah! You didnít expect that, did you?

Itís true. Romance can be just as exciting after you get your second wind. How to do that? I asked my husband, Lee, which memories of my love offerings through the years have really stuck. At the same time, as a love exercise, I replayed those moments when his tributes to me caused the moon and stars to glow brighter. How many of us know that it is this gender-uniqueness that gives romance sizzle and endless delights?

The phenomenon is universal... and timeless. Despite cultural distinctions, boiled down to man/woman affairs, romance is a delicious gift and one that needs, from time to time, to be cultivated and nurtured.

Masculine Ways to Say I Love You

1. Be the Protector:
Nothing says to a woman "you are loved" like her manís protective stance. He is her rescuer by taking charge when things get rough. Those strong arms and rumbling voice do magic to lift our wounded spirits. All these add up to a dynamic role: hero.

2. Be Willing to Change:
My spouse grew up in an alcoholic home where chaos reigned. For years, he fought his demons of mistrust and anger. Because his love for me was so strong, he sought help in conquering those demons. Through counseling and therapy, he emerged a manís man who knows who he is and isnít threatened by anybody or anything. A man who can submit to such scrutiny and humility is, in my book, a real hunk.

3. Validate Her:
Daily, my husband letís me know that Iím important to him. He lets me know that my love offerings to him donít go unnoticed. He thanks me for every caring gesture. He tells me daily how "beautiful" I am and how lucky he is that I chose him. What woman can resist such affirmations?

4. Touch Often:
How many of us women know that his touch is like no other? We need that masculine stroke, gentle yet territorial and protective. Itís the one that wakes up and finely tunes our sexuality. Makes us think "what a man!" Ahhh. Need I say more?

Feminine Ways to Say I Love You

1. Nurture:
Surprise! Sexual overtures did not lead my husband Leeís parade of memorable love-gestures references. Rather, he expressed appreciation for the nurturing role I play in his life. In particular, he enjoys the nice, clean home I provide for him. So all that mundane cleaning activity is not in vain, huh? My taking care to prepare his favorite foods gives him pleasure, as does his always having clean clothing to wear.

2. Encourage:
I was surprised when Lee told me I played a big role in the formation of his ethics. I try to daily thank him for who he is and what he is in my life. Too, I express my joy that he chose me. I am humbled by the fact that this has such an impact on his life. I, too, have tried to change with time and circumstances. To be adjustable is a blessing, not only to my spouse, but to myself as well.

3. Be His Partner:
Another surprise: my taking an active role as his teammate is high on Leeís accolades totem. The financial arena is one in which teamwork and common goals are essential, one we work at. Each partner is equal in power. We donít have the same strengths but somehow, mystically, in the final analysis and resolution, they meld and blend until we donít know where one ends and the other begins.

4. Sexuality and Grooming:
Aha. Here it comes. I was delighted to know that my grooming habits had not gone unappreciated. It goes hand in hand with being sexually appealing, from both mine and his end of the romance. He, too, treasures my touch. Yes, he really, really does. After all, this is the bottom line in a passionate relationship.

Isnít love fantastic? Romance can be renewed all throughout life. All thatís needed sometimes is that second wind to spark it back to life! So line up in Cupidís crosshairs and reveal your heart. Be a sweetheart! Happy Valentineís Day!

Emily Sue Harvey writes to make a difference. Her upbeat stories have appeared in dozens of anthologies including "Chicken Soup for the Soul," "Chocolate for Women," "From Eulogy to Joy," "A Fatherís Embrace," "True Story," "Compassionate Friends Magazine," and "Womanís World." Emily Sue served as president of Southeastern Writers Association in 2008-2009. Her first novel, "Song of Renewal," published by Story Plant, will be released in the spring of 2009. For more information visit www.renewalstories.com.


---