Sex Positions for All Shapes and Sizes
Is your spouse too short, too tall or too plump? Here are six positions that'll take advantage of your conflicting sizes.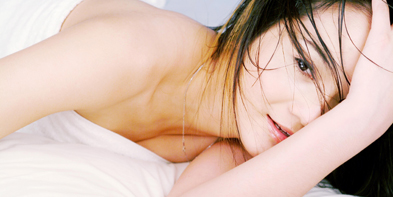 ---
Finding the perfect sex position when you're physically mismatched can be a little like Goldilocks' encounter with the three bears: you have to keep searching and testing until you find one that's just right. To help you along, we picked out six positions from Siobhan Kelly's "The Little Bit Naughty Book of Sex Positions". So whether your partner is too short, too tall or too plump, you can find a position that puts your conflicting sizes to work. He's Too Short
The 'Y': She lies on her side facing him, with one leg in the air and the other on the bed, propping herself up on one arm (her body should look like a huge 'Y' shape.) He straddles her lower leg while her lifted leg rests on his shoulder and he penetrates her from the side.

She's Too Short
Carry On: He begins on his knees and asks her to lower herself onto his erection, facing him. As she does, she wraps her legs around his waist and puts her arms around his neck. Then he slowly stands up, shaking her up and down.

Why these work: The Y gives him a clear view of her entire body and total access to thrust however he wants. Carry On allows a couple to make love face to face while he supports her small frame.

He's Too Tall
The Tabletop: She lies on a flat surface like a table with her legs in the air. He leans against her legs, supporting her and holding her feet together, while he penetrates her.

She's Too Tall
Sitting Pretty: He sits in a sturdy chair while she straddles him. Holding on to the back of the chair, she pushes away with her feet and moves up and down on his penis while he caresses her.

Why these work: The Tabletop puts her in the perfect position for his height while he's standing up. Sitting Pretty takes advantage of her long legs and lets her control the tempo.

He's Too Plump
The Big 'L': She lies on her side with her legs at a ninety-degree angle to her torso, so that from above her body forms an 'L' shape. He kneels on the bed, his hips aligned with hers. If he wants to, he can put his hands on her hips to steady himself. She parts her legs slightly to allow him to penetrate, and then squeezes them together to give his penis a massage as he thrusts in and out of her. Crossing her legs at the knee or ankle can make it easier for her to do this.

She's Too Plump
The Quickie: She sits on a surface about the same height as his pelvis and wraps her legs around his back. She pulls her skirt up and pushes her panties to the side while he unzips his fly or drops his trousers, which amps up the thrill of having a "quickie."

Why these work: The Big 'L' gives him more range of movement and is more comfortable for her if he's too large to straddle comfortably. The Quickie allows her weight to be supported by a countertop, allowing both partners to relax and focus on the movements.


---