Plan a Pub Crawl Date Night
Ditch the romance and go for fun with this super casual date night idea.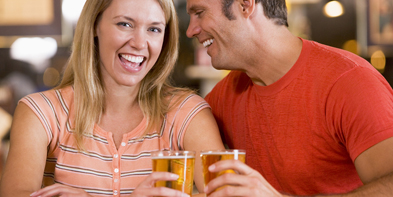 ---
One of the perks of being married is that not all dates have to be Łber-romantic. Going out can be as casual and fun as you want it to be because youíre more than two people in loveóyouíre best friends.

For a fun and casual night out, try planning a pub crawl in your favorite city. Not only is it an entertaining way to explore downtown, but itís also a fun way to enjoy each other. Sometimes all you need is to laugh over a pint of beer with your best friend, so here are three ideas to help you plan a fun and safe pub crawl date.



Plan ahead.

Look in the local newspaper or online to see if any bars will be featuring drink specials, live bands or other special events, and plan your route accordingly. You could save a lot of money by hitting certain happy hours or visiting a spot on a special two-for-one drink night. And if you enjoy live music, you might be able to catch more than one great local band if you plan it right.



Pick a theme.

Make things more fun by picking a theme for the pub crawl; e.g., Irish bars, country bars, dive bars or, for a classier evening, wine bars. If you donít mind sharing the date, recruit some other couples to go pub crawling with you and make them stick to the theme by wearing cowboy hats if itís a country crawl or even making matching t-shirts if itís a special event youíre celebrating, such as a birthday or anniversary. If you want to make things more romantic, stick to wine bars and dress the part.



Be safe.

Donít make the last stop on your pub crawl the county jail. Leave your car at home and walk from bar to bar, take a cab, or hire a private car or limo service to drive you around all night.



Recuperate.

Extend the date into the next day by planning a morning of lounging together and recuperating. Hit up your favorite breakfast spot together and then crawl back in bed for a serious afternoon snuggle session. Cheers!




---