Is Your Marriage in a Recession?
It might sound crazy, but doing things for yourself just might be your marriage's saving grace.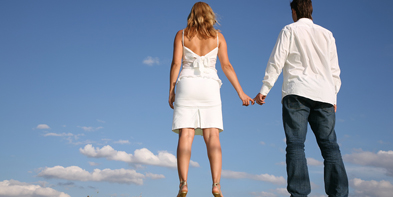 ---
With the constant conversation about our current recession, maybe it's time to look at one of your most valuable asset—your marriage—and make sure it's recession proof.

Let's start with a simple exercise. Think back to all the romantic things you did when you were dating your sweetheart. When was the last time you planned a special date, offered an unexpected gift or showered your sweetie with compliments? If it's been a while, you'd better get busy and serve up a stimulus package of your own.

If you're finding it difficult to be nice to you husband or wife, you might need to start by being nice to yourself. A little psychological trick I learned is to cup your hands together as though you were going to splash water on your face. Imagine that inside this reservoir in your hands is everything that makes you…well, you—your dreams, fantasies, personality, passion, talents and skills. Feeling down in general can feel like your reservoir is empty and drained at the end of the day. This slowly begins to build up and is then passed off onto your husband or wife as resentment and anger. Even the little things in life can deplete it: paying bills, traffic, bad weather, a new computer system at work or your boss's bad mood to name a few. The bottom line is that you can't give what you don't have, so if you're reservoir is drained, you need to fill it back up.



What Makes You Happy?


One often and overlooked mission in life is to find out what makes you happy. You could have your spouse send you a dozen roses, but you can't always count on that so it's critical for you to know how to fill your own reservoir. Sometimes, you have to take a step back and think about yourself. For me, a wonderful dinner with a dear friend or two, or going to the gym with my best buddies does the trick.

To build your own gifts of happiness, purpose and fulfillment so you can offer them to others means that sometimes you have to go through the motions of offering yourself gifts that you don't believe you deserve. If you knew your spouse had a bad day, you'd want to do something about it, wouldn't you? Knowing that he or she was coming home from work, you might draw a nice bath, light candles around the bathtub and place special salts or oils in the bathwater. Maybe you'd put on some soft music, turn down the lights and turn the telephone ringer to "off." You'd then greet your special someone at the door to grab their briefcase or purse, hand them a glass of wine and send them in for a long, relaxing and well-deserved bath. You'd do that for your sweetie, but when was the last time you treated yourself with such respect and love?

My challenge for you is to start by going through the motions. Tonight, you might be sitting in that bathwater thinking, "What on earth am I doing here?" That's okay. Eventually, actions become habits and habits become part of your personality, which builds your character and turns you into the warm, wonderful and nice partner you were always meant to be.

Winn Claybaugh is the author of "Be Nice (Or Else!)" and "one of the best motivational speakers in the country," according to CNN's Larry King. Winn is the co-owner of hair care giant Paul Mitchell's school division. His clients include Southwest Airlines, the Irvine Company, Vidal Sassoon, Entertainment Tonight, Mattel, For Rent magazine, Structure/Limited/Express, and others. Visit www.BeNiceOrElse.com to sign up for his free monthly Be Nice (Or Else!) newsletter. Content provided by Net Connect Publicity.


---
---
---
Leave a Comment