When families (or at least the one that Iím a part of) get together in Spain, itís no small, casual affair. Itís not a fire-up-the-grill-and-throw-some-(veggie)-burgers-on-top type of gathering. Instead, itís a bring-out-the-25-person-paella-pan-and-do-it-the-right-way kind of event.

For weeks, there had been talk of a family luncheon. It would be held at Al Cante, Davidís dadís restaurant, and in attendance would be Sylvie (Davidís step-mom), Ramon (Davidís dad), Melodie (Davidís sister visiting from Paris), three of her friends, Luisa (Davidís mom), Isabelle and Antonio (Davidís hard working aunt and uncle who sell fruits and vegetables in the markets), their three daughters and one son, and all their respective significant others. We would be 20 in all, and it promised to be a grand affair.

Remembering how sorely under dressed I was for a previous eventóMoros y Christianos festivitiesóI decided I would come dressed for the occasion in a nice tank top and black skirt. I was proud of my good forethought and happy I wouldnít stick out like a sore thumb this time.

We were among the first to arrive and greeted Isabelle who was in the kitchen. She would have already started on the paella except she had forgotten the four rabbits sacrificed for the occasion. Who cares, I thought?! Leave the rabbits in peace and letís all be vegetarians for the day. Wouldnít the world be a better place? But before I even had the thought, Antonio had gone out in search of more rabbits.

As the cousins started trickling in, I noticed that, despite all my efforts to come prepared, I once again stuck out. This time, my scooter attire would have been more than appropriate. Somehow, I never received the memo that the event would be casual attire.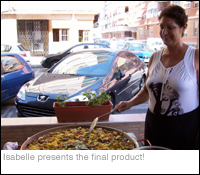 Nearly the whole family was there by the time Anna, Isabelle and Antonioís eldest daughter, arrived. I had not seen her since 2002, but before I even had a chance to say hello, she was making an announcement. What could she be announcing? The last news I had heard about her was that she was supposed to be getting married this month, and although she was still with her fiancee, they had canceled the event, to everyoneís dismay. She wasnít announcing that the wedding was on once more, she wasnít announcing a new job or a new house. No, she was announcing the last thing that Luisa needed to hear. She was announcing that she was two months pregnant. This grand news meant that Isabelle and Antonio would soon be grandparents and, as the news rippled through the crowd, the tears sprang forth. As for me, I went in disaster mode and plugged Luisaís ears.



Bun in the Oven, Paella on the Table


Meanwhile, I couldnít believe my own. Did we really need more baby news? Hadnít we had enough already? It was as if a switch had been turned on and babies were being mass produced. To make matters worse, Luisa feels very close to Isabelle and the news that she would be a grandmother surely would only make her impatience even greater. Sure enough, in between the tears of joy came the looks of dismay. Annaís news made both Luisa and Ramon look at me as if to say, "Donít you see? Others arenít waiting. Why donít you just get on with it already?" But I didnít need the looks to understand the significance of the announcement. Annaís news meant that the epidemic was hitting close to home. My brother and Johanna live in Arizona, Davidís brother in Paris, but Anna lives just next door and now that the cousins in Spain were starting families, our countless excuses and reasons for waiting would hold even less meaning. To divert the attention back to where it should be, I ran to get the camera. I might not be contributing to the size of the family, but I could contribute by capturing those special Kodak moments.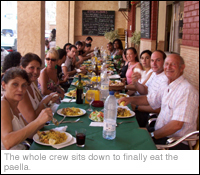 Lunch had begun! As for me, I happily ate a salad that David had made for me and a vegetarian paella that the cook at Davidís dadís restaurant prepared just for me. We finished the meal off with melons from Isabelle and Antonioís supply.

Smack in the middle, I was happy to be part of it all. I like how family is honored here and how everyoneódespite busy schedulesótake the time and make the effort to get together regularly. Iím in awe at how well Isabelle knows how to cook even though she was never officially taught, and it makes me think of my own mom who raised us on delicious enchiladas, vegetarian pizzas and baked potatoes with chili. I like Antonio for the gentleness that can be seen in his eyes that makes me think of my own dad. I admire the two of them for the solid family structure they have built, the hard work they put into everything they do. It makes me think of my own family, and I like being surrounded by it.

Everyone expected that the lunch would be grand, but little did anyone know that the gathering that started out as a 20-person affair would grow by one. In April, the get-togethers will surely have a different tone to it when a newborn is amongst us. And by then, I'll need to have a better plan in place to keep Luisa at bay.

Sara Wilson is currently working as a freelance writer and lives in Torrevieja, Spain with her husband. She has kept a record of her adventures living abroad which you can find here or on her blog: http://sarawilson.wordpress.com. Contact her directly at wilson.sara@gmail.com.