Growing Pains
The reality of our Spanish residency sets in, and I break down.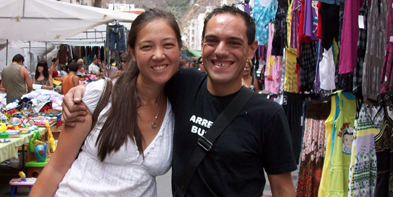 ---
I had a small breakdown the other night. It involved tears, closed bathroom doors and small voices so that Luisa, Davidís mom, wouldnít hear. Maybe it was from the physical exhaustion of moving the 22 boxes that had just arrived from New York, maybe it was the permanency that the arrival of the boxes symbolized, maybe it was frustration from yet another day fighting to understand the simplest of sentences, maybe it was feelings of self doubt about whether I was doing my best to be the best daughter-in-law possible, maybe it was feeling far from home and the fact that being with Davidís family makes me miss my own. And most likely it was the combination of all those things that made me surrender to a small moment of complete self pity.

It came like a wave and I couldnít keep my head above the crashing water. Iíve only just recently understood what a big decision it was to move to Spain. The whole time leading up to the move, I couldnít even imagine what life would be like on the other side. Having never lived in Spain, having never spent so much time with Davidís dad and stepmom, having never been without a full time job to keep me occupied and my account replenished, the idea of moving to Spain was an exciting one, but the actual reality of it was hard to grasp.

Now, two months in and with a second room full of boxes, the reality of it all is setting in. Weíre not visiting, weíre here to stay. Learning Spanish is not an extracurricular activity, itís a necessity. The number of times Iíll see my family will be reduced drastically. Being near in-laws is great but itís different when itís on a more full-time basis than simply one week once a year.

I adore Luisa, but Iím different than her. I see her coughing and worry about what the cigarettes are doing to her lungs. I see her spending money and I stress about how sheíll be able to afford her future when she can no longer do the physically demanding work of a waitress. And as I worry about her, I worry that Iím not being the best daughter-in-law that I can be.

When she came to visit us in New York City, it was usually for a week around Christmas and we enjoyed our time together. This time though, she stayed for a month and I couldnít help but feel stressed about sticking to a budget. Thanks to David, we ate glorious meals at home and reduced the number of times eating out. I kept her from going to Bingo every night even when she was craving it. But she came on vacation to have fun, not to worry about money and reality and such things. So I worried about whether I was being too anal and not laissez-faire enough and whether itís fair of me to have such a say over my mother-in-lawís spending ways.

And as the wave crashed over me that night, the tears came. And David listened. And he consoled me that he too had had some of the same feelings at times when he first came to California (our home before New York City). He reminded me of the time that he got upset after we asked him to take a family photo for that yearís Christmas card. He wasnít upset about doing it, but it did make him feel apart and far from his own family. And suddenly I saw things so differently because it gave me such a different understanding of that moment, as well as all of the special holidays when I had been so happy to be with family and he must have been so missing his own. He had acted weird at times and I could never understand itÖuntil now. Sometimes itís not until you live through the same experience that you truly understand the feelings and reactions of others.

As the wave came over me David was ready to pack the bags, put the boxes back on the boat and travel back across the Atlantic for me. But I assured him that it was a passing moment of weakness and that itís completely normal. Moving to another country is bound to have its ups and downs. Being out of my comfort zone is certain to have its moments of difficulty. Itís the experiences, challenges and moments like this when you grow as a person. Iím just in the middle of some growing pains, thatís all.

Sara Wilson is currently working as a freelance writer and lives in Torrevieja, Spain with her husband. She has kept a record of her adventures living abroad which you can find here or on her blog: http://sarawilson.wordpress.com. Contact her directly at wilson.sara@gmail.com.


---
---
---
Leave a Comment