Why You Shouldn't Fake an Orgasm
Faking may seem like a harmless act, but learn how it can be destructive to your marriage.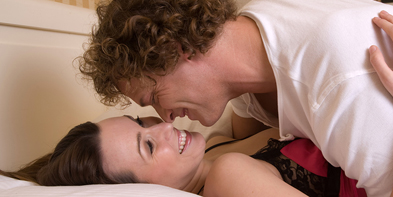 ---
"
By faking pleasure, youíre not only neglecting your needs, but you arenít being honest with your spouse."
Most of us remember the notorious scene from When Harry Met Sally where Sally puts on an Oscar worthy orgasmic performance to prove a point to Harry in a cafť diner. Years later, whether in a diner or bedroom, many women still fake orgasms.

Well, Iím here to tell you that if you're an orgasm faker, you are doing you and your spouse a major injustice! By faking pleasure, youíre not only neglecting your needs, but you arenít being honest with your spouse. Letís face it, if youíre faking in the bedroom, where else are you faking? Being in a committed relationship is about being open enough to communicate about all aspects, especially the tougher topics that may embarrass you like issues regarding your sexuality.

The other danger of faking pleasure and not communicating your intimate needs is the risk that one partner may begin to look outside of the relationship for satisfaction. Couples have to understand the importance of making an effort and not taking each other for granted. This means continuing to do the little things, and using the same sort of thoughtfulness and caring gestures you did when you were first courting. This is also true when it comes to your intimate life.

Do you remember when you first met your spouse and you were over the moon in love? You couldnít keep your hands off of each other and counted the seconds until you could see one another again? Itís natural for intimacy to become more "habitual" when youíre relationship gets more comfortable, but couples canít expect it to get better on its own. You have to be open to new ideas and exploring new ground, and faking your pleasure will only make it worse.

So next time youíre tempted to fake it in the bedroom, remember, youíre not only short-changing yourself, but your spouse and your marriage. And always keep in mind, orgasms are not the end-all-be-all to having a wonderful sexual experience; and you should never feel bad or uncomfortable if you make love with your partner without a physical climax. At the end of the day, when you love one another you will (and should) make the effort to have a pleasurable relationship inside and outside of the bedroomóno faking necessary.

Patty Brisben, is the CEO and Founder of Pure Romance www.pureromance.com. For more than two decades, Patty has been educating and empowering women all over the country about sexual health and relationship enhancement. Today, Patty speaks, lectures and writes about a wide range of issues. Drawing from extensive research in the industry and using her warm and engaging personality, Patty has become a noted expert in the fields of intimacy and relationships. Patty has been quoted in several magazines including Self, Women's Health, Glamour, Redbook, Men's Health, Details, US Weekly, In Touch and Life & Style.


---