Family Ties
Sara reflects on being away from her family, but gets some quality time with them. Of course, not without a few curveballs.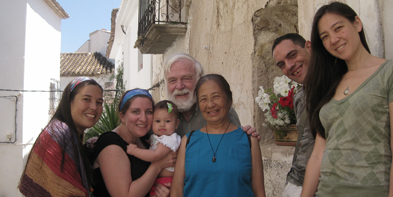 All photos courtesy of Sara Wilson
---
When I was 7 years old, I went to summer camp. It was only for a week and it should have been fun, but ended up being one of the most traumatic experiences of my life because I missed my family dearly. My homesickness was so intense that I cried constantly—walking to the lunchroom between activities, before going to bed—and I look back now and wonder how in the world no one took pity on me.

During that week-that-felt-like-a-year, the only bright spot of each day was after lunch when we'd stand around in a circle for mail delivery. My parents wrote me religiously, so I could always count on receiving a letter, and I anxiously listened for my name to be called. And when it was, I took my precious letter and I read it and re-read it again and again before going to bed or during free time in the afternoons from the top bed of the bunk bed. And I would treasure the words contained within, for it was the only contact that I had with my parents—that is until my parents broke all the rules by pretending to deliver my Sunday shoes and snuck in a quick visit.

I have happily put that painful memory deep in the recesses of my mind, but every once in a while it resurfaces—like when I left for school at the University of Michigan and started a life far away from my family in California. And like Thursday when my parents boarded a plane to return to California while I stayed behind in Altea, Spain.

At times like these, I feel like I'm 7 all over again except this time, I'm not just away for a week. This time, I don't have a specific date to countdown to. This time, it's not quite so easy for them to sneak in a visit to me because there are thousands of miles and an ocean between us.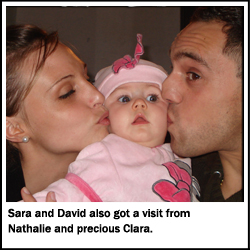 But I can't complain because we had a wonderful visit, and I didn't get to see just my parents. My sister and my sister-in-law came as well, and I had the privilege of meeting Amaya, my 8-month-old niece, for the very first time. Unable to meet her during my rushed visit back to the States over Christmas, Amaya made the long journey here and even got her passport for the occasion! When I saw how fast she was growing, I was thankful that I was able to see her before she got too big. And I relished seeing Johanna in her new role as a mom, my parents as grandparents, and I watched in amazement as my sister carried and played with Amaya. Always the adventure-seeker and too carefree to be tied down by children, I have rarely seen my sister around children, but she is a beautiful aunt. So young at heart, herself, she connects with children in a way that I can't.

As they all piled into our two-bedroom apartment, I was grateful that we didn't have to worry about Paco upstairs (click here), disapproving of so many people using his home. However, even though we didn't have Paco to contend with, we had many other things that made this visit equally memorable. As luck would have it, our electricity was cut the day after they arrived. Apparently, the utilities bill had never been transferred to our name when we took the apartment and the four-month grace period had come to an end—just when six of us and a baby were all dependent on it for our light and hot water. Adding to the chaos, major construction got underway on the apartment next door just when they arrived, filling our days with relentless drilling so loud that it sounded as if it was happening within our four walls.


Nevertheless, we managed to have a good visit and I loved that my family was able to see AlteArte with their own eyes. My parents and Coral had seen it in November when it was still for sale and David and I were still deliberating, so it meant a lot that they could now see the result of our hard work. And I was thrilled that they were able to meet our customers who have become our friends and get to know the details of our life here. And I got spoiled having my sister there every night until we had closed, often waiting until 4 a.m. to head home with us. Her infectious laugh caught many people's attention—including one older woman who, as soon as she heard it, stopped her vegetable shopping at the outdoor market and started talking to us. I tried to translate as best I could, but as the lady rattled away about her grandchildren and the village that she was from, it almost seemed like she didn't care whether we understood or not. Coral's laugh had made her happy and she wanted to connect with us in any way that she could.

My mom also practiced her Spanish when she found herself in the middle of conversations and my dad quickly exhausted his limited Spanish, but happily talked in-depth to our English-speaking neighbors. During their time here, they became immersed in our lives here—even to the point that they attended my Spanish class with me and got to know some of my classmates who have become good friends.

And being the amazing mother that she is, my mom continued to mother me and cooked for us—leaving dinner ready for us when we came home at 4 a.m.—and did our laundry and made sure that our household remained livable when the late nights and long hours prevented us from doing it ourselves. We were fortunate to have her with us for two Mother's Days—the Spanish one and the American one.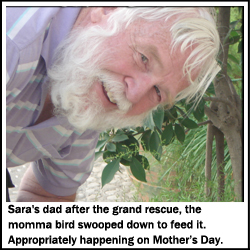 Meanwhile, my dad, the vegetarian, busied himself with saving small creatures in need of his assistance, including a bee and a fly who had been chased down by Gizmo, our cat, and a baby bird who had somehow found his way into AlteArte but couldn't manage to get out.

To top it all off and without any planning at all, David's side of the family, including our sister-in-law and 7-month-old niece who came all the way from Paris and spent an afternoon at AlteArte. Having both of our families together in Altea made for the perfect day and we couldn't have been happier!

After my traumatic camp experience, I never could have imagined that I'd willingly choose to be far from home. However, I've actually spent much of my life away from my family—in Michigan, in Paris, in New York and now in Spain. I'm lucky to have a family as great as mine because even when I'm far, the connection is strong. I've learned that I don't have to be physically close to feel emotionally close. But, at 7, I hadn't yet understood that.

And that makes all the difference.

Sara Wilson is currently working as a freelance writer and lives in Torrevieja, Spain with her husband. She has kept a record of her adventures living abroad which you can find here or on her blog: http://sarawilson.wordpress.com. Contact her directly at wilson.sara@gmail.com.


---
---
---
Leave a Comment